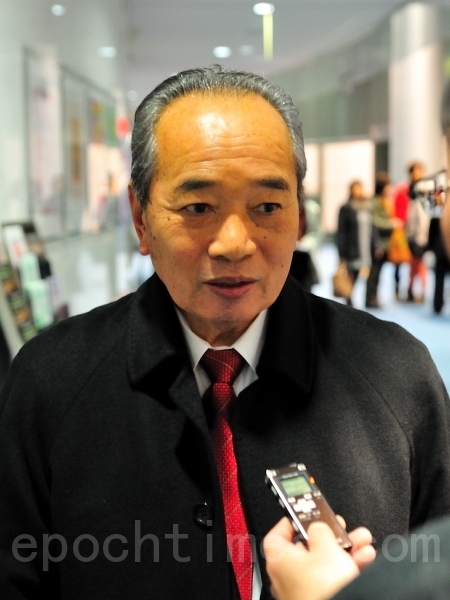 HIROSHIMA, Japan—Following successful performances in Tokyo and Nagoya, Shen Yun Performing Arts New York Company continues its tour to Hiroshima, where it performed at the Hiroshima City Cultural Exchange Hall on Sunday, Feb. 19. The audience was completely enchanted by the elegance and beauty of the performance.
Mr. Kiyoshi Siba, Deputy Speaker of Hiroshima Prefectural Assembly, watched the performance with his wife. Accepting an interview after the show, Mr.Siba said he has never seen a performance as wonderful as Shen Yun. He said the perfection of the performance was impossible to describe. He said, "Through the show, I have seen the brilliant, 5,000-year Chinese history and its precious cultural connotation, which is highly needed when promoting world peace. We are very thankful to Shen Yun Performing Arts for bringing such a fabulous performance to the citizens of Hiroshima."
Mr. Siba enjoyed the classical Chinese dance. He said, "The skills and quality of all the dancing artists are extraordinary. They must have been rigorously trained." He added, "Traditional Chinese culture has been demolished in mainland China. It is so regretful that the Shen Yun performance can't be staged in China. Culture is so important to nourish our minds and spirits; it is very admirable to see overseas Chinese endeavors in promoting traditional Chinese culture."
Mr. Siba also said he had a hard time in understanding the persecution of Falun Gong, as depicted in the program. He said, "I can't quite understand what they [the Chinese communist regime] have in their mind. It should not be so."
Mr. Siba hopes that more Hiroshima citizens have the opportunity to see the exquisite Shen Yun performance.
Reporting by Niu Bin and Leo Chen.
Shen Yun Performing Arts, based in New York, tours the world on a mission to revive traditional Chinese culture. After Japan, Shen Yun Performing Arts New York Company will continue to top venues in Korea and Taiwan, followed by Australia and New Zealand.
For more information, visit ShenYunPerformingArts.org.
Read the Chinese article