When banks in Henan Province refused to let people access their deposits, large-scale protests broke out in July. The local authorities responded with plans to repay those with frozen accounts in rural banks. The reimbursements reportedly entered a third stage on Aug. 1. However, one protester revealed that the first two rounds of repayments weren't exactly fulfilled.
In an interview with the Chinese language edition of The Epoch Times on July 29, a protester said that many smaller account holders have not received any payments from the previous two repayment plans, and the morale of the protesters' has unraveled.
She said, "I am not optimistic for those larger accounts."
Around 413,000 Depositors Victimized
Officials claimed the rural banks incident involved collusion between the banks' administrators and the major shareholder. The incident started when the accounts of 413,000 Chinese depositors—of an estimated total of $5.93 billion—were frozen in April.
At one point, local officials even authorized a red QR-code to appear on the health cards of some depositors to prevent them from going to the banks. A red code meant they would be unable to travel under the strict Covid containment policy in force. Thus, hundreds of depositors gathered and protested in front of a branch of China's central bank in Zhengzhou, Henan Province.
After the outraged public condemned the violent beating of protestors by a huge gang of thugs dressed in black and white on July 10, Henan officials started the repayment plan.
On July 15, the so-called "advanced payments" were made to bank customers who had a combined deposit of less than 50,000 yuan (about $7,410)
On July 25, the second repayment plan was made to those who have less than 100,000 yuan (about $14,816) in their account.
The Aug. 1 payment plan is is for depositors with over 100,000 yuan but less than 150,000 yuan (about $22,196), according to the latest official release.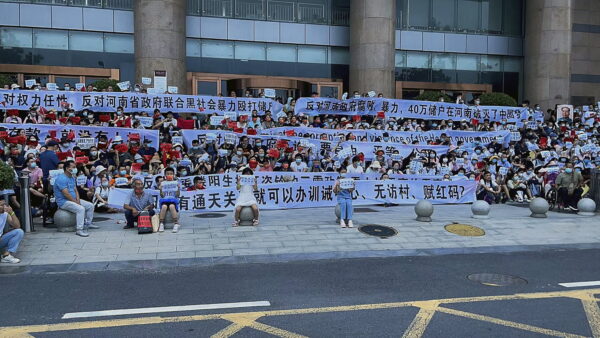 'The Plans Eliminate the Victims': Protestor
Xiaoqing (alias), a depositor in Inner Mongolia, said that many depositors have not received their payments for various reasons, such as, incorrect phone numbers or reissued bank cards.
She said, "I believe only about half of those who passed the identity check received a payment," according to the head counts on the second payments made out to the depositors with less than 100,000 yuan in total.
However, for those who did receive their money, the accumulated interest had been deducted.
Her husband received his 100,000 yuan during the second repayment plan, but "All interest after April 18 had been deducted," Xiaoqing said.
She believes the tactics are to crush the protestors bit by bit. "With an increment of 50,000 yuan at a time, the rights defenders were diluted out. Those big account holders will probably get sacrificed," she said.
It's all planned, she believes.
She said, "The process is done at their pace, to wear out depositors' confidence. The big account holders are only a few. Then the negotiations will begin. I figure they will compromise with some loss, maybe 20 percent or 30 percent of the total. They will have to accept it."
A Sense of Frustration
She explained that there's been some change in the protest group. Some of the victims have withdrawn from a group that was set up on social media.
She said, "Those small depositors felt it's not worth the time and energy [to protest]. Many of them just took it as fate. The group was filled with an atmosphere of despair."
Xiaoqing said that a woman in the group has been constantly harassed by local police, who tried to trump up a charge on her.
She explained, "Her deposit was more than two million yuan (about $381,000)."
Through the protest, Xiaoqing also realized that some depositors, even though they would lose one million yuan, had given up on defending their rights.
She said, "Under the current circumstances, people feel that the right to speak the truth is gone."
Haizhong Ning and Gu Xiaohua contributed to this report.