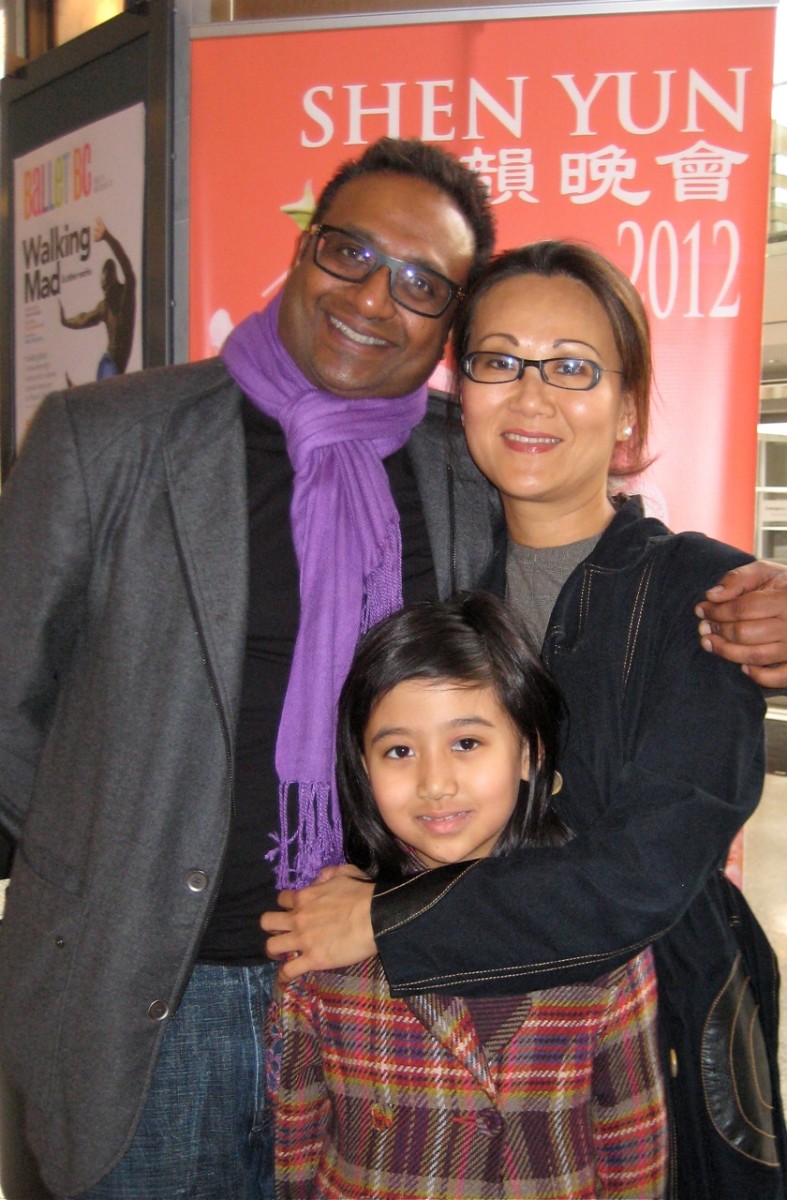 VANCOUVER, Canada—Shen Yun Performing Arts weaved its unique kind of magic at the final 2012 Vancouver performance at Queen Elizabeth Theatre on Sunday afternoon, where an enthusiastic packed house left the theatre all smiles, bidding farewell to the performers who will be continuing on with their world tour.
Dentist Sunil Venugopal attended the matinee performance with his wife, Angeline, and daughter, Nithara. All three sung praises of Shen Yun from many different aspects of the production.
All three were especially impressed by the animated digital backdrops that accompany each piece.
As the Shen Yun website explains, the backdrops are "magical windows" to different realms—from open grasslands in one dance, to battlegrounds, Himalayan peaks, or the Yellow River Delta in other dances.
"I thought that was very cool," said Mr. Sunil. "I just think it was well put together. It was a very nice concept. I'd never seen anything like that. It brought the whole … [performance] together."
The way the dancers interact with the animated digital backdrop, appearing to be transported from the screen to the stage or vice versa, is a feature of the backdrop that aids in bringing the stories of ancient China to life.
"My favourite part was when the girls all go up in clouds." said Dr. Venugopal's daughter, Nithara, referring to the live dancers onstage interacting with the backdrop.
"I think it's cool how they all go up in clouds and they still look the same."
Her mother, Angeline, who wanted to bring her daughter to Shen Yun to experience Chinese culture, echoed her statement, noting that "they did a good job with [the backdrops]."
Besides enjoying a great performance and beautiful costumes and backdrops in Shen Yun, most audience members leave the performance a little richer in cultural and historical knowledge.
The mission of Shen Yun is to revive China's traditional culture, which has been ravaged in recent decades by the Chinese communist regime. It is a heritage that extends 5,000 years, the world's oldest continuous culture.
"It's entertaining and something that's culturally important for people to get to see, to have an idea of Chinese culture and music," said Dr. Venugopal.
Shen Yun has three companies touring the world. The production will return to Canada in April to perform in Calgary, Edmonton, and Regina.
For more information visit ShenYunPerformingArts.org.