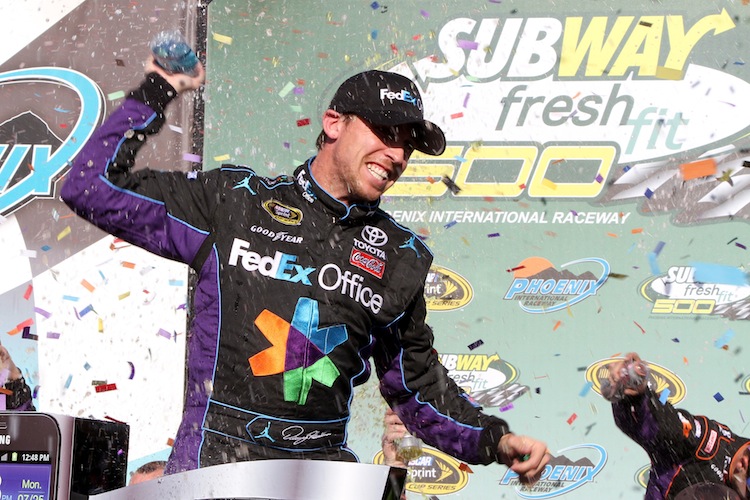 Denny Hamlin driver of the No. 11 FedEx Office Toyota managed his fuel just far enough to win the Subway Fresh Fit 500 at Phoenix International Raceway Sunday, earning enough points to also lead NASCAR's Sprint Cup Series.
Hamlin led the final 59 laps moving to the front when he and several other drivers elected not to pit during the final caution, gambling that their fuel would last. The gamble paid off for Hamlin. Kevin Harvick was running second, right on Hamlin's bumper, when his No. 29 Rheem Chevrolet ran out of gas two laps from the end; Harvick was able to coast across the line, keeping second place.
Brad Keselowski and Carl Edwards also ran dry on the final lap; Keselowski managed to hold on to fifth place; Edwards finished 17th.
After taking the checkered flag, Hamlin radioed to new crew chief Darian Grubb, "Thank you for making me competitive again." Grubb crewed 2011 champ Tony Stewarts's car but was told halfway through the Chase, he would not be rehired. Stewart went on to win five out of ten races, and his winning crew chief went to Hamlin's camp, where Grubb has continued his winning ways.
Hamlin had a great year in 2010 and a really tough 2011; to start 2012 with good results gives his team "huge momentum," Hamlin told FOX TV. "We've never been in this position this early in the season. We've always taken out time, five or six races before we hit our stride this is particularly not my type of racetrack—new pavement, and I am usually better at saving the tires. [Darian Grubb] made me a winner today.
"If you had asked me at the beginning of the day, I would have said that we would take a top-15 finish," Hamlin told FOX. "Just an amazing job by this FedEx Office team They just kept working on it and every time they worked on it, it got better."
Kevin Harvick said he was pleased to be "running second and racing for the win in a place we ran 25th or whatever we ran here last year—I was really nervous, coming here, about how we were going to run.
"You cut the fuel mileage that close and you're figuring it right so I am proud of all my guys to come to a place like this where we have struggled so much and race for a win is hopefully what sets the tone for the year."
NASCAR's Sprint Cup Series heads to Nevada next weekend for the Kobalt Tools 400 at Las Vegas Motor Speedway.