Dennis Rodman Secret: North Korean Leader Has Daughter
March 21, 2013 11:30 am Last Updated: October 1, 2015 10:46 am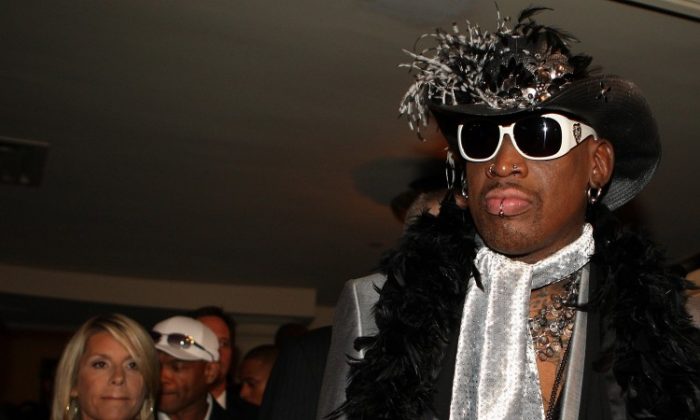 Dennis Rodman secret: Former NBA superstar Dennis Rodman revealed a North Korean state secret: Kim Jong Un has a daughter.

Dennis Rodman apparently revealed a North Korean state secret this week, saying that leader Kim Jong Un has a daughter.
North Korea has never officially said whether or not Kim has a child, although there has been speculation that his wife, Ri Sol Ju, had given birth recently.
"[Ri] kept talking about their beautiful baby daughter," Rodman told The Sun tabloid.
Rodman also noted that the isolated, communist regime places importance on secrecy.
"I won't tell you if the toilets were made of gold or anything like that, as I promised Kim I wouldn't talk about that stuff," Rodman told the paper. "There is a lot of stuff I can't talk to you about."
Rodman did not say if he actually got to meet Ri's apparent daughter.
South Korean intelligence services have claimed that Ri gave birth in December. And videos shown on North Korean state television last year appear to show Ri pregnant, but in recent videos and photos, she appears slimmer.
Rodman, 51, was in North Korea to film a documentary called "Basketball Diplomacy," which is about a game between the Harlem Globetrotters and the North Korean team.
Referring to Kim, Rodman described him as a "normal guy."
"I shook his hand and called him Kim—I didn't call him Prince or Supreme Leader or anything. It is crazy what has happened to him," he told the tabloid.
The Epoch Times publishes in 35 countries and in 21 languages. Subscribe to our e-newsletter.