WASHINGTON—Senate Democrats secured the votes on Monday to block President Donald Trump's Supreme Court nominee, but it was virtually certain to be a short-lived political victory. Republicans have vowed to change Senate rules to put Neil Gorsuch on the court and score a much-needed win for their party.
Delaware Sen. Chris Coons said before a Judiciary Committee vote on Gorsuch that he would vote with his fellow Democrats to block the nomination later this week. Majority Leader Mitch McConnell of Kentucky is likely to change Senate rules so that Gorsuch can be confirmed with a simple majority in the 100-seat chamber instead of the 60 votes currently required.
The starkly divided Senate panel weighed Gorsuch's nomination, with Republicans casting the Denver-based appeals court judge as fiercely independent and Democrats complaining that his testimony "diluted with ambiguity" makes him the wrong choice.
The Republican-led Judiciary panel was expected to back Gorsuch and send his nomination to the full Senate, most likely on a near-party line vote.
Judiciary Chairman Chuck Grassley (R-Iowa) strongly defended Gorsuch as a fair and independent man. He said Democrats had worked to try and find fault with him, but "that fault will not stick."
"He's a mainstream judge who's earned the universal respect of his colleagues on the bench and in the bar," Grassley said. "He applies the law as we in Congress write it—as the judicial oath says, without respect to persons. And he refuses to compromise his independence."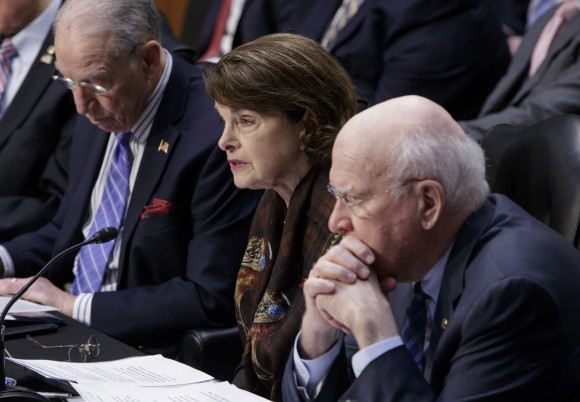 However, Sen. Dianne Feinstein of California, the top Democrat on the panel, said Gorsuch's answers during two days of questioning before the committee were "diluted with ambiguity." She announced her opposition to the nominee.
"Judge Gorsuch's views were difficult to discern because he refused to answer questions, even basic questions that had been answered by previous nominees," Feinstein said.
Democrats are angry in part because McConnell and Grassley last year blocked President Barack Obama's pick for the job after the death of Justice Antonin Scalia. Even before Obama nominated Judge Merrick Garland, McConnell said the next president should choose the nominee, and Grassley's committee never held a hearing on Garland.
"This action by my colleagues was unacceptable and has scarred this process and this body," Coons said before announcing his opposition.
With his announcement, 40 Democrats and one independent have announced they will vote to block the nomination on a procedural cloture vote—a parliamentary step to advance the nomination—and oppose the choice.
Coons, Feinstein, Patrick Leahy of Vermont and Mark Warner of Virginia all said for the first time Monday that they'd vote to block. On Sunday, Sen. Jon Tester (D-Mont.), who is up for re-election next year in a state Trump won handily, announced his opposition on Sunday.
But another Democrat in a Republican-dominated state up for re-election next year, Joe Donnelly of Indiana, announced he would support the president's nominee Sunday. Donnelly called Gorsuch, 49, "a qualified jurist who will base his decisions on his understanding of the law and is well-respected among his peers."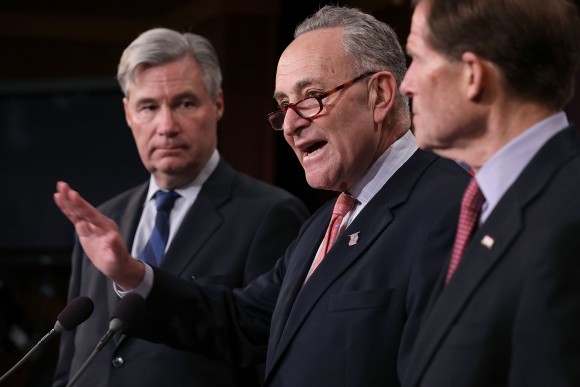 Democrats, led by Minority Leader Chuck Schumer of New York, have vowed to block the nominee, infuriating Republicans, who argue the action is exceedingly rare for Supreme Court choices.
Although a change in Senate rules might seem procedural or obscure, it is known on Capitol Hill as the "nuclear option" because it would amount to a dramatic departure from Senate norms of bipartisanship and collegiality. It could also mean that Trump and future presidents will not have to be as concerned about compromising with the minority party when nominating Supreme Court justices.
It would not be unprecedented. In 2013, when Democrats were in the majority, they pushed through a rules change lowering the vote threshold on all nominees except for the Supreme Court from 60 votes to a simple majority.
In addition to Gorsuch, the Judiciary Committee is considering two other nominations—Rod Rosenstein to be deputy attorney general and Rachel Brand to be associate attorney general. If confirmed, they will be the No. 2 and No. 3 officials at the Justice Department under Attorney General Jeff Sessions.
Epoch Times contributed to this report.