Two new prototypes should be on the starting grid for the American Le Mans Series Monterey at Mazda Raceway Laguna Seca this Saturday.
Dempsey Racing, which already campaigns a PC Oreca, will debut its P2 Lola-Judd at Saturday's six-hour endurance race. The team took possession of a brand new B12/80 last weekend and is hurrying to prepare for the race. The team has announced its intent to participate but has not shown up yet on the entry list, so this one is officially up in the air, but the team hasn't announced any changes of plan from the scheduled debut announced months ago.  
Ian Dawson's Project Libra is back on the grid after a season away, with its Radical SR-10 powered by a Roush-Yates turbo V6, both chassis and engine making their racing debuts. Libra has been an on-again, off-again participant in ALMS, generally underfunded and undertested, but this time around the team seems to have everything worked out and ready.

The Radical chassis is a 2012-spec version of the SR-9, and engine builders Roush-Yates have built winning motors for several racing series. Drivers Duarte Felix de Costa, Andrew Prendeville, and Rusty Mitchell have GT and open-wheel experience—only Mitchell has driven a prototype, a PC at Sebring in 2011.
While P2 should be gaining two cars, it is also losing one, just for Laguna Seca. Black Swan apparently decided that the cost of repairing its 2011 bodywork for just one race (its 2012 package will arrive after Laguna Seca) was prohibitive, and this team, which was involved in a nose-breaking collision with the AJR Lotus at Long Beach, should be back for the rest of the season.
P1 is also losing one of the Dyson Lola-Mazdas; the second Dyson car will only run shorter races this season.
In PC Performance Tech will be fielding an Oreca for Anthony Nicolosi and last year's Lites champion, Ricardo Vera.
With Black Swan sidelined, driver Jeroen Bleekemolen is free to race in the second TRG Porsche at Laguna Seca. WEC Ferrari team owner Tracy Krohn will be sponsoring and co-driving one TRG car for the six-hour race with Mike Hedlund and Nick Tandy; Bleekemolen will be behind the wheel of the second, with Emilio Di Guida and a driver that peripatetic veteran TBA.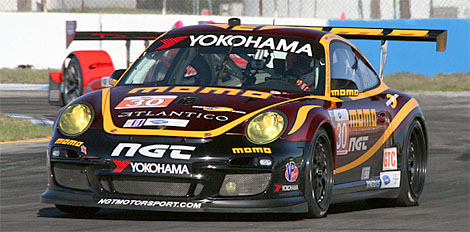 NGT Motorsports will also be back with a pair of GTC Porsches, driven by Angel Andres Benitez, Jr. and Sr., and Henrique Cisneros Sean Edwards.
All told, 37 cars: two in P1, five in P2, nine in PC, twelve in GT, and nine in GTC should take the green flag at 1: 30 p.m. local time (4:30 EDT) Saturday May 12. Tickets are available through the Mazda Raceway Laguna Seca website.
The race will stream live on ESPN3 starting at 1:15 p.m. EDT Saturday, with highlights broadcast on ESPN2 at 5 p.m. EDT on Sunday.