Thousands of people in France demonstrated against a special "health pass" and marched through Paris and other French cities on July 31, with most of the protests being peaceful, with a few sporadic clashes.
Some 3,000 security forces deployed around Paris for the third weekend of protests against the pass, which will be required soon to enter restaurants and other places. The so-called health pass system—likened to vaccine passports—was passed in the French Parliament last week, with the law going into effect on Aug. 9.
A court in Berlin declared over the weekend that anti-lockdown protests were illegal, leading to the arrests of demonstrators. According to a Deutsche Welle (DW) report, judges in the capital's administrative court refused to authorize 13 demonstrations that were organized by an anti-lockdown group. Organizers said that 22,500 people registered to partake in the protests.
Video footage and photos uploaded to Twitter showed that apparent anti-lockdown protesters were being arrested or corralled by officers on July 31. A planned march planned for Aug. 1 was also banned by the court, according to DW.
The German judges said the protests should be banned because they would facilitate the spread of COVID-19.
Berlin police spokesman Thilo Cablitz told reporters that the ruling targeted protests "whose participants regularly don't follow legal regulations, specifically to protect against infections," including wearing masks.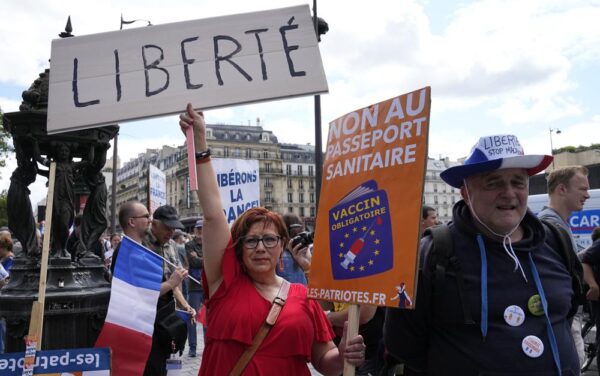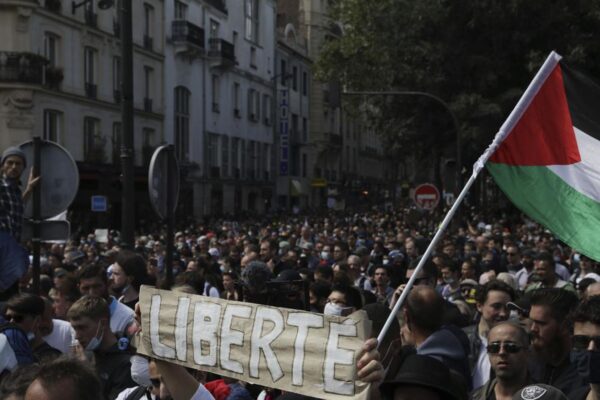 In Italy, thousands of anti-vaccine-pass demonstrators marched in cities, including Rome, Milan, and Naples, for the second consecutive week. Milan demonstrators stopped outside of the city's courthouse chanting "Truth!" "Shame!" and "Liberty!" In Rome, they marched behind a banner reading "Resistance." Those demonstrations were noisy but peaceful.
Italian authorities have also approved the implementation of a health pass to enter bars, restaurants, and other venues. Critics of the measure argue that it's draconian and infringes on basic personal liberties.
Across the border in Switzerland, more than 4,000 people gathered in Lucerne to demonstrate against vaccine restrictions, according to local media reports.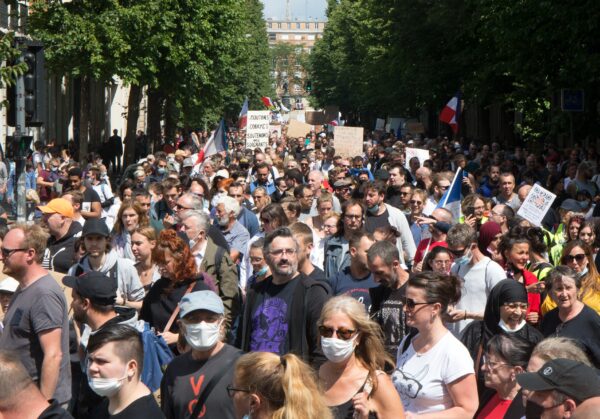 "I think that we mustn't be told what to do," 37-year-old nurse Hager Ameur, who resigned from her job, told The Associated Press, noting that French medical workers during the first wave of COVID-19 were quite mistreated. "And now suddenly we're told that if we don't get vaccinated, it is our fault that people are contaminated. I think it is sickening."
A teacher protesting in Paris told The Guardian that the health pass policy is creating segregation in France.
"We're creating a segregated society, and I think it is unbelievable to be doing this in the country of human rights," Anne, who didn't provide her last name, told The Guardian.
"So I took to the streets; I have never protested before in my life … I think our freedom is in danger."
French authorities said they need to set up the health pass due to the Delta variant being more contagious. More than 24,000 new daily cases were confirmed on July 30—compared to just a few thousand cases per day at the start of the month.
Interior Minister Gerald Darmanin wrote on Twitter that police had arrested 10 protesters in Paris and nine demonstrators elsewhere in France, noting that three officers had been injured.
Outside of Europe, thousands of demonstrators—who were wearing face masks and socially distancing—took to the streets across Malaysia to protest the government's handling of the virus while calling for Prime Minister Muhyiddin Yassin's resignation. Critics have said that the prime minister is using pandemic lockdowns and other restrictions to boost his power.
The Associated Press contributed to this report.