Democratic U.S. Senate candidates on Monday projected confidence they'll emerge victorious in the upcoming runoff elections, as they prepare to campaign with Democratic presidential nominee Joe Biden.
"I can't wait to get to Washington, D.C. as one of the next two United States senators from the state of Georgia," Raphael Warnock, a pastor who is one of the candidates, told a rally in Atlanta.
"When we win these two U.S. Senate races, we will pass a new voting rights act and a new civil rights act to secure equal justice under the law for all of us, regardless of race, and regardless of class," Jon Ossoff, the other candidate, added later.
In twin runoffs that have attracted nationwide attention, Warnock is facing Sen. Kelly Loeffler (R-Ga.) for an abbreviated term, while Ossoff is seeking to unseat Sen. David Perdue (R-Ga.).
No candidates in either race won a majority of the vote in November, triggering the runoffs.
Loeffler and Warnock emerged from a free-for-all election to finish the term of Sen. Johnny Isakson (R-Ga.), who retired last year due to poor health. Loeffler, a businesswoman, was appointed to fill the seat until the presidential election by Republican Georgia Gov. Brian Kemp.
Perdue, a businessman vying for a second term, beat Ossoff, a filmmaker, by over 88,000 votes. Both Republicans have also said they believe they will win.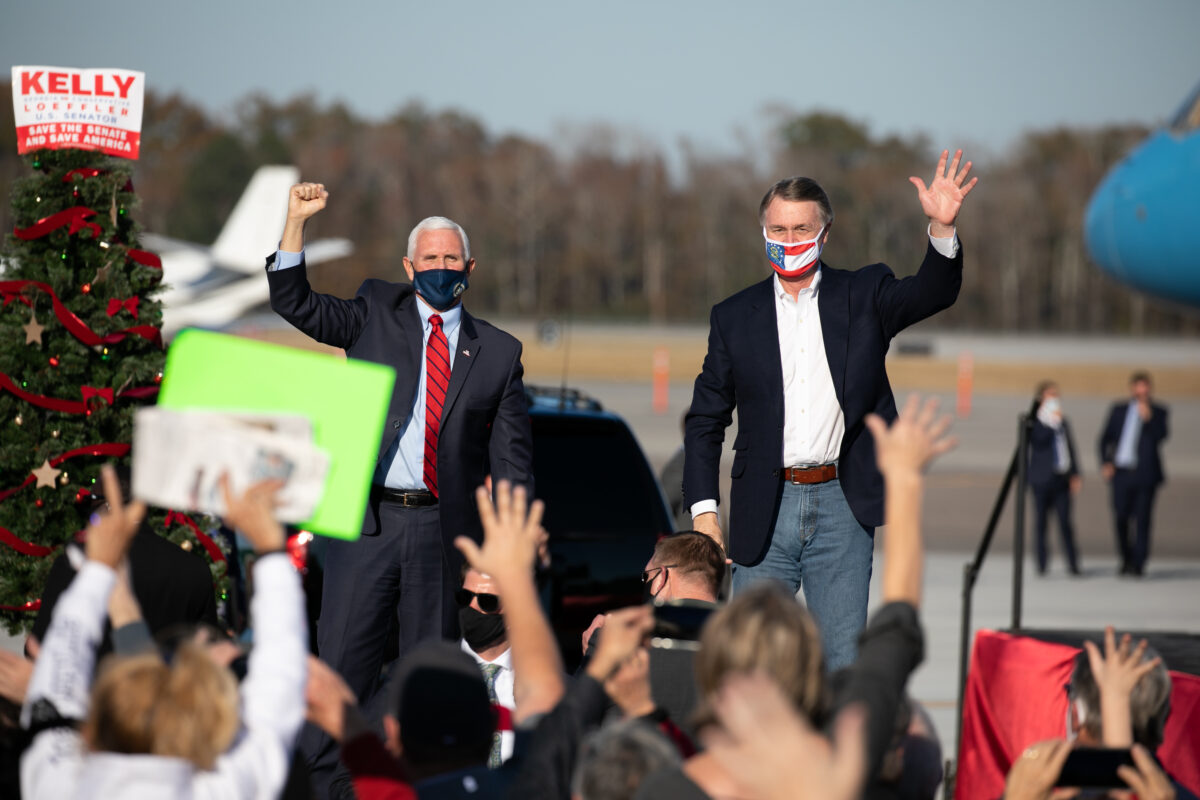 The races could determine which party controls the Senate. If Republicans win just one, or lose both but keep the White House, they'll maintain control. Vice presidents can cast tiebreaking votes in the upper congressional chamber.
Biden is headed to Georgia for the first time in the post-election era to campaign with Ossoff and Warnock. They will meet in Atlanta for an event.
Trump went to Georgia on Dec. 5 while Vice President Mike Pence has campaigned with the Republican senators multiple times since the election.
Just over 1.2 million voters requested mail ballots for the runoffs, according to state officials, showing how much interest the runoffs are attracting. Another is the amount of outside money that's poured into the state.
Early in-person voting started Monday and counties have accepted over 261,000 mail-in ballots so far.
"So far, we don't have any reports of any mechanical issues or issues at the polling locations. We've heard of no real line issues, which is a little bit different than we saw at the election in November on the first day," Gabriel Sterling, Georgia's voting system implementation manager, told reporters at a press conference.
Also on Monday, a Democratic official in the state warned that there's usually lower turnout in runoff elections compared to presidential ones.
"This election is not a continuation of what happened in November. It's a complete reset. It'll have a different character. It'll have lower turnout, most likely," Cobb County Democratic Party chairwoman Jacquelyn Bettadapur told CBSN's "Red & Blue."
"We always see lower turnouts in runoff elections and in special elections," she added. "We are primarily interested in just turning out any Democrat who voted in November. That's our target audience, expecting that we will have closer to 50 percent turnout than the 70 percent turnout we had overall in November."