While the third group of bipartisan senators try to negotiate an infrastructure package that both sides can agree meets the needs of the nation and be fully paid for, progressives in the Democratic Party are doubtful the GOP will embrace their priorities, including provisions to address climate change.
Unlike Republican lawmakers who have a traditional view of infrastructure that includes roads, bridges, rail, public transport, airports, and rural broadband internet, progressives, like Sens. Bernie Sanders (I-Vt.) and Ed Markey (D-Mass.), and Rep. Alexandria Ocasio Cortez (D-N.Y.) say the package must include "human infrastructure" and their climate change priorities.
Sen. Susan Collins (R-Maine) told reporters that the negotiations are in the initial phase.
"There is a tentative agreement on a framework, but obviously there's a long way to go," she said.
Collins, along with Sens. Bill Cassidy (R-La.), Joe Manchin (D-W.Va.), Lisa Murkowski (R-Alaska), Rob Portman (R-Ohio), Mitt Romney (R-Utah), Jeanne Shaheen (D-N.H.), Kyrsten Sinema (D-Ariz.), Jon Tester (D-Mont.), and Mark Warner (D-Va.), are attempting to negotiate an infrastructure proposal that they can then take to the White House.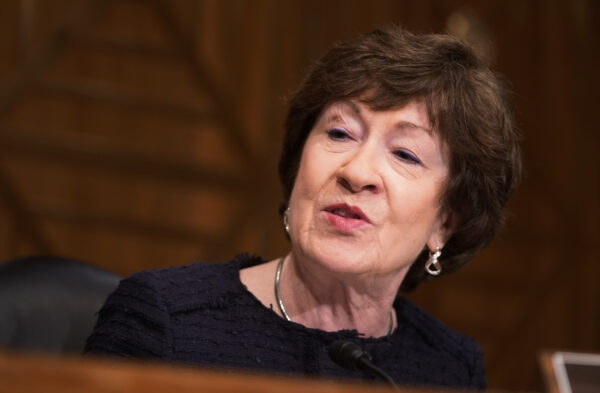 The 10 senators started their talks after Sen. Shelley Moore Capito (R-W.Va.) tried to find a compromise with the White House on the $1.9 trillion infrastructure package. The bipartisan, 58-member House Problem Solvers Caucus proposed a $1.25 trillion infrastructure package to find a bipartisan solution after GOP talks, led by Moore Capito, stalled last week.
One of the main sticking points has been finding an agreement on what the infrastructure package should fund. President Joe Biden and Democrats say it must include education, childcare, healthcare, and investments that meet their climate change goals.
Speaking to Face the Nation in May, Sanders said, "when I think about infrastructure, of course, it means, education, how do we lead the world unless we have a competitive economy, world economy, the best-educated workforce in the world." The Vermont senator added that infrastructure also "means childcare, of course, it means healthcare."
Meanwhile, Markey this week said he "won't just vote against an infrastructure package without climate action, I'll fight against it."
And Sen. Martin Heinrich (D-N.M.) wrote on Twitter: "An infrastructure package that goes light on climate and clean energy should not count on every Democratic vote."
Senate Committee on Environment and Public Works Chairman Thomas Carper (D-Del.) said he's working with another bipartisan group to include climate change priorities in the proposal.
"As part of achieving our climate and infrastructure goals, we must reauthorize our surface transportation programs, which are set to expire on September 30. I'm grateful that my colleagues are keenly aware of this urgent need. I will continue to talk with Senators on and off of our committee, as well as partnering with the House and the Administration, to finally get the job done and enact this critical legislation," Carper said in a written statement Friday.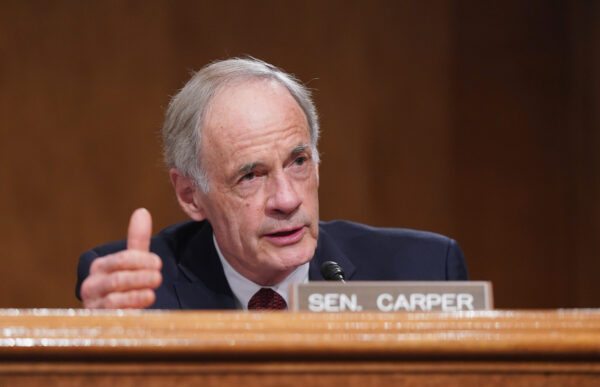 Romney, who is part of Collins's 10-member bipartisan group, said their proposal would include "a number of line items that relate to climate change."
"One relates to nuclear power, another to hydrogen power, another to direct air capture, another to CO2 pipelines," he told reporters. "So, all those things are related to climate change."
How to pay for the infrastructure has been another sticking point in the negotiations.
Collins's bipartisan group of senators said in a statement Wednesday that their agreement would not include raising taxes.
"Our group—comprised of 10 senators, 5 from each party—has worked in good faith and reached a bipartisan agreement on a realistic, compromise framework to modernize our nation's infrastructure and energy technologies. This investment would be fully paid for and not include tax increases," they wrote.
Biden has said he would not raise taxes on anyone making less than 400,000 a year but instead would tax the wealthy and large corporations. In his initial infrastructure proposal, Biden proposed reversing the 2017 Trump-era tax laws and reforming the tax code.
"Questions need to be addressed, particularly around the details of both policy and pay fors, among other matters," White House spokesman Andrew Bates said in a statement to news outlets. The White House plans to negotiate with the bipartisan group in the coming days.
The amount of the infrastructure deal Collins's group had agreed to was not disclosed. Warner, who's part of Collins's group of bipartisan lawmakers, on MSNBC this week said he would not be part of negotiations unless the framework was "substantially more than what Capito discussions were around."
Meanwhile, Democrats are growing impatient with the bipartisan process.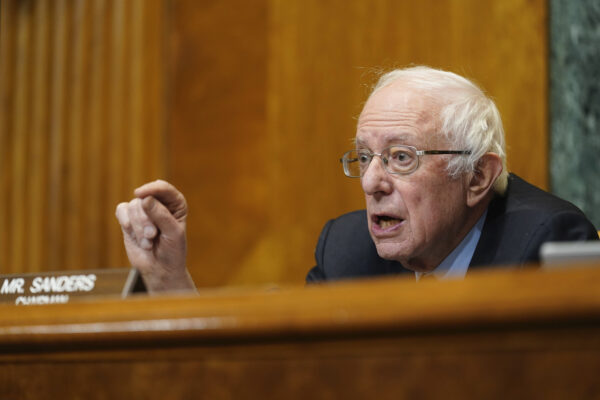 Sanders told Face the Nation that if GOP lawmakers don't support the broad definition of infrastructure to include priorities like climate change, Democrats should forget about bipartisanship.
"We would like bipartisanship, but I don't think we have a seriousness on the part of the Republican leadership to address the major crises facing this country and if they're not coming forward. We've got to go forward, alone," he said.
"Pres. Biden & Senate Dems should take a step back and ask themselves if playing patty-cake w GOP Senators is really worth the dismantling of people's voting rights, setting the planet on fire, allowing massive corporations and the wealthy to not pay their fair share of taxes, etc.," Ocasio-Cortez, one of the most progressive lawmakers in Congress, wrote on Twitter earlier this week.
"I worry about time being wasted. Even if our Republican colleagues [work in] good faith, we simply do not have the time to delay," Sen. Richard Blumenthal (D-Conn.) told reporters, CBS reported.
Senate Majority Leader Chuck Schumer (D-N.Y.) on Thursday told reporters that he's moving forward with reconciliation while the bipartisan negotiations continue.
"But we continue to proceed on two tracks, a bipartisan track and a reconciliation track and both are moving forward," he said.
Zachary Stieber contributed to this report.