American people have been suffering from Democrats' progressive policies, but Virginia's election results show the Democrats will suffer in the 2022 midterm elections, said Rep. Bob Good (R-Va.).
On Tuesday, Republicans swept all three statewide offices in Virginia: the governor, the lieutenant governor, and the state's attorney general. Republicans also flipped seven seats and regained a narrow 51–49 majority in the Virginia House of Delegates.
"Virginians, along with Americans, have been suffering under raw, unchecked Democrat power," Good told NTD's "Capitol Report" program on Wednesday, adding that the big win for Republicans is in "direct repudiation" of President Joe Biden's policies.
"Americans are suffering from it, but Democrats are going to suffer at the ballot box again next year," Good proclaimed.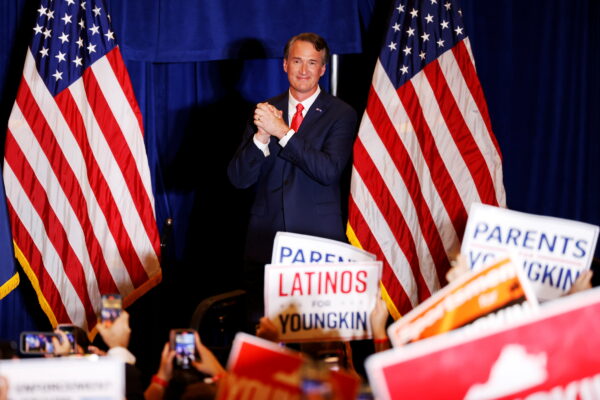 The congressman from Virginia said about the GOP victory, "it clearly was a national election."
"Virginians made the statement that Americans are going to make next year: We don't want our police defunded. We don't want to put criminals ahead of victims, criminals ahead of police. We don't want mandates on our person and on our children—vaccine mandates. We don't want to give up our most essential freedoms. We don't want runaway inflation, rapidly rising gas prices, grocery prices. The issues that affect all Americans' lives are being harmed by the Democrat Party," Good said.
Good said that critical race theory—another serious issue in the election—does exist in Virginia. Good introduced a bill in September to outlaw critical race theory in public educational institutions.
The GOP's victory is a red flag for Biden and the Democrats. Biden won the state in 2020 by a comfortable 10-point margin.
Democrats knew the importance of Virginia's election as well. Biden, Vice President Kamala Harris, former President Barack Obama all went to Virginia to campaign for Terry McAuliffe, the Democratic candidate and the former governor.
During her campaign, Harris said, "What happens in Virginia will in large part determine what happens in 2022, 2024, and on."
Good also called on the new GOP governor to stand against the vaccine mandate—the number one issue in Virginia in his view.
"I'm calling on Governor-elect Glenn Youngkin now, to not only stand against vaccine mandates," Good said. "He needs to prohibit vaccine mandates in Virginia—as they've done in Florida and Texas—to say he's going to stand in the gap between oppressive federal government and Virginians and protect us from the Biden regime."
"Vaccine mandates come across or challenge our most basic of freedoms, our own health decisions, our own health information, what we take into our body, what we disclose from a health standpoint, personal freedoms, our ability to go to work and to earn a living for our family, our ability to operate our business and keep our employees—all under threat with this vaccine mandate," Good continued.
Good also said the integrity of the election is "fundamental to who we are as a republic."
"What I was aware of is we had lots of boots on the ground, lots of folks being poll watchers, observers, trying to ensure that we had many hundreds of lawyers ready, to try to make sure election integrity was preserved," Good added. "That should be a bipartisan issue. Everybody should want full faith and confidence in our election system."
The GOP's victory in Virginia will "give us relief for these next four years at least," Good added. "And it'll be a picture of what will happen if we can … eliminate Democrat control in Washington as well."
During a press conference Wednesday afternoon, Biden said his agenda not being passed in the legislature was part of the reason for Democrats' loss in the election.
"I do know that people want us to get things done. They want us to get things done," Biden said. "People are upset and uncertain about a lot of things—from COVID, to school, to jobs, to a whole range of things, and the cost of a gallon of gasoline. And so if I'm able to pass—sign into law my Build Back Better initiative, I'm in a position where you're going to see a lot of those things ameliorated quickly and swiftly. And so that has to be done."
Ivan Pentchoukov contributed to the report.