The House of Representatives on Feb. 5 passed a budget resolution, setting up a partisan vote later this month on President Joe Biden's COVID-19 relief package.
The House approved the resolution 219-209. No Republicans voted for the resolution. Rep. Jared Golden (D-Maine) joined the GOP in voting against it.
Golden was one of two Democrats to vote against the resolution earlier this week. The other, Rep. Ed Case (D-Hawaii), voted in favor this time around.
The House voted again because the Senate amended the resolution in a marathon overnight session that wrapped up around 5:30 a.m. The Senate passed the bill 51-50, relying on Vice President Kamala Harris' tiebreaking vote.
Democrats are rushing to push through Biden's $1.9 trillion package with no Republican support, using the budget reconciliation process. Because they hold majorities in both chambers, they can pass the package by themselves, provided no Democrat senators or no more than five Democrat representatives defect.
Lawmakers will begin crafting the legislation next week, using parameters from Biden's proposal, House Speaker Nancy Pelosi (D-Calif.) said earlier Friday. She guaranteed the process would be done by March 15.
"Next week committees will begin writing the detailed legislative text for the Biden American Rescue Plan, so that we can finish our work well before lifeline unemployment assistance expires. The Budget Committee looks forward to receiving committees' legislation by February 16 and then preparing the measure for floor consideration," House Budget Chairman John Yarmuth (D-Ky.) said in a statement.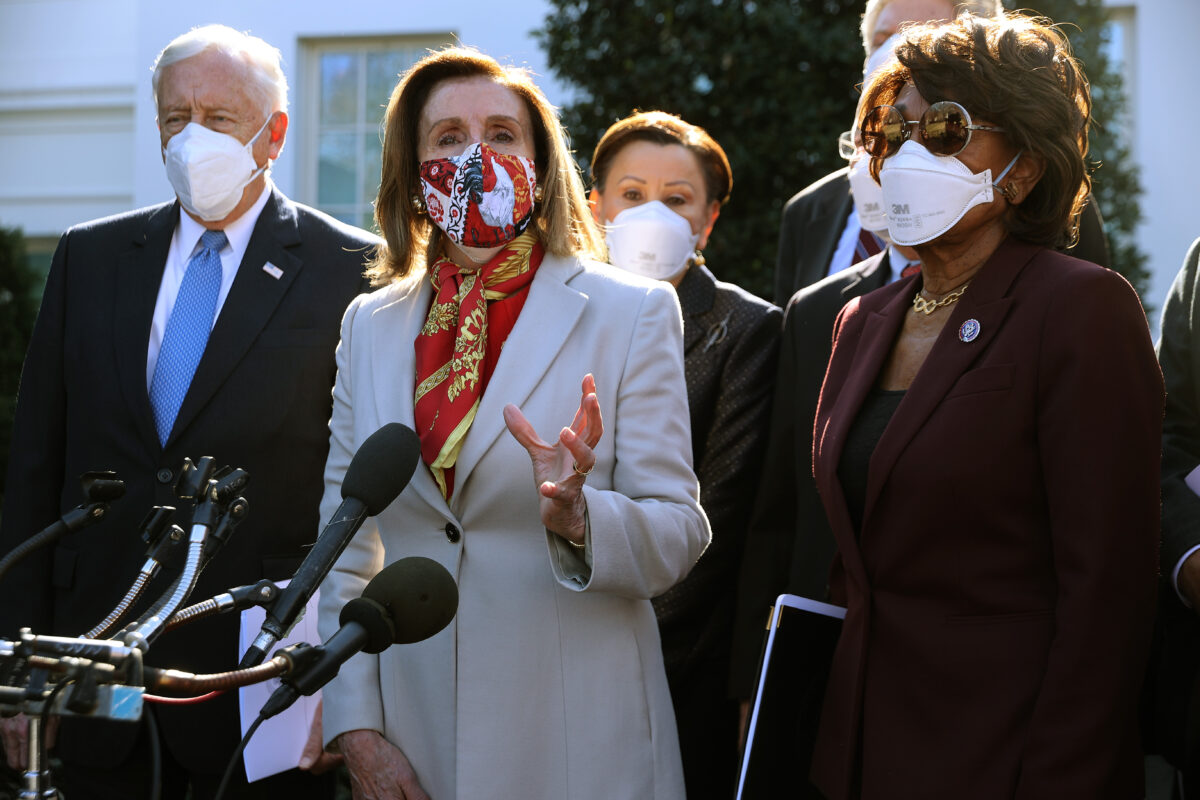 Speaking shortly before the House passed the resolution, Biden said he was prepared to move forward without Republicans.
"I'm going to help the American people who are hurting now. That's why I'm so grateful to the House and Senate for moving so fast on the American Rescue Plan," he said, using the official name for his proposal.
"Our hope would be that we would have bipartisanship. Having a reconciliation bill is necessary so that we guarantee that we will have results, and hopefully will give us some leverage with Republicans," Pelosi told reporters outside the White House.
Republicans have cried foul on the method Democrats are using, noting that Congress has passed five bipartisan relief packages since the start of the COVID-19 pandemic.
Republicans question the size of Biden's proposal because so much money remains unspent from the $900 billion package passed late last year.
"I think it is important for members to recognize, this is your only vote on adding nearly $2 trillion to the deficit. If this is the way we're going to achieve the passage of a budget resolution, why didn't we take more time to negotiate a better product for the American people?" Rep. Michael Burgess (R-Texas) said on the House floor.