CAMPBELL, Calif.—A naturalization ceremony is an event of great importance to immigrants who've just become U.S. citizens. It's also a great opportunity for political parties to register these new citizens, who've just gained the right to vote. 
The Heritage Theatre in Campbell, California, hosts naturalization ceremonies on the fourth Tuesday of every month. At one such ceremony, on Nov. 26, two booths outside the theater worked to register new voters as Democrats and Republicans respectively. 
A cut-out of the Statue of Liberty stood next to the Democrat booth. By the Republican booth was a cut-out of President Donald Trump, slightly larger than life-sized—standing a head or so taller than the people posing for photos beside it.
November ceremonies, just ahead of the holidays, usually have the highest attendance of the year, said Jose Posadas, an election specialist from the Santa Clara County's office of Community Relations. This year, the theater had four ceremonies, all on Nov. 26, attended by a total of about 1,200 new citizens. 
Posadas said by the end of the day, half of them would be registered to vote—some as Republican, some as Democrat, and some as nonpartisan.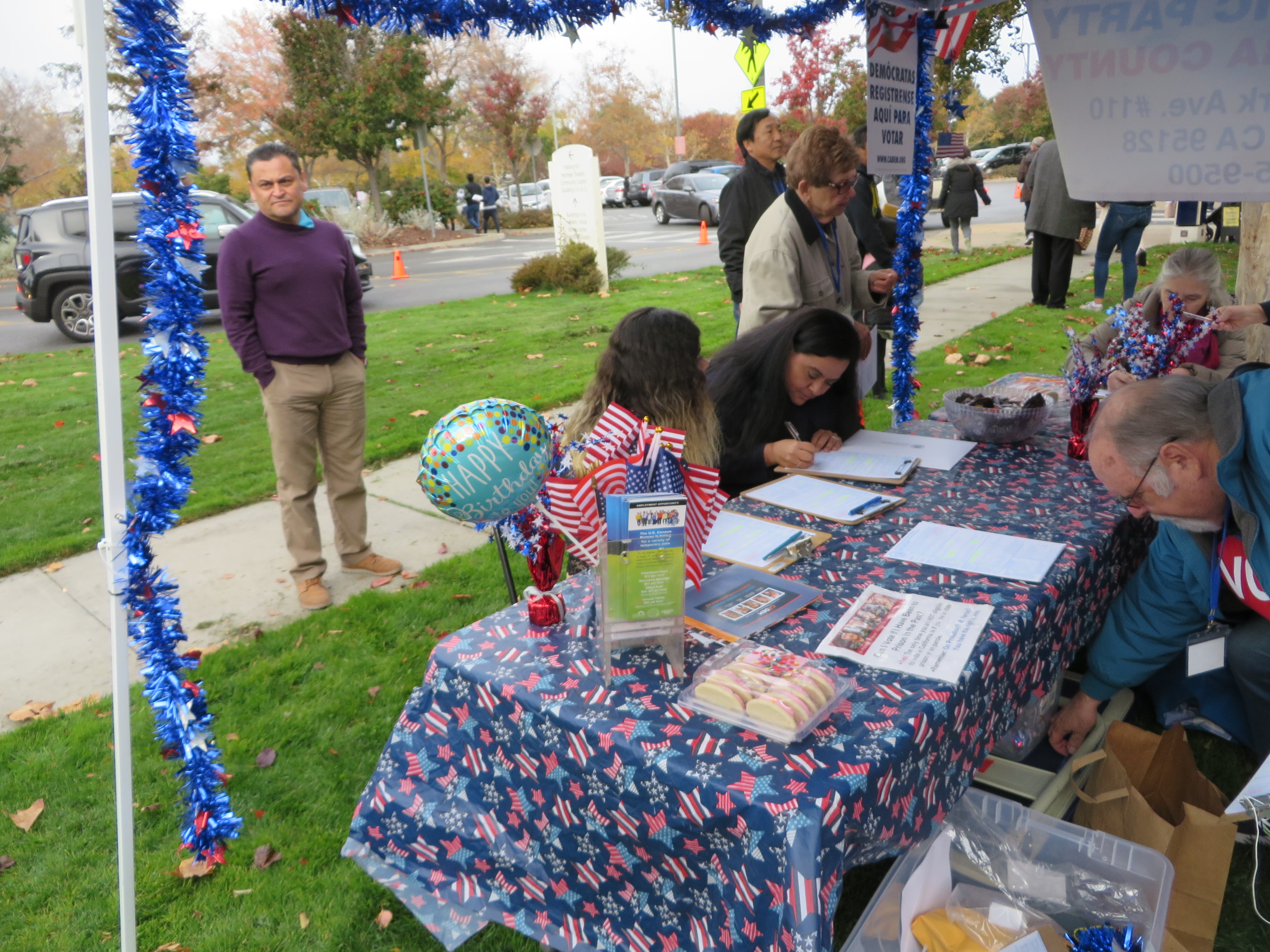 Teng Chun, one of the attendees, registered as a Democrat minutes after her naturalization ceremony. She's Chinese but is from the Philippines, and she has lived in the United States for 16 years.
Chun said she felt excited and proud to be able to vote. She said she believes it's good that voting is a privilege only for citizens, but she's glad after all these years of paying taxes to be able to vote and have some say in how those tax dollars are spent. 
Santa Clara County is a part of the San Francisco Bay Area, a deeply blue region, heavily Democratic. "People just came and signed up," said Judy Gilford, a volunteer working at the Democrat booth. She said she didn't need to convince people.
Gilford comes as a volunteer each month to help her party. Her grandparents were Jewish, and came to the United States from Eastern Europe prior to communists taking control there.
Matheeswaran Tharmarathinan stood next to Trump's cutout to take the first photo of himself as a U.S. citizen, accompanied by his wife and two children. He's from Sri Lanka and has been in the United States for six years. 
"I will vote next year, and I have never voted in my life," said Tharmarathinan. He said he would vote for Trump, because Trump "speaks everything straightforward. Speaking straightforward is important for the leader."
Rosa Cruz, who is from South America and has been in the United States for 18 years, attended a Heritage Theatre naturalization ceremony in October. She registered there as a Republican. 
She said she likes both the Republican and Democratic parties, and she only agrees with half Trump's policies, but she supports him because she feels he has helped the U.S. economy.
Gary and Sarah Debling, from England, also joined the ceremony in October. Gary works in the tech industry and came to the United States for an "amazing experience" in Silicon Valley. They posed for a picture with the president's cutout at the Republican booth, but they said they had not decided which party to register with.
Anna Kramer was a volunteer at the Republican booth in October. She is also a San Mateo County Republican Central Committee member, and she has been volunteering at similar events in Santa Clara and San Mateo counties since July.
She criticized the media for being "always negative" about Trump. "They won't say anything good about President Trump. If they would have been a little more balanced about President Trump, I wouldn't feel so threatened," Kramer said. "Because they are so biased, I feel I need to come out and really stand up for what I believe in."