Leaders of the largest socialist political organization in the United States, the Democratic Socialists of America (DSA) met with Venezuelan dictator Nicolás Maduro on July 2.
The Virginia chapter of DSA confirmed the meeting with Maduro, writing on social media: "DSA members meeting directly with President Maduro. Big things are happening in our organization."
The meeting was attended by the chairperson of the National Political Committee of the DSA, members of the International Committee, and the organization's Political Formation, Foreign Policy, and Bilateral Relations committees, according to Telesur.
The DSA has endorsed self-professed Democratic socialists to the House of Representatives, including Reps. Rashi­da Tlaib (D-Mich.), Alexandria Ocasio-Cortez (D-N.Y.), Cori Bush (D-Mo.), and Jamaal Bowman (D-N.Y.).
The DSA said it had close to 10,000 people join their organization after Ocasio-Cortez was first elected in 2018. Ocasio-Cortez said in a March interview with DSA: "I went through a process of earning the DSA endorsement. And that was in addition to stitching a collective together of the movement for Black lives and the movement for immigrant rights."
The DSA said it has 92,000 members and chapters in all 50 states, and the DSA website states they are fighting capitalism, adding, "We know our economic system is rooted in white supremacy and the capitalist class depends on racism to divide and oppress the working class."
Telesur, a Latin American multimedia platform, wrote that one of the goals of the meeting between Maduro and DSA was "to strengthen the fight against the blockade and the coercive and unilateral measures imposed by the government of the United States."
While DSA leadership didn't respond to The Epoch Times' request for comment on the meeting, in March they put out a statement criticizing the Biden administration's policies toward Venezuela.
"U.S. Secretary of State Antony Blinken met with right-wing opposition leader Juan Guaidó and, illegitimately and against the wishes of the Venezuelan people, recognized him as interim president of Venezuela. This act by the Biden administration is just the latest in a long history of feckless and illegal U.S. interventions in the region, carried out with bipartisan consent," DSA's international committee said in a statement.
"We take this occasion to reiterate our condemnation of historic and ongoing meddling by the U.S. in Venezuelan internal affairs, as well as our broad support for movements for democracy and socialism in Venezuela.
"Finally, DSA IC calls on DSA-endorsed candidates and elected officials to use their positions to decry all U.S. interference in Venezuela, and on its chapters and members to organize protests against this interference and hold educational events to learn more about how to support movements for Bolivarian socialism in the 21st century."
Ocasio-Cortez in March 2019 said in response to a question about the Trump administration's handling of the crisis in Venezuela: "Yeah, so I think that that this is absolutely a complex issue and I think it's important that we approach this very carefully … myself just like anyone else who is absolutely concerned with the humanitarian crisis that's happening. And I think it's important that any solution that we have centers … on the Democracy of Venezuelan people first. I am very concerned about U.S. interventionism in Venezuela, and I oppose it."
Meanwhile, recent reports by human rights organizations continue to confirm Maduro's human rights abuses and the reason for the imposed sanctions on Venezuela by the United States.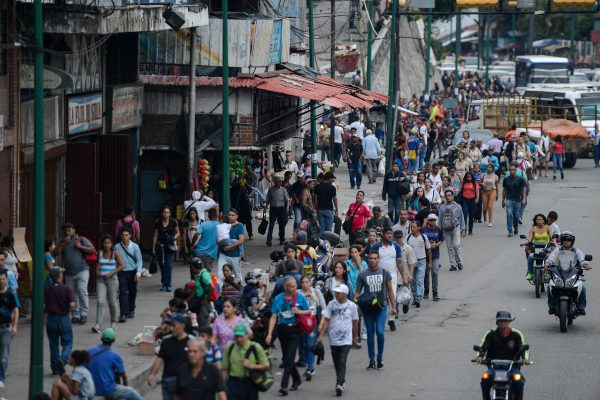 Amnesty International's most recent report on Venezuela began: "The continuing human rights crisis in Venezuela saw further reports of extrajudicial executions, excessive use of force, and unlawful killings by the security forces during the year. People expressing criticism of government policies—including political activists, journalists, and health workers—were subjected to repressive measures including criminalization, unfair trials, and arbitrary detention."
The most recent report (pdf) by the U.N. High Commissioner for Human Rights Michelle Bachelet, the former president of Chile, states that her office (OHCHR) "continued to receive credible allegations of torture or cruel, inhuman, or degrading treatment or punishment."
"OHCHR received some accounts of beatings, electric shocks, sexual violence, and threats of rape. … Previously identified patterns of enforced disappearance and incommunicado detention persisted," it states.
The Biden administration rejected a plea from Maduro to lift sanctions imposed on his socialist regime by former President Donald Trump, a State Department spokesperson told The Epoch Times in June.
Trump imposed a series of crippling sanctions on Venezuela during his term—the latest in response to an election the United States deemed rigged. Trump and a number of world leaders recognized Juan Guaidó as Venezuela's interim president after the election.
Ivan Pentchoukov contributed to this report.