Here are the evening's highlights from the Democratic presidential debate that took place in Las Vegas on Feb. 19.
The candidates on stage were former New York City Mayor Michael Bloomberg, 78; former Vice President Joe Biden, 77; Sen. Bernie Sanders (I-Vt.), 78; former South Bend, Indiana, Mayor Pete Buttigieg, 38; Sen. Elizabeth Warren (D-Mass.), 70; and Sen. Amy Klobuchar (D-Minn.), 59.
Only Sanders Opposes Brokered Convention
Every candidate but Sanders said that they support delegates at the Democratic National Convention this summer choosing the Democratic presidential nominee.
If no candidate wins a majority of the delegates, a brokered convention could then take place. Such a convention, in which party bosses or delegates decide the nominee through floor fights and negotiations, hasn't happened since the invention of the modern primary system five decades ago.
Asked about such a possibility at the debate, five candidates said it would be fine. But Sanders said that whichever candidate goes into the convention with the most nominees should get the nomination.
Appearing on CNN early Feb. 20, former presidential candidate John Kerry pushed back on Sanders's contention. "This is not a race for the most delegates going into the convention," Kerry, a Biden supporter, argued. "When you become a candidate for president of the United States, you know what the rules are. And if you're going to be a good president, you need to play by the rules, something that Donald Trump doesn't do."
Former Senate Majority Leader Harry Reid said before the debate on Wednesday that a brokered convention should take place if no candidate gets a majority of delegates.
"We've had brokered conventions before, and we've always come up with good candidates. It's not the end of the world. It just slows the process down," he said.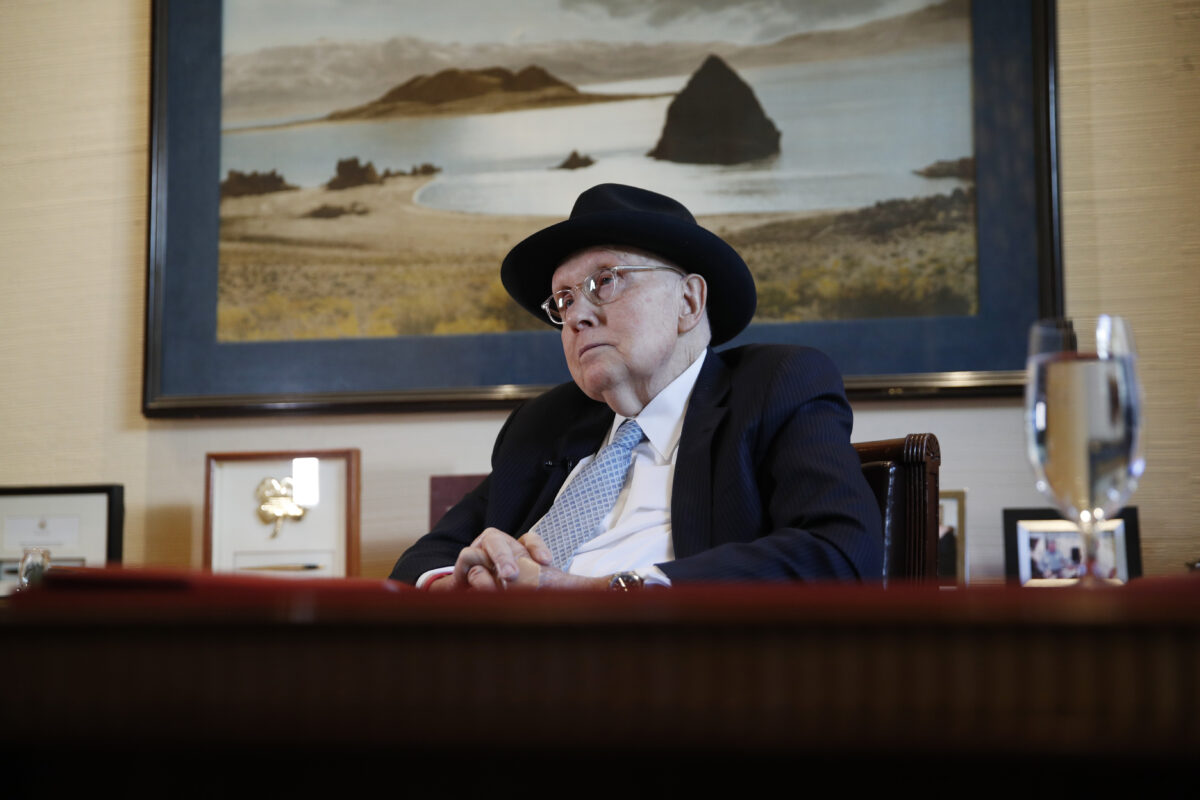 Bloomberg, Sanders Spar Over Wealth, Lawmaker History
While every candidate took time to attack at least one rival, a lengthy back-and-forth was seen between Bloomberg and Sanders, with the ex-mayor repeatedly criticizing Sanders over his decades as a U.S. lawmaker and Sanders hitting at Bloomberg for his massive fortune.
At one point, Sanders charged that "billionaires pay a lower tax rate than the middle class!"
"Why do you complain? Who wrote the tax code?" Bloomberg asked, referring to Sanders's long history as a government official.
"The billionaires," Sanders responded. Bloomberg dismissed the claim before Sanders added: "Politicians put in place by billionaires," prompting Bloomberg to add: "Most of whom are Democrats."
Bloomberg said that the conversations on stage during the debate were making it easier for President Donald Trump to get reelected, before adding: "We're not going to throw out capitalism. We tried that. Other countries tried that. It was called Communism and it just didn't work."
Sanders, a self-described socialist, honeymooned in the Soviet Union and has praised some aspects of the system that was in place before the fall of the sovereign state. Bloomberg has also praised communist governments, primarily the Chinese Communist Party.
After Sanders railed against the most wealthy in the United States, Bloomberg responded, saying: "What a wonderful country we have. The best known socialist in the company happens to be a millionaire with three houses. What did I miss?"
Sanders said that one of his homes is in Washington, where he works as a senator, and another is in Vermont. The third, he said, is "a summer camp."
"Where is your home? Which tax haven is your home?" Sanders asked Bloomberg.
The former mayor said he lives in New York City and pays all of his taxes. He added that as mayor, he raised taxes on city residents.
After Bloomberg said that he earned his money by working hard, Sanders jumped in, telling him: "Maybe it wasn't you who made all that money. Maybe your workers played a part in that as well."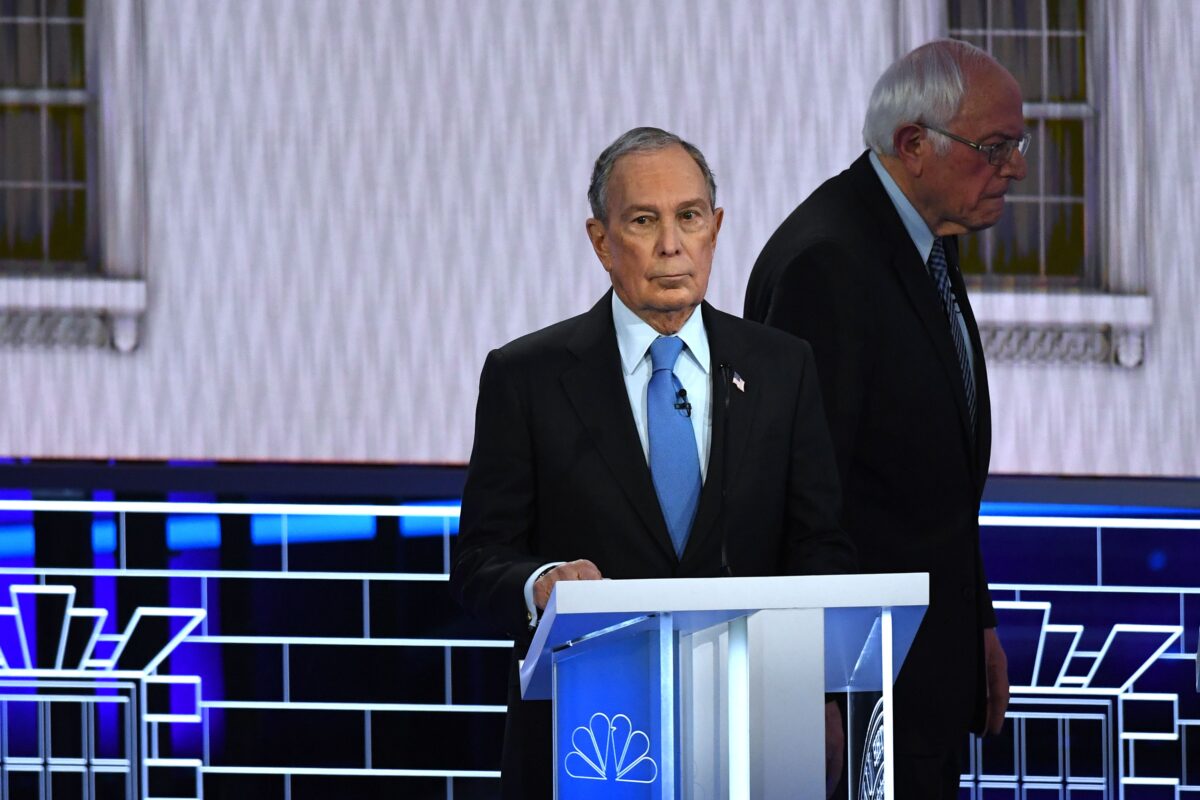 Trump Trolls Democrats Debating in Nevada From Arizona Rally
President Donald Trump trolled his political rivals Wednesday in the first of three rallies in the West over three days as Democrats vied in neighboring Nevada to challenge him in the November election.
Just minutes before Trump regaled a friendly crowd in Phoenix, Democrats watched billionaire and former New York Mayor Mike Bloomberg make his debut on the debate stage ahead of Nevada's party caucuses on Saturday. Trump took aim at the new target.
"I hear he's getting pounded tonight—you know he's in a debate," Trump said about the man he has dubbed 'Mini Mike' because of his short stature. "I hear that pounding. He spent $500 million so far and I think he has 15 points. Crazy Bernie was at 30."
Trump added: "That's OK because we don't care who the hell it is, we're going to win."
Arizona is a 2020 battleground state and home to Sen. Martha McSally (R-Ariz.), who stood by the president during the Senate impeachment trial. Democrats think with a little luck, the state could be in play. Trump said he'd win the state as he did in 2016.
"With your help this November, we are going to defeat the radical socialist Democrats and we are going to win Arizona in a landslide," Trump said to loud applause.

Biden, Bloomberg Promise Action on Climate
Biden and Bloomberg were among candidates promising action on climate change if elected president.
On day one in office, Biden said he'd call on the signatories of the Paris Climate Accords to meet.
"I will get them to up the ante in a big way," he said.
Asked about large companies blamed for affecting the climate, Biden said he'd get them to stop. He also said he'd try to take action relating to past pollution and other negative effects.
"This is the industry we should be able to sue, just like the tobacco companies," he said.
Bloomberg said he would move to close coal-fired power plants but said eliminating fracking was not realistic. He said fracking "is a technique" that needs to be done correctly.
"The world is coming apart faster than any scientific study had predicted," Bloomberg claimed.
Buttigieg told the audience that the "deadline" to take action is 2020.
If one of several Democrats isn't elected president, Buttigieg said, it would become too late to take action. It was another jab at some of the former mayor's rivals, including Sanders.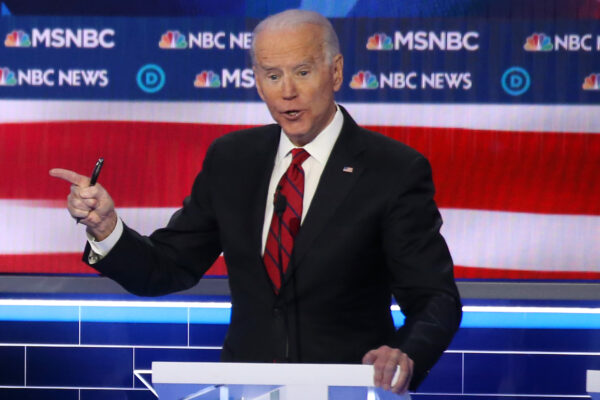 Klobuchar on Not Remembering Mexican President's Name
Klobuchar said her momentary lapse in memory when she couldn't recall the name of Mexico's president shouldn't overshadow her knowledge about Mexico.
Klobuchar was unable to name the president of the nation south of the United States when asked by a Telemundo reporter during a forum in Nevada last week. The president of Mexico is Andrés Manuel López Obrador. He was elected last year.
"I don't think that that momentary forgetfulness actually reflects what I know about Mexico and how much I know about it," Klobuchar told the debate audience.
"I made an error. I think having a president that, maybe, is humble and is able to admit that wouldn't be a bad thing."
Klobuchar said at a CNN town hall on Tuesday that she spent a long day in Washington before traveling to the forum.
Billionaire businessman Tom Steyer was also unable to name Mexico's president. He didn't qualify for Wednesday's debate. Rep. Tulsi Gabbard (D-Hawaii) also didn't qualify.
Biden used the opportunity to highlight his experience in government, saying: "I'm the only one who has spent hundreds of hours in Latin America. I met with the [Mexican] president and the one before that."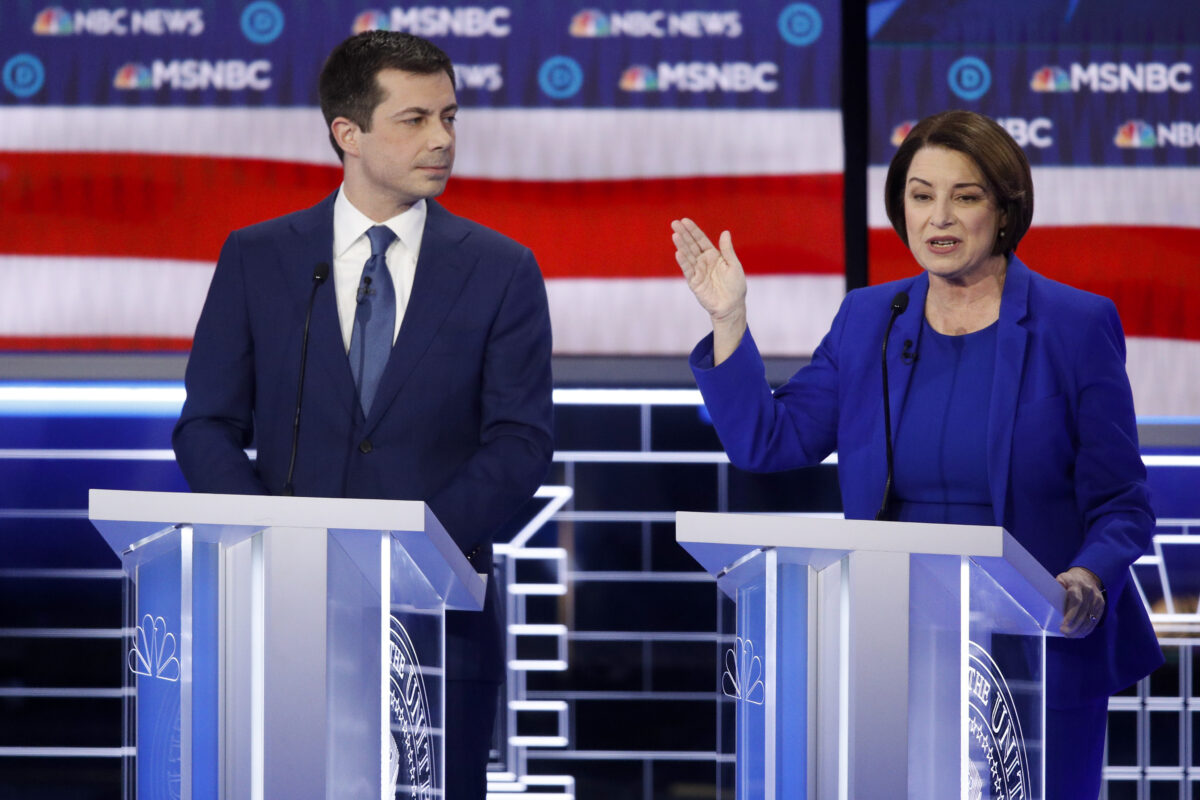 Sanders Defends Decision Not to Release Medical Records
Sanders defended an announcement he made Tuesday night in which he reversed course and said he wouldn't release his full medical records. Sanders suffered a heart attack last year.
Sanders argued that his campaign did release the records, referring to three letters it released from doctors, which included information about the senator's health history.
He then pointed to Bloomberg, saying: "You have two stents as well."
Sanders went on to quote from one of the letters, in which a doctor said that the 78-year-old is in good enough health to be the commander-in-chief.
When asked to respond, Buttigieg said that Sanders hadn't released enough information.
"Transparency matters, especially living through the Trump era," he said. But, he added that he was more concerned about Sanders not being transparent about how he'd pay for Medicare for All.
Sanders rebutted by attacking Buttigieg's plan "as a maintenance of the status quo."
"If my plan was the status quo, why was it attacked by the insurance industry when it came out?" Buttigieg responded back.
Bloomberg, when asked about the wait for the release of his tax records, said it "just takes a long time."
"The number of pages will probably be in the thousands of pages. I can't go to TurboTax," he said. "They'll be out in a few weeks."

Bloomberg 'Embarrassed About' Stop and Frisk
Bloomberg says the controversial "stop-and-frisk" policy represents the singular thing he's "really worried about and embarrassed about" from his time as New York City mayor.
Bloomberg said during Wednesday night's Democratic debate in Las Vegas that he has repeatedly apologized for the policy, which gave police wide authority to detain people they suspected of committing a crime.
Bloomberg aggressively pursued the tactic when he first took over as mayor in 2002. A federal judge found in 2013 that stop and frisk intentionally and systematically violated the civil rights of tens of thousands of people by wrongly targeting black and Hispanic men.
Bloomberg blasted the ruling at the time, calling it a "dangerous decision made by a judge who I think does not understand how policing works and what is compliant with the U.S. Constitution."
Biden argued that the policy stopped only after the Obama administration "sent in monitors" to observe the process.
Candidates Attack Sanders, Bloomberg
Following Warren's attacks on Bloomberg, Biden also went on the offensive against the billionaire.
Biden claimed that Bloomberg "didn't get a whole lot done" while mayor of New York City, saying the stop-and-frisk policies that Bloomberg escalated in the city included putting thousands of young black men "up against a wall."
Buttigieg later attacked Sanders, saying that the Democratic nominee "should actually be a Democrat." Sanders is an Independent and self-described socialist.
Buttigieg pointed to the Culinary Workers Union, a local union that announced its opposition to Sanders over his Medicare for All healthcare plan. "You're at war" with the union, he told Sanders.
Sanders responded by saying he has more union support than other candidates. He later said it was "unthinkable" that any of his supporters have been attacking union workers.
Sanders also said that Medicare for All is necessary because of high healthcare costs, as did Warren.
She attacked Buttigieg's healthcare plan, which would introduce a public option, as well as Klobuchar's plan that also features a public option.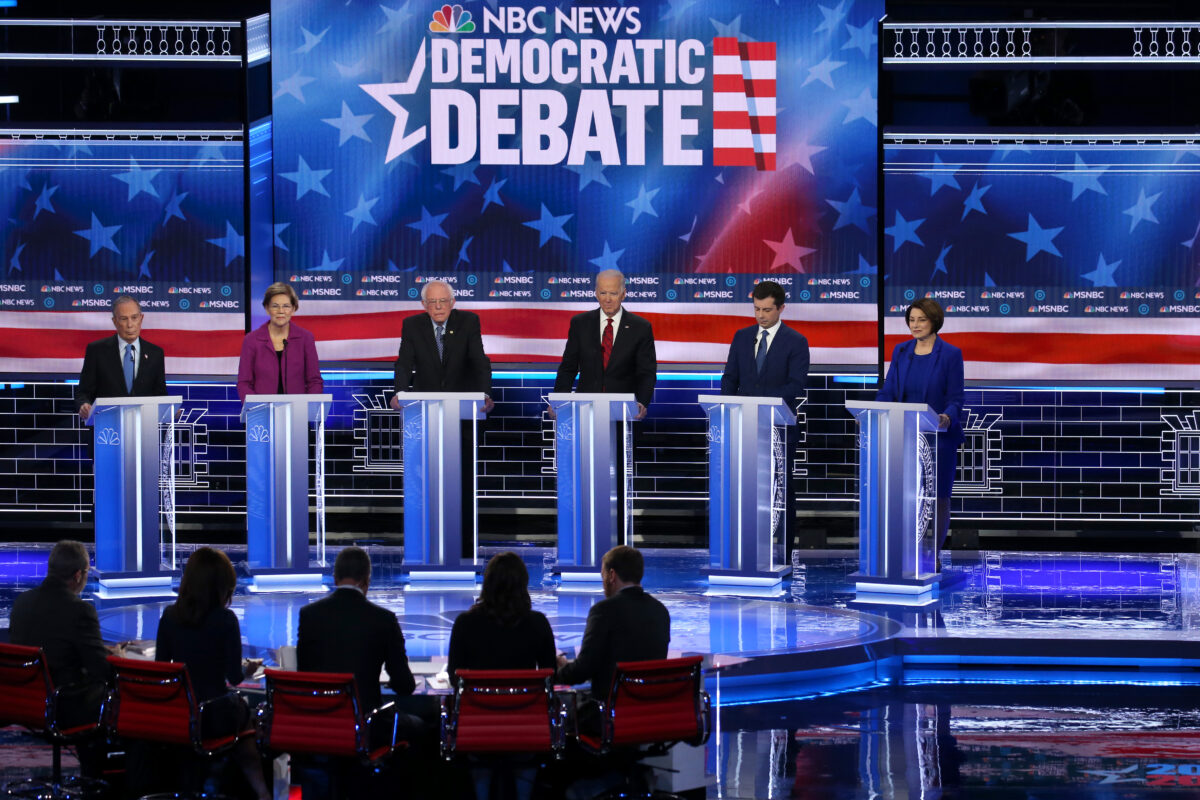 Bloomberg Opposes Medicare for All
Bloomberg has said he opposes Medicare for All, directly attacking Sanders, who wrote the bill outlining the socialist policy.
The former mayor said in the opening moments of the debate that he doesn't think the proposal is a good idea. He then alleged that if Sanders wins the Democratic nomination, President Donald Trump will win reelection.
"If he goes and is the candidate, we'll have Donald Trump for four more years," Bloomberg said.
Warren followed the attack with one of her own, quoting some disparaging remarks Bloomberg allegedly made about women before informing the crowd that the comments weren't uttered by Trump–they were said by Bloomberg.
Bloomberg later said he supported Obamacare, or the Affordable Care Act, but believes it didn't go "as far as we should."
"Find ways to expand it. Another public option, having some rules capping charges," he said. "We shouldn't walk away and start something that is totally untried."
Biden said Bloomberg called Obamacare "a disgrace." According to an archived speech found by CNN, Bloomberg gave at Dartmouth College in 2010, Bloomberg said the final version of the act would do "absolutely nothing to fix the big health care problems" and also called the program "a disgrace."
A Bloomberg spokeswoman told CNN that Bloomberg did support the bill "but wanted Congress to go further than they did."
Bloomberg qualified for his first debate after the Democratic National Committee axed a donor requirement, allowing Bloomberg to qualify based on poll results alone.
The Associated Press contributed to this report.