Democratic presidential contenders are prepared to attack former New York City Mayor Michael Bloomberg at the Feb. 19 debate in Nevada, a state in which the billionaire isn't even on the ballot.
The debate, which starts at 9 p.m. Eastern Time, will be the first including Bloomberg.
"It's a shame Mike Bloomberg can buy his way into the debate. But at least now primary voters curious about how each candidate will take on Donald Trump can get a live demonstration of how we each take on an egomaniac billionaire," Sen. Elizabeth Warren (D-Mass.), 70, said in a statement on Tuesday after Bloomberg, 78, qualified for his first debate.
The qualification wouldn't have happened if the Democratic National Committee kept the same rules in place. But the committee axed a donor requirement, paving the way for Bloomberg, who is self-funding his campaign, to make the stage.
Sen. Bernie Sanders (I-Vt.), 78, and former South Bend Mayor Pete Buttigieg, 48, foreshadowing the debate, attacked Bloomberg at a CNN town hall on Tuesday night.
"He said 'I don't have to do that, I'm worth $60 billion,'" Sanders told the audience, mimicking Bloomberg as he referred to the former mayor's unconventional bid that features avoiding the early voting states. "'I'll buy the presidency.'"
Asked if Bloomberg is trying to buy the nomination, Buttigieg said "Yes."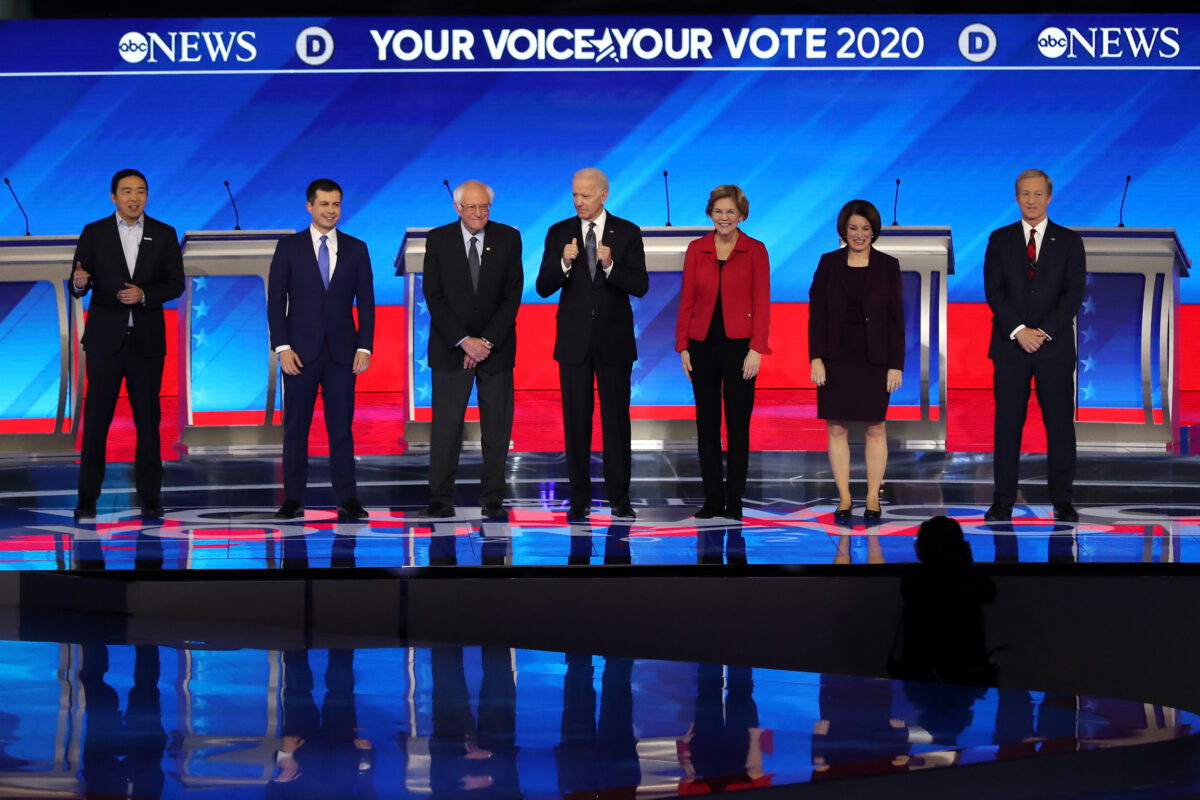 "I mean, what else do you call it," Buttigieg said. "What else do you call it when you dip into your reserves of millions and billions and don't go through the process of campaigning in states like Nevada, Iowa, or New Hampshire, going into the diners and the backyards, looking eye to eye?"
And Sen. Amy Klobuchar (D-Minn.), 59, said she's glad to see Bloomberg qualify for the debate. "I actually thought he should be on the debate stage because I don't think you should just be able to buy your way to the presidency," she said.
"We want to make sure that you have the best candidate to lead the ticket, and I don't think that when people look at Donald Trump, they automatically say, 'Hmm, can we get someone richer?'" she added.
Bloomberg has said he's the best candidate to take on President Donald Trump but also said he'd support whoever wins the Democratic nomination.
Sanders did not answer a question about whether, if he is the nominee, he'd accept donations from Bloomberg. Buttigieg, though, said he'd accept financial support from the billionaire. Klobuchar was not asked if she would accept support from him.