April 5th is China's traditional Qingming Festival, when people honor the dead. Famous democratic advocates Hu Jia, Qi Zhiyong and eight others brought a basket of flowers to former CCP General Secretary Zhao Ziyang's home to pay their respects.
The flower arrangement was formed by six white flowers and four yellow flowers, representing the eternal spirit of the June 4 democratic movement.
Zhao's son, Zhao Erjun and Zhao's daughter, Wang Yannan and her husband, hosted them. When they were leaving Zhao's home after honoring Zhao Ziyang, they were detained by over 20 policemen and put under arrest at Donghuamen Police Sub-station. They were not released until that evening.
According to the masses of mourners who came, other visitors came to Zhao's home to honor him all through the day. There were about 20 to 30 people who sent baskets of flowers in the morning and there were many policemen and plain-clothed guards outside the door.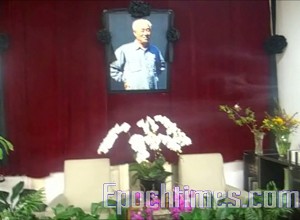 At about 11:00am, after Qi Zhiyong and his party finished mourning and walked out of the door, they found that the south and north exits of Fu Qiang alley were full of policemen, both plain clothes and uniformed. The moment they walked out of the alley, a plain clothed policeman and a uniformed policeman stopped Qi Zhiyong by force, and then more than 20 policemen came over and surrounded them. They didn't ask any questions and just opened the door of a police car to take Qi Zhiyong and his party to Donghuamen Police Sub-station.
After Qi Zhingyong and the others were taken to the police sub-station, they were very calm and asked the policemen, "What have we done?" At this point, the policemen didn't know how to answer. In the end they said, "I am just doing what I am told to do by the top."
At about 5pm, Qi Zhiyong and the others all returned home safely. Policemen from Donghuamen Police Sub-station didn't even ask any questions, they just wanted to keep them at the station.
Not long ago, a French reporter mentioned to Chinese Premier Wen Jiabao during a news conference that Zhao Ziyang once talked about the future democratization of China when he was under house arrest. However, none of the Chinese media reported this news.
Former Beijing policeman Li Jinping said that it looks like the authorities are still afraid of Zhao Ziyang and that they hope people would forget about him. "But it is impossible. Lots of people still miss him in their hearts. We should mourn him and seek justice for him," said Li.
Video clip : Famous Chinese democratic activists Hu Jia, Qi Zhiyong and eight others visiting former CCP General Secretary Zhao Ziyang's home to mourn him.