U.S. Rep. Seth Moulton (D-Mass.) pushed back against critics who say his secret trip to Afghanistan with another congressman was wrong and could have created more issues for security forces inside Afghanistan, telling a newspaper on Aug. 25 that he doesn't care "one bit about anonymous quotes from Washington" when he's "saving the lives of our allies."
The Democrat told The Boston Globe from Doha, Qatar, that on multiple occasions he had requested permission to travel to Afghanistan, but had been turned down. The Marine Corps veteran said he was motivated to make the trip to help get families out of the country since they weren't getting the assistance they needed via remote efforts.
"I got several, not just families, but groups through the gates," Moulton told the Globe, referring to the heavily guarded Kabul airport, where Taliban fighters have blocked access for some Americans as well as many Afghans who are seeking to flee the country.
Speaker of the House Nancy Pelosi (D-Calif.) was among the critics, and said that while she, too, cares about the people in Afghanistan, any lawmakers who would decide to go to Afghanistan while the evacuation effort is underway are "diverting resources."
"Member travel to Afghanistan and the surrounding countries would unnecessarily divert needed resources from the priority mission of safely and expeditiously evacuating America and Afghans at risk from Afghanistan," Pelosi wrote.
Moulton said: "It's amazing that people think this is about politics when it's about innocent lives and saving people who have given everything to us from torture and death. Every single person that we can get through the gates who is one of our allies, that is the difference between freedom and death."
The lawmaker from Massachusetts made the trip with Republican Rep. Peter Meijer (R-Mich.), a fellow veteran, on Aug. 24. Moulton pushed back against criticism from officials who said the trip to Afghanistan could have put an extra burden on military personnel conducting the evacuation, responding that he and Meijer were low-key and stayed mainly at headquarters.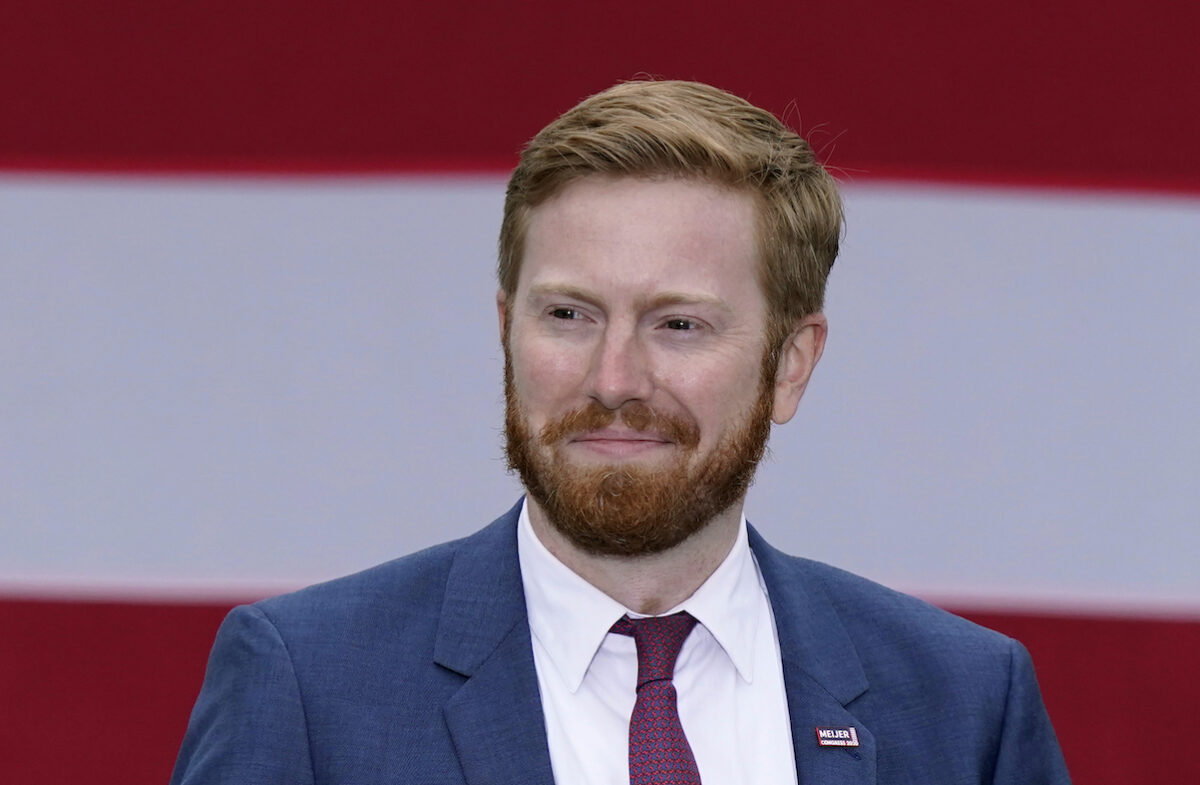 House Minority Leader Kevin McCarthy (R-Calif.) said he could understand the frustration that veterans that Moulton and Meijer are experiencing. When pressed further by a reporter who suggested that his empathy could lead more "impressionable" lawmakers to make a trip, McCarthy said they shouldn't go.
"Look, they shouldn't go," said McCarthy at an Aug. 25 briefing.
"These people are veterans," he said. "I talked to Peter Meijer a couple of different times. I'll show you the text that he sent me was working to get people out. … He was frustrated."
McCarthy said the frustration was coming from the fact that the State Department seemed to be overwhelmed and not getting to all the urgent calls for help by people in Afghanistan.
"You know how many calls I would get about the State Department, they won't answer?" he said. "I got an interpreter, I worked with their families, they're stuck inside a house, they don't know that they can go out, or an American family and they're frustrated as a member of Congress trying to help these individuals getting nowhere in sight, and they come back to Congress, called back in a special, and all they spend their time on is $5 trillion.
"I don't think it's smart for others to go," McCarthy added. "You put yourself, not yourself in harm's way, but you put Americans in harm's way if the military has to protect you."
The congressmen put out a joint statement on Aug. 24 clarifying their reason for making the trip.
"As members of Congress, we have a duty to provide oversight on the Executive Branch. There is no place in the world right now where oversight matters more. We conducted this visit in secret, speaking about it only after our departure, to minimize the risk and disruption to the people on the ground, and because we were there to gather information, not to grandstand."
They are urging President Joe Biden to extend the Aug. 31 deadline to guarantee that all Americans and allies can get out safely.