Rep. Jeff Van Drew (D-N.J.) criticized his own party for the impeachment investigation underway in the House, during a Fox News interview on Nov. 17.
Van Drew, one of two Democrats who voted against the impeachment proceedings in October, said the endeavor is a waste of time.
"I just think we keep going down this road, keep spending more time. Many of us came to Congress because we really wanted to accomplish goals, really work on issues such as health care, work on issues dealing with prescription drugs, election security, the debt, the deficit—the list goes on," Van Drew said.
New Jersey's 2nd Congressional District, which Van Drew represents, went to Trump during the 2016 election.
In the interview, he said people should understand how important impeachment is, adding that no president in history has been convicted in the Senate after being impeached by the House.
"We're going to have an election next year. Let's have the election, let's fight through the election, let's do what Republicans and Democrats and whomever else does. But this [inquiry] is going to get us nowhere. We've spent millions of dollars, in my opinion, tons of money, tons of time, tons of hurt, fracturing the nation apart. I haven't seen this to be a good thing," he said.
House Democrats allege that Trump abused his power by pushing Ukraine to investigate former Vice President Joe Biden and his son before he would authorize about $400 million in U.S. military aid to Ukraine. Trump has denied the charges.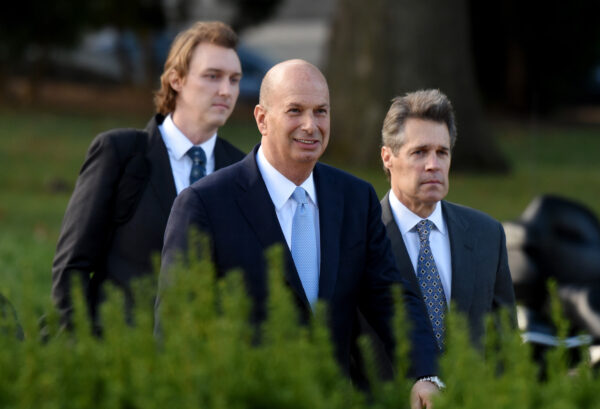 His comments come as the House Intelligence Committee prepares for a second week of public hearings as part of its inquiry, including with the man who is arguably the most important witness. Gordon Sondland, Trump's ambassador to the European Union, is the only person interviewed to date who had conversations directly with the president.
On Nov. 19, the committee will hear from Tim Morrison, former top national security adviser to the president, along with Jennifer Williams, an aide to Vice President Mike Pence; Alexander Vindman, the director for European affairs at the National Security Council; and Kurt Volker, the former U.S. special envoy to Ukraine.

On Nov. 17, Trump blasted Williams, suggesting in a tweet that she "meet with the other Never Trumpers, who I don't know & mostly never even heard of, & work out a better presidential attack!"
The Associated Press contributed to this report.