Demobilized Army Officers Petition in Beijing
July 16, 2009 1:29 pm Last Updated: October 1, 2015 9:37 pm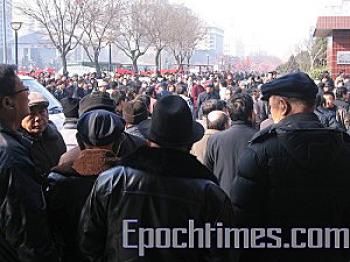 Demobilized military officers from various places across China petitioned in Beijing on the morning of July 13 about their insufficient pensions, according to a report carried by the Civil Rights and Livelihood Watch (CRLW).
Despite of the police intervention, some officers were able to reach the Petition Office of the General Political Department (GPD) at approximately 8 a.m. According to an officer, almost all of the petitioners were taken away by police as soon as they arrived at the GPD.
This collective effort followed an unsuccessful attempt at the end of June which was not put into action as most officers were house arrested after the petition plan was divulged. This time many officers still failed to show up as planned due to police control.
A demobilized officer who identified herself as "Ranch Owner" told the CRLW on the morning of July 13 that she was being monitored at home. The interview was disrupted when some national security police officers showed up at her doorstep.
Demobilized officers are a unique group adopted by the Chinese regime between 1993 and 1999 as part of the so-called "retired servicemen placement reform." Most demobilized officers served at the battalion, regiment or division levels. Currently there are about 23,000 demobilized officers in China.
When discharged from their military service, these officers were offered a one-time lump-sum pension, and they were not entitled to other fringe benefits, such as work placement, etc.
Finding it extremely hard to make a living with limited work skills and experiences outside the military, the demobilized officers have been calling for help in the past decade. They said the one-off compensation, the product of a failed reform effort, was unfair and insufficient, and demanded the authorities to correct the past mistake.
Over the years, the authorities have not provided any concrete solution to their problems, leaving the majority of these officers struggling in poverty. Some officers have committed suicide out of despair.
The petitioning officers said their lawful petitioning had always been intercepted by local officials and police as Beijing authorities punish local officials for the failure to stop the petitioners from entering Beijing.
Read the original Chinese article.