Singer Demi Lovato was reportedly hospitalized in Southern California on Tuesday after a heroin overdose.
According to TMZ, law enforcement sources said that Lovato, who has sung about struggling with drug and alcohol addiction, was rushed to a hospital from a Hollywood Hills home on Tuesday before 12 p.m. local time.
She was treated on Tuesday afternoon.
"Demi is awake and with her family who want to express thanks to everyone for the love, prayers, and support," Lovato's representative has since told entertainment magazine Variety in a statement.
A representative for the Los Angeles Police Department that officials responded to a medical emergency at the 8000 block of Laurel View Dr. for a 25-year-old female on Tuesday, according to the San Diego Union-Tribune. They didn't confirm the woman was the singer.
Last month, Lovato released a song, "Sober," which revealed that she had relapsed. "Mama, I'm so sorry I'm not sober anymore / And daddy please forgive me for the drinks spilled on the floor," she says in the song. "And I'm sorry for the fans I lost who watched me fall again / I wanna be a role model, but I'm only human." People magazine reported on the development.
Lovato once lived in a sober-living home after she was released from a treatment center. In 2013, Lovato said she spent time there to deal with "physical and emotional issues."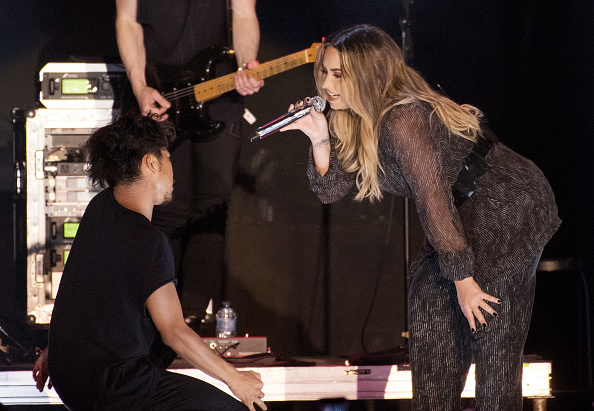 She said years ago, "I watched the ball drop on TV in rehab and cried my eyes out." She also said, "Recovery is a beautiful thing friends. Life is good, God is great!"
TMZ noted that the 25-year-old had been six years sober from alcohol, cocaine, and the opioid Oxycontin.
In 2017, she got the "Spirit of Sobriety" award at the Brent Shapiro Foundation for Drug Prevention Summer Spectacular in Beverly Hills, People magazine reported.
"Every day is a battle," she said last year. "You just have to take it one day at a time, some days are easier than others and some days you forget about drinking and using, but for me, I work on my physical health, which is important, but my mental health as well."