The head of the U.S. Centers for Disease Control and Prevention (CDC) said the "Delta" variant of COVID-19 could become the most common strain of the virus in the United States.
"It's more transmissible than the Alpha variant, or the UK variant, that we have here," Dr. Rochelle Walensky told ABC News last week. "We saw that quickly become the dominant strain in a period of one or two months, and I anticipate that is going to be what happens with the Delta strain here."
Health officials, including Walensky, have said that current COVID-19 vaccines remain effective against the strain.
The Delta variant, also known as B.1.617.2, was first identified late last year. Officials said that it spread rapidly throughout India earlier this year before spreading to dozens of other countries.
President Joe Biden, meanwhile said he doesn't believe the Delta variant will prompt lockdowns like the ones that were authorized by state and local governments last year.
"I don't think so because so many people have already been vaccinated," Biden said Friday at the White House. "But the Delta variant can cause more people to die in areas where people have not been vaccinated," he added. "So, no, it's not a lockdown, but some areas will be very hurt."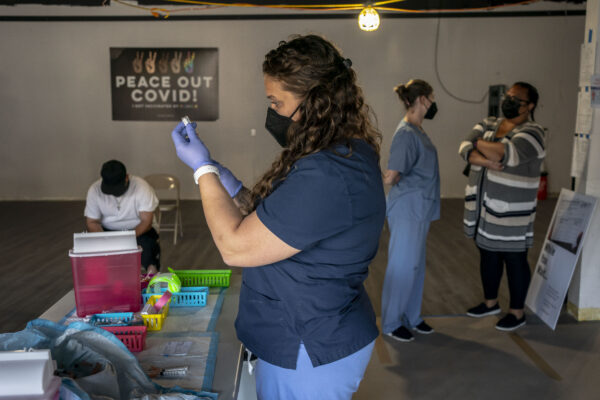 Officials with the World Health Organization (WHO) last week said the strain has spread to about 80 countries, including the United States, while noting that it makes up 10 percent of all COVID-19 cases in the country. That's up from 6 percent last week, according to WHO officials.
"What I think this means is that there is an additional mutation that has been identified," said Maria Van Kerkhove, the U.N. agency's COVID-19 technical head, reported CNBC. "In some of the delta variants we've seen one less mutation or one deletion instead of an additional, so we're looking at all of it."
Dr. Scott Gottlieb, former head of the Food and Drug Administration, said on CBS's "Face the Nation" that the Delta strain likely won't trigger a "sharp uptick" of cases in the United States. He noted, however, that infections are doubling about every two weeks and agreed with the claim that it'll become the dominant strain in the country.
In the UK, Prime Minister Boris Johnson earlier this month pushed back the easing of COVID-19 restrictions in the country by a month.
"Now is the time to ease off the accelerator, because by being cautious now we have the chance in the next four weeks to save many thousands of lives by vaccinating millions more people," he said about the delay. The announcement drew condemnation from unions and business leaders who called on Johnson's government to compensate them over the lockdown measures.
COVID-19 is the illness caused by the CCP (Chinese Communist Party) virus, also known as the novel coronavirus.