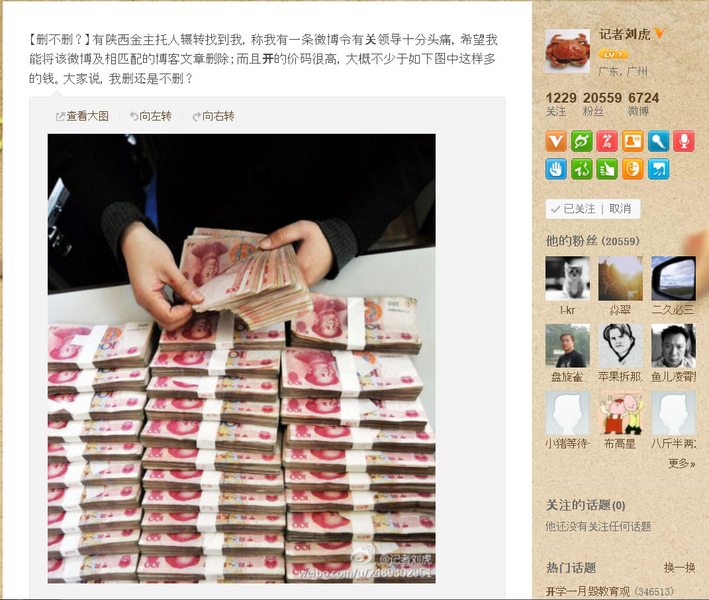 Deleting online posts has become China's latest get-rich-quick opportunity. Some web portals have what they call in-house public relations companies, which charge clients to delete unflattering posts. A recent scandal involving Japanese porn stars has raised prices for deleting content.
In May, after PetroChina's Sichuan Petrochemical Company announced a 38 billion yuan (US$6.06 billion) project, Japan's Shimadzu Corporation and its representative in Beijing, Beijing HED Group, allegedly won a contract to supply chromatograph machines with a low bid to the company, and then bribed officials by inviting officials from the company and a contractor to Japan, where top Japanese porn stars entertained them. The scandal went viral on the Internet.
A source told The Epoch Times that PetroChina's investigators learned that the corruption in Sichuan Petroleum & Chemical was worse than the public had imagined. Because it involved executives in PetroChina with high connections, the investigation had to stop. Instead, PetroChina paid to have all online postings about the scandal deleted.
The Epoch Times learned that in order to delete all the posts about the scandal, PetroChina has so far spent 37 billion yuan ($5.9 billion). It is estimated that the total cost of deleting the posts will exceed 50 billion yuan ($7.98 billion). The implicated official is said to be of much higher rank than the CEO of PetroChina. The scandal reaches the highest level of Chinese politics. 
Boxun, a Chinese-language website outside China, reported that a high-level manager at a popular Internet public relations company said the main source of income for Internet forums and blog sites is not advertisements but deleting posts.
"The business of deleting online content is so good right now that many websites that were losing money for the past few years became profitable in just one month," the manager said. This sudden profitability was the contribution of PetroChina's porn scandal, he said. 
Liu Hu, a reporter for the Guangzhou-based New Express Daily, wrote on his Sina microblog on Oct. 14, "A gold mine owner in Shaanxi Province sent me a message. He asked me to delete one of my blog posts and all related articles, because the post has been a headache for certain high-ranking officials. In return, I will be paid handsomely—as much money as in the attached picture. My friends, should I delete or not delete?" 
The picture provided showed a pile of RMB worth about 300,000 yuan (almost US$47,000).
The headache-inducing blog post on sohu.com is "Shaanxi Province Disciplinary Inspection Committee gives free coal mine." Wang Erxiao, from Fugu in Shaanxi Province, ran a coal mine with an official who retired in 1979. Wang held one-third ownership. 
The two disputed the ownership arrangement and fought county, city and provincial lawsuits. Wang lost all the lawsuits. 
Wang cooked up a "letter from the people," sent it to a provincial level official and received a reply. The provincial level Disciplinary Inspection Committee intervened and eventually helped Wang win ownership of the mine. Officials from the Disciplinary Inspection Committee were said to own some shares of the mine, according to Liu's blog post. 
Liu's Weibo post attracted much attention. Fu Liang, a communications analyst from Beijing wrote, "let's dig around for this valuable blog and repost it so that we all can get rich." Many others echoed his suggestion. 
Because of the rapid development of the Internet, deleting negative content on portals, chat rooms, forums, video and audio sharing sites, wikis, blogs and search engines is an emerging business. Some companies that delete posts offer a "lifetime guarantee" on deleted content, according to an Aug. 6 report by Southern Metropolis Daily.
The Daily said one service offers slow deletion and fast deletion. Slow deletion takes one to three business days and costs 1,200 yuan ($192) per post for businesses and 800 yuan ($128) per post for individuals. Fast deletion takes from a few minutes to over 10 minutes, up to 1,100 seconds and costs about 2,500 yuan ($399) per post. 
According to the article, portals such as sina.com and tianya.cn are more expensive than other online platforms. The cost to delete a post on a portal averages 2,500 to 3,800 yuan ($399 to $606). Some charge more than 10,000 yuan ($1596) per post.
An experienced "deleting posts" professional told Southern Metropolis Daily that the standard of deletion charges depends mainly on the type of websites, and the popularity of the post.
The Epoch Times publishes in 35 countries and in 19 languages. Subscribe to our e-newsletter.
Click www.ept.ms/ccp-crisis to read about the most recent developments in the ongoing crisis within the Chinese communist regime. In this special topic, we provide readers with the necessary context to understand the situation. Get the RSS feed. Who are the Major Players?