Delegates to Political Meetings Face Media Spotlight in China
March 7, 2013 10:30 am Last Updated: March 8, 2013 3:36 pm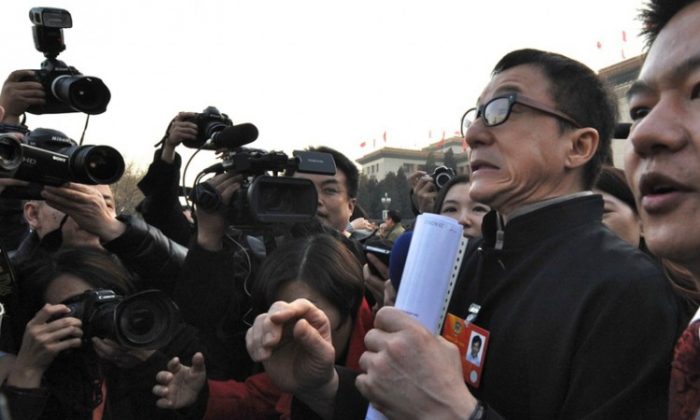 As a large political conclave drones on in Beijing, influential delegates stole the limelight at the opening ceremony of the meeting of the Communist Party's advisory body.
The Chinese People's Political Consultative Conference (CPPCC) meets annually, in parallel with the National People's Congress (NPC); together they are known as the "Two Meetings."
According to Chinese official media, over 60 percent of the new 2,200 CPPCC legislators do not belong to the Communist Party. They include celebrities and public figures, such as basketball player Yao Ming and Nobel literature prizewinner Mo Yan.
More than 1,700 journalists swarmed around influential delegates as they entered the Great Hall of the People, trying to find the news stories with sensitive topics.
The central government recently issued the "Five New Guidelines" to curb housing prices, which include restrictions on large houses, stipend and lending rates for cities with property price hikes, and a 20 percent capital gains tax. Many are worried such policies could drive up the transaction costs on existing homes.

Housing minister Jiang Weixin was immediately questioned by journalists as he left a discussion session.
"The policies just came out, and we have to wait until they have been put in place for a period of time."
"Look! My hair has turned grey, partly due to housing prices, and partly due to you reporters," he added.
The issue of China's scandal-ridden dairy industry was another topic of discussion.
Pan Gang, board chairman of the Yili dairy firm, was also surrounded by journalists. Yili was implicated in the 2008 melamine scandal, when six babies died and many others suffered poisoning with a subsequent recall of tainted products and a public apology by Yili.
Yili also recalled some of its baby formula products in June last year, after "unusual" levels of mercury were found by quality control.
When quizzed on the topic, Pan replied: "Those domestic milk powder problems are virtually the same as the ones that happened internationally. The production standard of Chinese milk powder is the most stringent in the world." 
Kung fu icon Jackie Chan was also thronged by reporters. One reporter wrote on his Weibo microblog, "This is the first time I've seen big brother Jackie Chan, and it felt good. Because there were so many reporters there, he reminded everyone to watch their step and be careful."
Translated by Amy Lien. Written in English by Aifang He and Cassie Ryan.
The Epoch Times publishes in 35 countries and in 21 languages. Subscribe to our e-newsletter.