Defunding the police has caused a 94 percent increase in homicide in Los Angeles County and brought serious safety concerns to the public, according to the Los Angeles County Sheriff. He is calling on residents to hold the elected officials accountable and end this woke ideology.
"Defunding has consequences," Sheriff Alex Villanueva told EpochTV's "California Insider" program in an interview broadcast on Feb. 8.
He said the Los Angeles County Board of Supervisors is now the only government entity in the nation to double down on defunding the police. Other municipalities, such as New York City, Chicago, Seattle, San Francisco, and Austin, all turned around after seeing spikes in crime and started pleading with those who left to come back.
"They defunded 145 million in my first fiscal year in office, and I started with a $101 million deficit. They took another $116 million away in the second fiscal year. Then they followed up by taking 1,281 positions away—budgeted positions. And inevitably, what happened? Skyrocketing homicide rate, 94 percent increase in two years," said the sheriff.
"It's enormous," Villanueva said. "In modern times, anybody had a 10 percent increase in homicide, there'd be people called to the carpet. There'd be an angry crowd at Town Hall, [a] want to recall the mayor, the chief of police."
"We get 94 percent, and all we hear is crickets."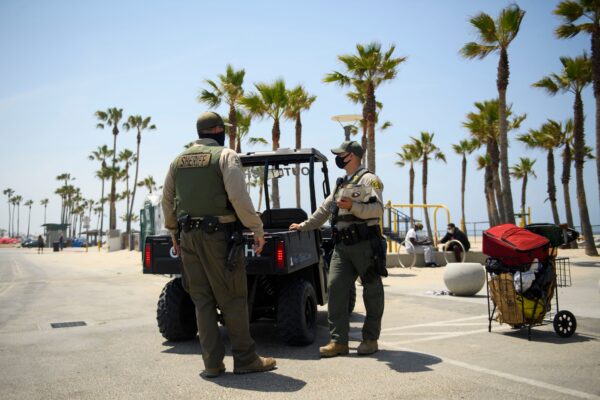 The sheriff said the hardest impact of defunding the police has been staff shortages. For every four detectives, he only has three in place.
"That means the bad guys are longer out there on the street, committing more crimes, victimizing more people," Villanueva said. "We do catch them, put them in jail. Now we're troubled with lack of personnel to keep everyone in jail."
Los Angeles County Sheriff's Department (LASD) is the largest sheriff's department in the country. It's responsible for running the county's jail system, also the largest in the nation.
"Now I'm losing my most experienced investigators because they're aging out," the sheriff said. "That is a tragedy right there. And we're talking about the brightest and best investigators in the entire nation. They're not replaceable. We need to mentor a younger generation. But the board is blocking our ability to bring in that younger generation to be mentored, trained to then go on to serve the community. That is the hardest impact of defunding."
The sheriff's department is the only county department among 37 county departments that remains on a hiring freeze imposed by the board at the start of the pandemic.
Villanueva said he had 1,000 candidates that have already passed background checks, but "we're losing them because they're going to go to other agencies."
In addition to that, the County's Board of Supervisors voted on Feb. 8 to terminate all unvaccinated county employees, including 4,000 deputies in the LASD. In a statement, the sheriff called it a "moral failure" and "will definitely harm public safety."
The County's Board of Supervisors told The Epoch Times via email that it had not defunded the Sheriff's Department. "In fact, the Department's total budget increased from 2020-21 ($3.54 billion) to 2021-22 ($3.61 billion)."
The Board said it "did not vote to terminate a single employee." The Board voted "to direct a series of actions that would authorize the Director of Personnel rather than any individual department head—to take action to terminate employees who are not vaccinated and not granted a religious or medical exemption." It pointed out that more than 2,000 medical or religious exemptions had been granted.
"If public safety is at risk, the Board of Supervisors has shown its readiness to move immediately to find funding to address public concerns," the email stated, adding 1,000 non-sworn reserve officers were recently approved to be hired.
Villanueva also blasted the board's narrative of defunding the police to reimagine the criminal justice system.
"They have all these big, flowery ideas, let's reinvest in the community, let's reinvest in social engineering. We're gonna go to the root cause of crime and let's spend our money there, so we don't have to pay for the consequences.
"That's like offering a person in the desert who's dying of thirst and heat: Let's plant a tree. Does absolutely nothing for that person," Villanueva said.
In a unanimously approved July 2020 motion, the board said, "the County has begun to reimagine its criminal justice system away from incarceration and punishment, and instead towards diversion and rehabilitation."
Villanueva said, "it's a fallacy because they're not addressing the fact that we have to solve the crime that's in front of us today."
The sheriff said that the county should abolish its zero-bail policy, Proposition 47, a law that reduces some nonviolent crimes from a felony to a misdemeanor when the value of theft does not exceed $950, and have a District Attorney willing to enforce the rule of law.
Los Angeles County District Attorney George Gascón has been widely criticized by Republicans and conservatives for his soft-on-crime policies.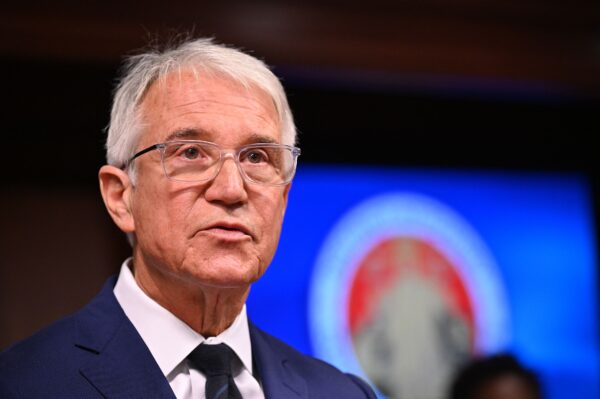 Villanueva said the community wants more police because they need them. Last year alone, there were 2.16 million contacts, incidents that the police got involved.
"The communities that get hurt the most are our black and Latino communities, the ones that want us to be there. They were not there because they were defunded by mostly white, very woke county government," Villanueva said.
"The problem with city government and county government is they occupy every single seat at the table. No other opinion gets in," the sheriff said. "That's why every single plan that the city has, the county has regarding homelessness, violent crime, is destined to failure. Because it's not based on reality."
Villanueva said people should hold the elected officials accountable.
"Everyone who is in office today got elected in either 2018 or 2020. And the rising crime, homelessness, had not reached the zenith yet, until now, when it started hitting home. So all those people got elected on promises about problems of yesteryear, not of today," Villanueva continued. "So the people [who] want to stay in office in '22, it's going to be a referendum on law and order, on homelessness here in LA. Where do they stand with that?
"I think that people are tired of the status quo. They're tired of all that empty rhetoric. They want to see action. If the ones that want to be mayor have no action plan, just don't waste anybody's time. Get out."