HONG KONG—Both the men's and women's defending champion teams are on course for a successive title defense. After winning their first two games they now sit at the top of the table.
Craigengower Cricket Club (CCC), who won the last two Premier League titles, started brilliantly in the new season.  They defeated Hong Kong Football Club (HKFC), the runners-up last year, away from home last weekend, May 12, and moved top of the league table.
CCC began the campaign at home against Club de Recreio (CdeR), the club finished just above the relegation zone last year, and won 8-0 in convincing fashion.
Their second match was a tricky one because they needed to play against their neighbor at the HKFC outdoor green.  However, the team still returned with a satisfactory result.
Of the three rinks played, only Simpson Chang lost in a close game against the reigning National Singles champion Tony Cheung 17:15.  With Jordi Lo and Lee Ka Ho prevailing, the CCC team returned home with a 2-6 victory, to move them onto a leading 14 point total.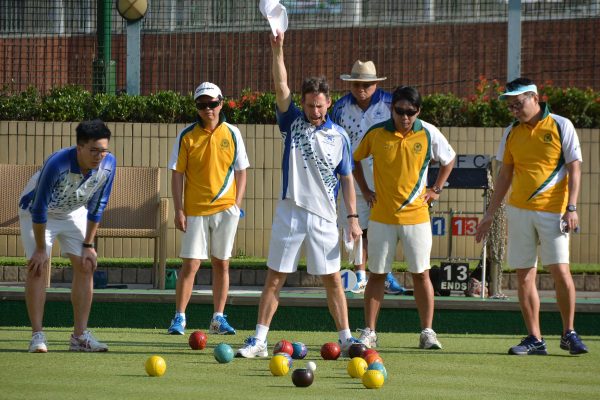 The second-place is held by Hong Kong Youth Development Team (HKYDT) who have lost a number of key players due to overage and other reasons.
The team won their first away game against Kowloon Bowling Green Club 2-6 before defeating CdeR at home 8-0 last Saturday.  They are level on points with CCC but have an inferior shot difference.
In third place is Kowloon Cricket Club, who finished as second runners-up last season. They have 13 points after winning their first two games.
Now CdeR is anchored at the bottom with no points from their first two games.  They will play Kowloon Cricket Club at home this coming weekend.
CCC will played newly promoted Filipino Club at home and HKYDT will host HKFC.
For the women, the defending champions Island Lawn Bowls Club (ILBC) continue their momentum demolishing their first two opponents to lead the table.  Their first game was at home against nine-time champions HKFC which they won comfortably at 8-0, and then followed it up with a 2-6 victory away at City Lawn Bowls Club.
Following ILBC are KCC who are level on points but seven shots less.  The two teams will meet each other at a top-of-the-table clash at KCC this weekend.
HKFC are at the bottom with just 2 points.
This week in Lawn Bowls
The Premier League continues this Saturday (May 19) at 2:30pm at all greens in Hong Kong. The second round of the National Fours will be played this Sunday (May 20) at all greens around Hong Kong, the start time is 10:00 (ladies) and 3:00 (men) respectively.
Claudius Lam is an officer of the Hong Kong Lawn Bowls Association.