Minister for Defence Linda Reynolds has told a meeting of defence specialists that Australia has to define a new rule-based world order.
Speaking at the Australian Strategic Policy Institute in Canberra on July 2 about the 2020 Defence Strategic Update, Reynolds said: "The world we grew up in is no more."
"Our region is facing the most consequential regional realignment since World War II," she said.
"We need to define a new rule-based order and encourage all state-based actors to accord with these rules."
The defence minister emphasised Australia's security environment had changed rapidly in ways not predicted.
"Nations in our region now have advanced capabilities—such as submarines, next-generation air combat, and highly capable land forces. New weapons and technologies—including hypersonic glide and long-range missiles, autonomous systems, space capabilities, AI and cyber," said the defence minister.
All of which, she revealed, had increased "the range, speed, precision and lethality" of their armed forces.
"Australia must be prepared to face these challenges," said Reynolds.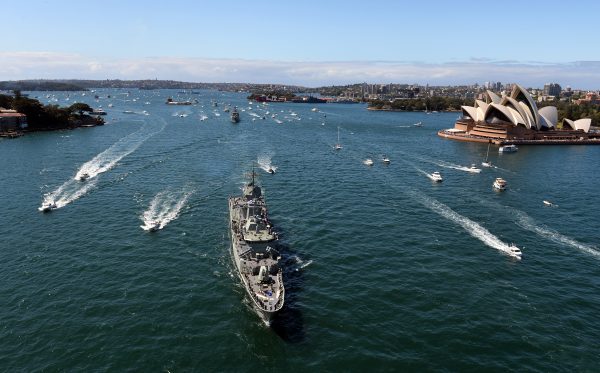 Australia to Become a Regional Protector
The Morrison government announced on July 1 that it would overhaul the Australian defence forces by investing $270 billion over the next ten years to expand its capabilities and activities into the Indo-Pacific region.
Included in the expansion of military capabilities will be the purchase of long-range missiles and space infrastructure.
In an interview on SkyNews on July 2, Reynolds indicated that Australia would move to become a major power in the Indo-Pacific region.
"Australia is certainly concerned by some behaviours that we have seen from China in recent times, which is making our region even more anxious," said Reynolds.
To address these concerns, Australia will initiate plans to develop and shape its regional environment by working with its neighbours and regional friends.
By doing so, Reynolds believes that Australia can ensure countries adhere to a rules-based order, respect others' sovereignty, peace, and prosperity.
"Where that is not successful, deterrence is also critically important to make sure that we can keep any threats at arm's length from ourselves and also from our regional friends and that's where our commitment to acquiring new long-range strike weapons comes into play because they are a very strong deterrent," said Reynolds.
Defence to Tackle the 'Grey' Area of Hybrid Warfare in Peace Times
The minister also highlighted that the ADF would move into the developing field of conflict called "grey zone warfare" or "hybrid conflict"—also known by China analysts as "unrestricted warfare."
Countries are increasingly "seeking to exploit the grey area between peace and war" by using tactics that fall beneath the threshold of armed combat, Reynolds explained.
Grey-zone tactics are considered by conflict analysts to be part of hybridised warfare that is currently emerging in the newly competitive international environment.
In a 2018 paper for the Strategic Monitor, Danny Pronk said grey-zone activities usually involve the use of cyberattacks, economic pressure, and foreign interference by a country to achieve its national objectives.
Everything short of open warfare.
Pronk went on to explain that even though grey-zone activities use covert and overt actions by the military, intelligence service, diplomatic core, and financial organisations, the activities do not justify retaliation because they are not covered by international law.
Pronk identified China, North Korea, and Russia as three nations that utilise these tactics.
The ADF 2020 Force Strategic Update (pdf) published on July 1 asserted that there has been an expansion of grey-zone activities in the Indo-Pacific region with activities ranging from the "militarisation of the South China Sea to active interference, disinformation campaigns and economic coercion."
Watch Next
On Marxism in America, the Communist China Threat, Unconventional Warfare and Hong Kong: Joshua Philipp