Labor Defence Minister Richard Marles has overturned a ban on workplace social justice activities, including LGBT morning teas, in Australia's Department of Defence.
The initial ban was implemented last year under former Coalition Defence Minister Peter Dutton.
On Aug. 23, media outlets revealed that Defence Secretary Greg Moriarty and Chief of Defence General Angus Campbell issued a directive to staff confirming that Marles had ordered the policy be removed.
"People will always be our most important asset, and Defence is focused on building inclusive and capable teams, underpinned by our unified values and behaviours," according to the memo, seen by the Australian Broadcasting Corporation.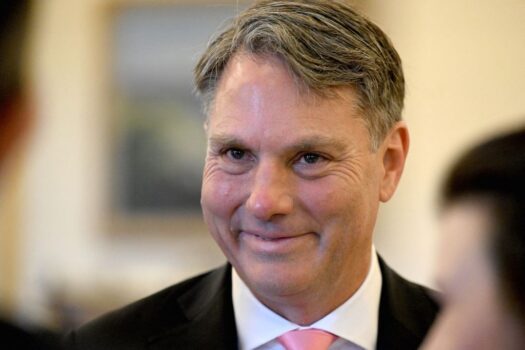 "We recognise a diverse workforce supported by an inclusive culture is essential to Defence's capability and effectiveness.
"We look forward to working with all of you to build capability through fostering a diverse and inclusive workforce to deliver on Defence's mission."
The new directive paves the way for the Defence Department to hold activities like celebrating Wear it Purple—an annual LGBT awareness event.
'Woke' in the Military
In May last year, Dutton ordered the ban in response to morning tea events where defence staff were being encouraged to wear badges and shirts in support of the International Day Against Homophobia, Biphobia, Interphobia, and Transphobia.
Dutton said the move was to help keep Defence staff focused and build morale.
"I will not tolerate discrimination, but we are not pursuing a woke agenda," he told reporters. Woke refers to the awareness of social justice issues such as discrimination against minorities, gender quality, and climate change.
The original memo said the aim of the Defence Force "at all times be focused on our primary mission to protect Australia's national security interests.
"To meet these important aims, changing language protocols and those events such as morning teas where personnel are encouraged to wear particular clothes in celebration are not required and should cease," according to Defence Secretary Moriarty and General Campbell last year in May.
In the United States, the adoption of "woke" policies has been blamed for undermining the readiness of the military.
"It undermines cohesiveness by emphasising differences based on race, ethnicity, and sex. It undermines leadership authority by introducing questions about whether promotion is based on merit or quota requirements," said Thomas Spoehr, former lieutenant-general and now-director of the Center for National Defense at the Heritage Foundation.
While one active duty soldier revealed to The Epoch Times on Aug. 14 that the prevalence of woke politics—which often portrays Western society and institutions in a negative light—has hindered recruitment.
"Much of the country doesn't love America like it use to," he said. "And with a military no longer upholding the values, the oaths, or the creeds it once did, what kind of new recruits should we expect [to join the Army]?"