Sri Lanka is in the grip of its worst economic and financial crisis since independence in 1948, plunging the country into chaos. In addition to the pandemic and the Russia-Ukraine war that have severely damaged the world's second-largest tea exporter and major tourist destination, the country is also mired in the Chinese Communist Party (CCP)'s Belt and Road debt trap, with about $11 billion of its $51-billion total foreign debt owed to China.
Sri Lankan Prime Minister Mahinda Rajapaksa resigned on May 9 after violent clashes between his supporters and anti-government protesters.
Sri Lanka's finance minister Ali Sabry warned parliament last week that the country had less than $50 million in foreign exchange reserves to draw on due to severe shocks, including the pandemic, soaring oil prices, and government tax cuts. He said about $3 billion in foreign aid would be needed over the next six months.
Sabry said past administrations have always repaid old loans with new loans and never used loans to invest and repay loans with proceeds, which is why Sri Lanka's debt has grown to $51 billion. He warned that the country would have to endure unprecedented economic hardship for at least two years.
"All successive governments have always obtained new loans to settle the old loans, and never used loans to invest and use the returns to settle the loans," he told the house adding that this is how Sri Lanka's debt portfolio increased to $51 billion over the years.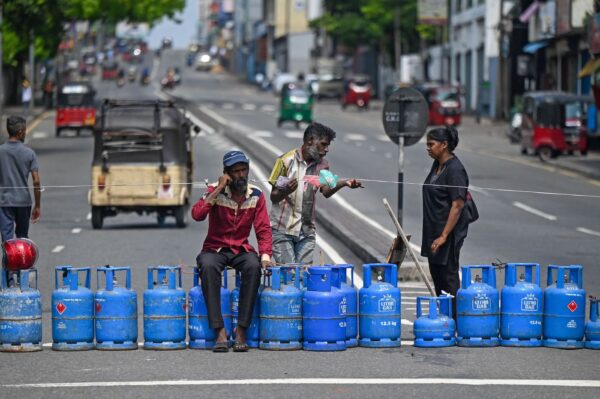 Sri Lankans have been suffering for weeks from widespread blackouts and severe shortages of fuel, medicine, food, and other basic necessities. Commodity prices doubled on average and inflation rose to an unprecedented 19 percent.
Sri Lanka's central bank raised interest rates by 700 points in a one-off move to 14.5 percent for loans and 13.5 percent for deposits in response to the tsunami-like economic collapse.
Faced with their plight, Sri Lankans took to the streets to demand the resignation of the family government led by President Gotabaya Rajapaksa. Nationwide protests have been taking place almost daily since March 31. In an attempt to quell public anger, the government announced the resignation of all 26 cabinet ministers except the president and prime minister, and 41 lawmakers from the ruling party.
None of this has helped Sri Lanka's collapsing economy.
About 180 people were injured and five people, including a member of parliament, were killed in the massive violence that erupted on May 9. Sri Lankan Prime Minister Mahinda Rajapaksa announced his resignation after the violence. Meanwhile, authorities announced an indefinite nationwide curfew.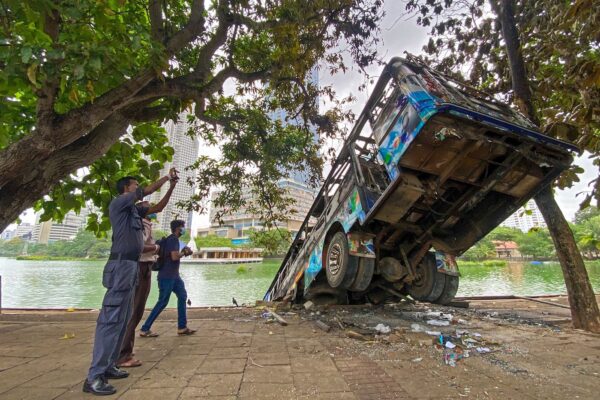 The public has been demanding that the Rajapaksas, who have been in power for nearly 20 years, step down, but the prime minister's resignation statement appears to be a move to save his brother's presidency.
Political veteran Ranil Wickremesinghe was sworn in as the country's prime minister for the sixth time on May 12.
Belt and Road Brought Disaster to Sri Lanka
Since Xi Jinping came to power in 2012, the CCP has been engaged in the Belt and Road Initiative (BRI), a project of dual political and economic expansion. The project exports the communist regime's ideology and influence by providing huge loans to developing countries to build railways, roads, bridges, communications, ports, schools, hospitals, and other infrastructure, as well as bribing government officials.
Communist China has 13,427 projects in 165 countries worth $843 billion, according to a report released by the AidData Research Laboratory at the College of William and Mary on Sept. 29, 2020.
Many BRI participants were initially grateful to Beijing for the short-term benefits. The officials who took the spoils also gave the project a green light.
Sri Lanka has borrowed up to $3.5 billion from Beijing for BRI projects, including:
Ruwanpura Expressway Project (built by several Chinese companies)
Central Sri Lanka Expressway (constructed by China MCC20 Group Corp., Ltd.)
Aviation Fuel Renovation and Expansion Project of Colombo International Airport, Capital of Sri Lanka (China National Chemical Engineering Corporation No 14 Construction Co., Ltd.)
The first phase of Sri Lanka Southern Railway project (with a loan provided by CCP and construction undertaken by China National Machinery Import & Export Corp.)
Construction Project of Agricultural Industry and Agricultural Economy Center in Polonnaruvo District (undertaken by Sinohydro 14 Bureau Co., Ltd.)
Water supply project in former Sri Lankan war zone (jointly constructed by a consortium of China Machinery Equipment Engineering Co., Ltd., and Siri Lanka's Business Promoters & Partners Engineering Pvt., Ltd.)
Kidney Hospital Project in Sri Lanka (built with the assistance of the CCP)
The outpatient building project of the National Hospital (built with the assistance of the CCP)
Colombo Port City Project (invested and developed by China Communications Construction Co., Ltd.)
Duxi Tianli Beach Apartment Project (Shenzhou International won the first, second, and third phases of the project)
K Dam Project in Sri Lanka (the 14th Engineering Bureau of China Water Resources and Hydropower as the general contractor)
Sri Lanka Minipe Dam Raising Project (undertaken by China Gezhouba Group Co., Ltd.)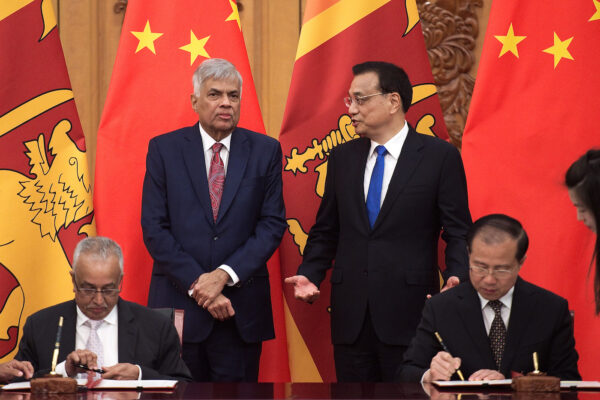 Ray Washburne, chairman and chief executive of the Overseas Private Investment Corporation (OPIC), the U.S. government's development finance institution, has pointed out that the BRI is not helping countries, but merely robbing them of their assets.
By investing in other countries' infrastructure, the CCP purposefully loads recipient countries into debt and then tries to get "their rare earths and minerals and things like that as collateral for their loans," Washburne said.
In 2017, due to insolvency, the Sri Lankan government subleased 15,000 acres of land in and around the strategically important southern port of Hambantota to Beijing for a 99-year lease.
Beijing Does Not Help at Critical Moments
China is currently Sri Lanka's largest creditor. Of the country's $51 billion in debt, $11 billion is owed to China.
Facing a serious political and economic crisis, Sri Lanka asked the CCP for $2.5 billion in emergency aid, but the CCP only responded with $31 million in emergency humanitarian aid.
As early as the beginning of 2022, the Sri Lankan government repeatedly publicly requested Beijing provide bailout funds, and met with the Chinese foreign minister Wang Yi for talks, hoping to borrow new loans to repay the old ones or to postpone the payment deadline. However, the Chinese side did little to respond, only offering Sri Lanka options for debt refinancing.
But all discussions, including $31 million in emergency humanitarian aid, were still at an early stage, according to Nalaka Godahewa, Sri Lanka's information minister.
Gulbin Sultana, an associate research fellow at India's Manohar Parrikar Institute for Defense Studies and Analyses, said the Chinese regime's reluctance to help Sri Lanka lies in that it does not want to set a precedent for other debt-laden countries. In addition, Sri Lanka is currently in an unfavorable position, which is a good time to achieve a "debt-to-equity swap" to deepen its control.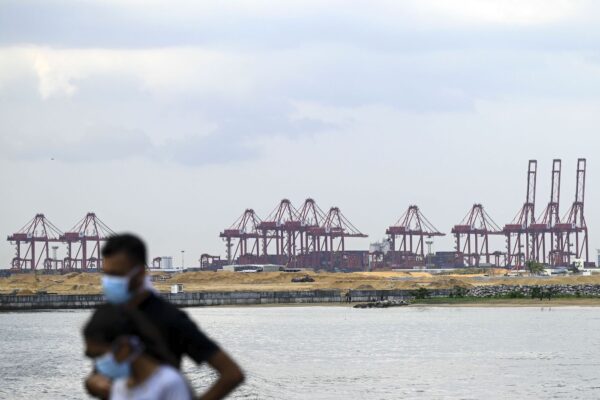 IMF Aid Talks Face Complexity
Sri Lanka turned to the International Monetary Fund (IMF) in April after failing to secure a $2.5 billion credit guarantee from Beijing.
According to Bloomberg, Citigroup Global Markets said Sri Lanka's prime minister's resignation has created political instability, and the country's bailout talks with the IMF face complications and delays.
Sri Lanka's government, which faces bankruptcy, has been in contact with the IMF and the World Bank since the start of 2022 to negotiate a loan, but the IMF has demanded that Sri Lanka come up with a sustainable debt plan before it will consider borrowing.
"When the IMF determines that a country's debt is not sustainable, the country needs to take steps to restore debt sustainability prior to IMF lending," Masahiro Nozaki, head of the IMF's Sri Lanka program, said in a statement.