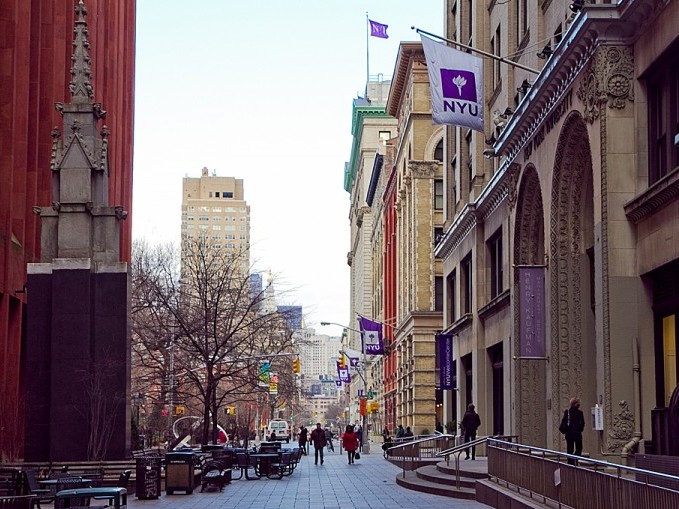 NEW YORK—The portion of New York University's expansion plan in Greenwich Village should be modified, said the Municipal Art Society of New York.
"MAS has concluded that the amount of NYU's proposed density is not appropriate for this historic neighborhood and would constitute an unacceptable burden," the Society stated in a March 2 release.
Increased pedestrian traffic would impact transit stations and intersections and the height of several of the proposed buildings would be out of proportion with the area. "These impositions would needlessly diminish the quality of life for neighborhood residents and would set troubling precedents for similar approaches in other parts of the city," they said.
The plan, "NYU 2031: NYU in NYC," seeks 6 million square feet expansion in the city overall, with 2.5 million square feet expansion in Greenwich Village.
MAS will hold a panel discussion about modifying the plan on March 27. The panel includes Hilary Ballon, NYU professor of urban studies and architecture, Ron Shiffman, professor, Pratt Graduate Center for Planning, and Brad Hoylman, chair, Manhattan Community Board 2.
On Feb. 22, Community Board 2 cast an advisory vote against NYU's plan, the first of four votes on the proposal. In response, NYU Vice President Alicia Hurley released a statement thanking the board for their time and energy but stressing that the university has taken five years to elicit community feedback and incorporate it into the plan.
On Tuesday, leaders of the Greenwich Village-Chelsea Chamber of Commerce and the Building and Construction Trades Council of Greater New York gathered on the steps of City Hall. They want Manhattan Borough President Scott Stringer to cast his advisory vote for the plan.
"From the Chamber's point of view, the thousands of students and faculty at NYU are great generators of commerce and trade for local business in Greenwich Village," said president of the chamber Tony Juliano in an earlier release. NYU's 16,000 employees and 40,000 students directly and indirectly account for more than $2.25 billion in economic activity and nearly 25,000, according to the release, with more revenue provided by prospective students and spring commencement.
The Municipal Art Society advises the university to consider shifting some of the 3.5 million square feet planned for the Village to "parts of the city that really need it." The society also suggests creating a community advisory committee for better communication between residents and the university. At several community meetings, dozens of residents, including NYU faculty, have condemned the planned expansion.
The panel discussion will be from 6 to 7:30 p.m. on March 27 at Scholastic Auditorium, 557 Broadway.