Deaths in Chinese Prison Part of National Campaign
July 19, 2011 9:12 pm Last Updated: October 1, 2015 4:11 pm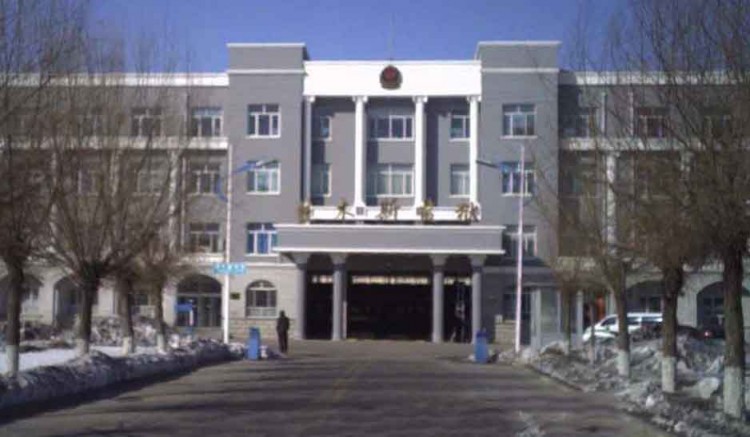 On a frozen tip of China's northern tundra, on the Siberian border, sits Jiamusi and its prison camp.
Three men died in the prison recently after being sent to a hermetic ward overseen by a Strict Management Team, set up expressly to brainwash them. The men, Qin Yueming, 47, Yu Yungang, 48, and Liu Chungjiang, 55, were practitioners of Falun Gong.
The attempt to "transform" them was part of a three-year, multibillion-dollar campaign, led from Party Central in Beijing. The campaign frequently resorts to brutal tactics to achieve its ends.
The Strict Management Team was set up on Feb. 21, according to the Falun Dafa Information Center, who cited sources inside China. Nine practitioners from different sections in the prison were taken to the new ward and, by March 8, a little over two weeks later, three of them had been killed.
Compelling Images

The deaths went public after individuals—most likely family members—submitted information and photographs to the Falun Gong website Minghui.org, which published the news.
After the images were put online, public security apparatchiks went into damage control mode. The authorities put the prison camp under lockdown, began surveilling family members, and on March 11, agents from the Public Security Bureau and State Security Bureau visited the prison camp to investigate the source of the leak. They inferred that it probably came from an insider, given the detailed accounts of the deaths, according to Falun Gong sources.
The photos smuggled out are compelling. A photo of one victim's corpse shows signs of severe beating, video footage of another victim shows him hospitalized before his death, while other photographs show a family member being carried by his arms and legs by police, and, later, large red welts on his chest. The names of key prison staff involved in the torture have also been put online.
A fearless "correspondent" for the Minghui website—presumably a member of the family of one of the deceased—even went to the hospital and surreptitiously took photos of the mob-like police characters standing around outside one of the hospital rooms.

The images were obtained despite precautions by guards: prison personnel removed one of the bodies from hospital as soon as the practitioner died, and incinerated that of another who was killed in prison.
Family members of some of the 70 other Falun Gong practitioners being held at the prison, alarmed at the death reports, began demanding visits to their loved ones. Prison guards reacted by beating them or subjecting them to "various forms of humiliation," the information center says.
But by then the deaths had already been exposed.
Deaths
Mr. Qin Yueming was the first casualty. Five days after the new brainwashing team was set up, his wife got a phone call telling her that her husband was dead. After wrangling with prison camp authorities, her family was able to see the body. It was bruised and purple. They took a photo and put it online.
Falun Gong sources said that Qin died after having a feeding tube inserted through his nose and into his lungs; the prison doctor and several guards then poured milk and a salt solution down the tube, the information center said. "Qin whimpered all night and was dead the next morning."
Qin had been at the prison since 2002 after being sentenced to 10 years in a sham trial. He is survived by his wife and two teenage daughters.
Mr. Yu Yungang was next. A few days after Qin's death, on the afternoon of March 1, Yu passed out from torture and was taken to No. 2 Hospital, affiliated with Jiamusi University. Several attempts at surgery on his damaged skull failed to save him, and he died on March 5.
Yu had been abducted in February 2009 during the 24th Winter Universiade, an international college sporting event held in Harbin, the capital of Heilongjiang Province. Later that year he was sentenced to eight years in prison in a kangaroo court. His siblings have being harassed since his death.
Three days later, on March 8, Mr. Liu Chungjiang was killed. He was also being held in the Strict Management Team. Fewer details are known of his death; his body was incinerated two days after he died.
Brainwashing
Launched in May 2010, and titled variously "Transformation-Through-Reeducation Assault," "Three-Year Assault and Consolidation," or "Transformation-Through-Reeducation Assault and Consolidation Overall Battle Work," the campaign seeks to destroy the beliefs of millions of Falun Gong believers in China, and then remold them along the lines of Communist Party doctrine.
The campaign was known initially through a large number of internal Chinese Communist Party (CCP) documents published online, laying out the parameters of the operation. These documents were analyzed and translated by the Falun Dafa Information Center, a human rights NGO, and the Congressional-Executive Commission on China.
While the documents contain explicit references to "mobilizing and organizing basic-level Party organizations and mass organizations," and "entering the villages and homes [of Falun Gong practitioners] to conduct an educational assault," they do not refer to the methods used. Victims of the practices, such as the family members in Jiamusi, have filled in the often-gruesome details.
The crusade seeks to transform as many as 85 percent of known Falun Gong practitioners. Since tens of millions of people practice Falun Gong in China, despite 12 years of suppression, the number targeted could be enormous; but it is not known what portion of total number of practitioners are known to the authorities.
Falun Gong involves doing five sets of meditative exercises and studying spiritual teachings based on the principles of truthfulness, compassion and tolerance. It spread rapidly across China after being introduced to the public in 1992.
The Chinese Communist Party began a nationwide campaign to "eradicate" the practice in July 1999, after the then-paramount leader, Jiang Zemin, became enraged that Falun Gong had more adherents than there were members of the CCP, and that many Party members were believers. He saw in the popularity of the indigenous practice an implicit threat to the legitimacy of the communist regime.
In setting out on the campaign, the Party is attempting to reinvigorate and make focal a technique that has been part of its persecution of Falun Gong since the beginning: transformation.
Transformation, also known as "reeducation," "ideological remolding," "thought reform," or simply brainwashing, aims to force practitioners to renounce their beliefs in Falun Gong and pledge allegiance to the Communist Party. Physical torture is a staple of the process.
Falun Gong adherents that have survived the transformation process describe it in miserable terms. "They destroyed every bit of my dignity, my innocence, and my belief," one practitioner, Chen Gang, said in an interview. "They forced me to become someone I despise, they sullied my character and soul, and they trampled on my hopes for grace and wisdom."
In Chen's case, as in many others', physical torture was the principal instrument. This included being shocked by multiple high-voltage electric batons, which burned his skin and made his body convulse. He later said it was like being burnt by fire or bitten by poisonous snakes.
Chen's tormenters also incorporated a torture method called "pressing the bedboard." This meant doubling Chen's body over by tying his neck to his feet, placing him under a wooden bedboard, and then having inmates stand and jump on it.
"I will never be able to forget the agony," Chen said in an interview. "Tears streamed down my face. I thought even hell could not be worse," he said. He couldn't walk for two weeks, and some adherents have been paralyzed from this technique.
Across China the reinvigorated campaign has led to abductions and detentions in extralegal forced conversion classes, according to the information center. Deaths, presumably from the violence exercised in the campaign, have been reported in the provinces of Guangdong, Sichuan, Shandong, Heilongjiang, Jilin, Jiangsu, Inner Mongolia, Liaoning, Hebei, Guizhou, Fujian, Henan, Hunan, Hubei, Hebei, Guangxi and Shaanxi, and in the cities of Tianjin and Beijing.