Death Toll Rises in Xinjiang
July 11, 2009 1:09 am Last Updated: October 1, 2015 9:38 pm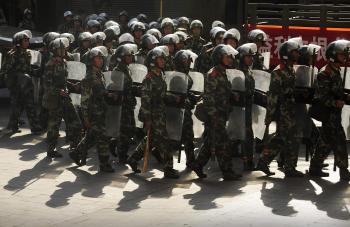 The protests of tens of thousands of Uyghurs in front of the Urumchi City Hall took a bloody turn after the protesters were confronted by the Chinese regime's police on the evening of July 5. The latest official death toll has risen to 184, though Rebiya Kadeer, Chair of the World Uyghurs Congress in exile in the United States, says the actual number of deaths over the past few days could be in the range of thousands.
According to Kadeer, deaths have occurred not only in Urumchi, but all over Xinjiang.
The 2009 member of European Parliament (EP) will hold the first sitting on July 14. Based on the final draft of the agenda, the violence in Xinjiang will be one of the topics to be discussed. Several major political parties in EP have expressed concern for the violence in Xinjiang and condemned the Chinese regime's violation of human rights.
According to information from Anatolia News Agency, Turkish Trade and Industry Minister Nihat Ergun openly called consumers to boycott Chinese products on July 9 to protest the violence against the Uyghur ethnic group in Xinjiang.
Turkish Prime Minister Recep Tayyip Erdogan announced on Thursday that Turkey would issue a visa to Kadeer, who is said to visit Turkey soon.
Taiwan Premier Liu Chao-Shiuan has also expressed concern for the violent confrontations. Taiwan's Democratic Progressive Party issued a statement on July 7 and condemned the Chinese communist regime's violent suppression of its citizens.
On July 11, Tibetan spiritual leader Dalai Lama expressed his condolence and concern on the worsening situation in Xinjiang and the tragic loss of human lives. He called on the Chinese regime to restrain itself when handling this incident.
The incident in Urumchi has disrupted tourism in Xinjiang. A local travel agency said that by the end of July 8, 1450 tour groups (85 thousand people) had canceled their trips. Among them, over 4000 were foreigners. An airplane ticket sales agent said their business has been traumatized because many tour groups refunded their tickets.
The local authority in Guangdong province is deporting Uyghur students back to Xinjiang to prevent them from arranging future protests. Wang, a resident of Shaoguan, said on Thursday that Xinjiang authorities sent out 108 cars to take Uyghur high school students home. Xinhua, China's state-run media, also reported that Xinjiang Department of Transportation mobilized cars to take students of Xinjiang High School home. There have been 3850 students sent home, according to some reports.
Read the original Chinese article