Death After Highest Medical Cost
December 5, 2005 12:00 am Last Updated: December 5, 2005 12:00 am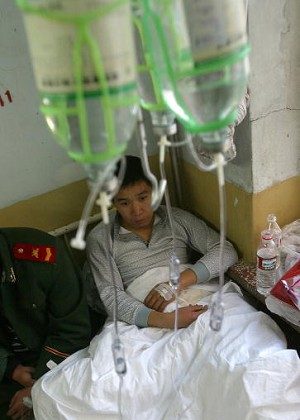 Weng Wenhui possibly has the largest medical bill in China. The 74-year-old retired teacher was charged 5.5 million yuan (US$ 0.69 million) for a two-month stay at the hospital and the treatments he received during that time.
On June 1 he was sent to the cardiac unit of the Second Hospital of Harbin Medical University for organ failure caused by chemotherapy he was receiving for malignant lymphoma.
His medical bills added up to 1.4 million yuan (US$ 0.19 million) for the two-month stay at the hospital. But he spent an additional four million yuan (US$ 0.5 million) for medicine. His money, however, could not save his life. He died August 6.
Shocking Prescriptions
His medical bill indicates he spent a quarter million yuan (US$ 0.03 million) just on blood transfusions and blood products. On July 30 alone, he had 100ml of blood transfusions 94 times. Weng had at least 9,400ml of blood transfused that day, which means he received two whole cycles of fresh blood in his body. A human body contains 4,500ml of blood.
On a different day, Weng obtained 83 packs of blood platelets and leucocytes, totaling over 16,000ml. Another day, he was charged for using 106 bottles of saline, more than 50,000ml, and 20 bottles of glucose, at 10,000ml.
The excessive prescriptions Weng received shocked other doctors. But Weng's hospital is not alone in over-charging its patients.
Between 2003 and 2004, the director of the China State Auditing Administration Li Jinhua found that ten hospitals directly administered by the Ministry of Health were overcharging their patients—by a total of 11.3 million yuan (US$ 1.5 million).
Repeated Tests Offer Little Help
Weng's medical bill also includes 563 blood sugar tests, averaging nine a day.
Many patients in China are diagnosed using high-tech medical equipment, but they often do not give accurate results. Only 30 percent of the patients are successfully diagnosed, but the Ministry of Health requires a 60 percent diagnosis rate for positive results.
Patients Have No Choice
Without extensive medical knowledge, patients often cannot protect themselves. Patients have to accept what doctors prescribe because they do not understand their illness or prescription methods.
Weng's family was too afraid to ask for an itemized bill. They did not want to cross the doctor in control of their loved one's life.
Weng's case was only exposed to the news media because his chief doctor was afraid of becoming a scapegoat.
System Flaw: Selling Drugs to Support Hospital
The current hospital system makes its money off selling drugs. If there is no reform on a fundamental level, similar cases will likely reoccur.