Deadly Explosion in Cangzhou City Causes Many Fatalities
May 12, 2007 12:00 am Last Updated: May 12, 2007 12:00 am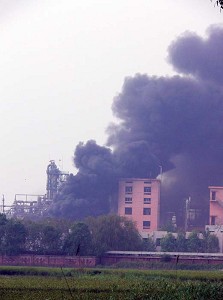 A serious explosion occurred around 1:30 p.m. on May 11, 2007, in a work area of the TDI branch office of the ChemChina Dahua Group located in Cangzhou City, Hebei Province. The explosion broke the windows of nearby workshops, causing dozens of deaths and many people to be poisoned. The TDI branch office has been closed down and water and electricity have been shut down. More than 2,000 people in the nearby area have been evacuated and roads leading to the explosion site are currently closed.
According to witnesses, heavy-duty fire trucks from another city are on site, usually indicating that the accident is very serious.
An insider reveals that there are twenty deaths so far, but official media only acknowledged one death. According to a local taxi driver, the death toll is even higher. The cause of the accident is not clear.
The official name designation of the site where the explosion occurred is TDI Co. Ltd, and is also referred as "the likely to explode work area."
Since poisonous materials were involved in the explosion, the Cangzhou City authority has arranged buses to transfer residents from the nearby areas.