A staggering number of small earthquakes that rocked Yellowstone National Park between 2017 and 2018 had brought fears of an impending supervolcano, but a recent study tells a different story.
A study by the Geophysical Research Letters at the University of Utah suggests that the swarms of earthquakes might actually be the aftershocks of the Hebgen Lake earthquake that struck Yellowstone 60 years ago on Aug. 17, 1959.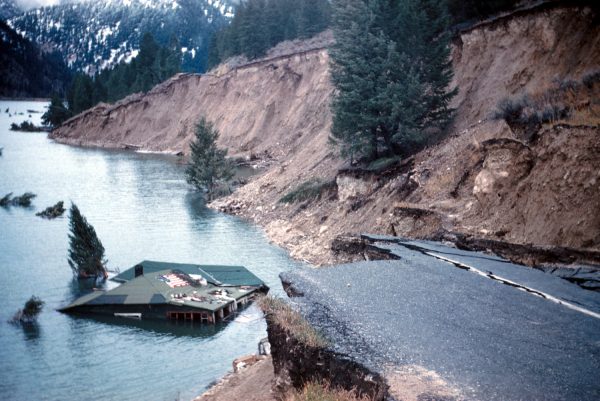 The 7.2 magnitude earthquake jolted the land of Montana for about 30 seconds, toppling the dining room fireplace in the historic Old Faithful Inn and killing 28 people.
The shock was so powerful that the ground in some areas dropped by 20 feet, a new lake named Quake Lake was formed in Montana, and water in wells of Hawaii—about 4,900 miles away—rose up as a result.
"These kinds of earthquakes in Yellowstone are very common," said Keith Koper, director of the University of Utah Seismograph Stations, according to a news release. "These swarms happen very frequently. This one was a little bit longer and had more events than normal."

Guanning Pang and Koper, who co-wrote the study, analyzed the patterns of 3,345 earthquakes that took place between June 2017 and March 2018 along Maple Creek in the northwestern part of Yellowstone. They found that the quakes were oriented in the same way as the Hebgen Lake earthquake.
"There are formulas to predict how many aftershocks you should see," Koper said. "For Hebgen Lake, there looked like a deficit in the number of aftershocks. Now that we've had these, it has evened things out back up to the original expectations."
The researchers noted that there have been instances of aftershocks of a major earthquake to continue even decades later. For example, the 6.9 magnitude Borah Peak earthquake that hit central Idaho in 1983 also sent shock waves through the region 35 years later in 2017.
According to Koper, earthquakes are different from other natural catastrophes such as floods, hurricanes, and wildfires in that the tremors can keep coming for months or even decades.
"Earthquakes don't happen as a single discrete event in time," Koper said.
"We don't think it will increase the risk of an eruption," Pang added.

Yellowstone: Recent Activities
Just about two weeks ago, the Ledge Geyser in the park erupted, shooting hot water at an angle up to 125 feet high and at a distance of 220 feet, according to The Billings Gazette.
The park's website states that the Ledge Geyser has erupted at a regular cycle of every 14 hours in prior years. The geyser became inactive between 1979 and 1993, and then "erupted on a fairly regular cycle of every four to six days" during the following two years, according to the website.
Yellowstone has 1,300 thermal features and 500 geysers—more than anywhere else on Earth.
In April, scientists discovered new thermal activities in the northeastern area of the park, with the area amounting to the size of approximately four football fields.
"This area used to be covered by trees and now it's an area where there's a bunch of dead trees, bright soil, and it's a hot spot," Greg Vaughan, a United States Geological Survey (USGS) research scientist, told Wyoming Public Media.
The park said that the thermal activities, such as heated ground, are simply part of the "normal life cycles of thermal areas in Yellowstone National Park."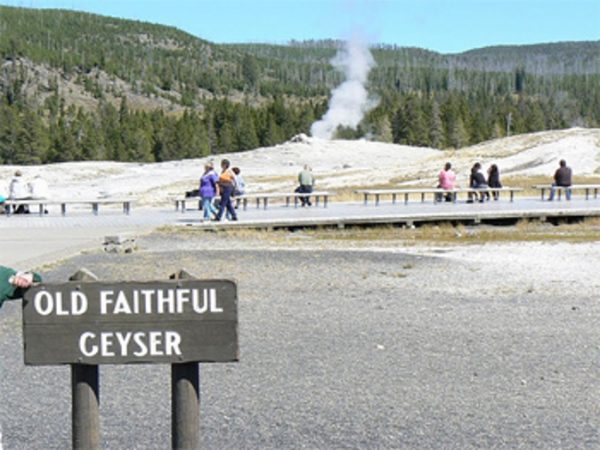 "Yellowstone's thermal areas are the surface expression of the deeper magmatic system, and they are always changing. They heat up, they cool down, and they can move around," according to the website.
The last time a Yellowstone volcano erupted full-scale was 640,000 years ago, creating the 30-by-45 mile wide Yellowstone Caldera, according to the National Park Service.
About 80 smaller eruptions have occurred since, one of which created the iconic West Thumb Geyser Basin.
The over 4.1 million visitors have spent about around $513 million in the neighboring communities of Yellowstone National Park, according to National Park Service.
Epoch Times reporter Jack Phillips contributed to this report.
From NTD.com