WASHINGTON—In a synchronized nationwide raid on the early morning of March 11, more than 250 members of Mexico's Cartel de Jalisco Nuevo Generacion (CJNG) were swept up by the Drug Enforcement Administration (DEA).
A further 450 had already been arrested over the past six months, in what the DEA has dubbed "Project Python." Most are charged with federal drug trafficking crimes.
During the March 11 arrests, agents also seized almost 600 kilograms (1,322 pounds) of drugs and more than $1.7 million in money and assets. The DEA has seized more than $20 million in cash from the cartel during the operation.
The cartel kingpin, Nemesio Oseguera Cervantes, also known as "El Mencho," is still at large; the State Department has offered a $10 million reward for information leading to his arrest.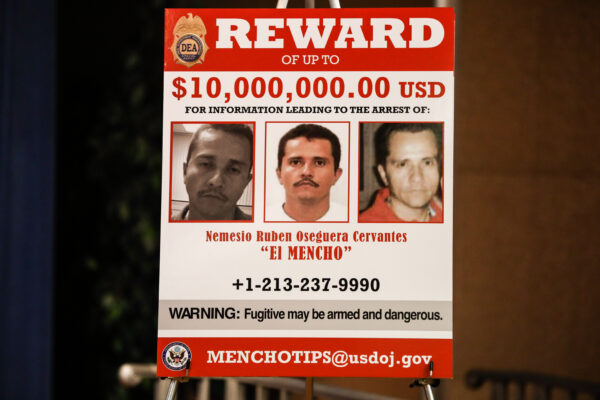 "In the last decade, CJNG has rapidly emerged as one of the world's most dangerous drug trafficking organizations," acting DEA Administrator Uttam Dhillon said at a press conference on March 11.
The DEA considers CJNG to be second only to the Sinaloa cartel for its expansive footprint in the United States.
"While CJNG traffics in multiple types of illegal drugs, it is especially active in manufacturing and distributing cheap, pure, and deadly methamphetamine," Dhillon said.
He said CJNG operates at least 100 major methamphetamine labs in Mexico, as well as manufacturing and distributing heroin, cocaine, fentanyl, and counterfeit pharmaceuticals.
"In addition to drug trafficking, CJNG engages in a wide range of other criminal activity, including money laundering, bribery, weapons trafficking, and corruption," he said. "They're heavily armed and routinely engage in acts of violence."
In 2015, the cartel used rocket-propelled grenades to shoot down a Mexican military helicopter, killing nine people.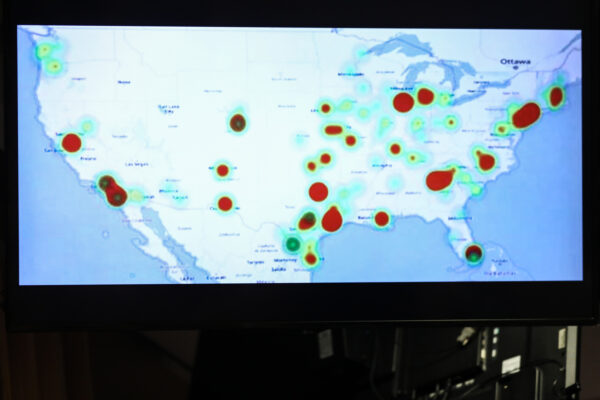 Dhillon said the cartel operates in major cities throughout the United States, particularly in its distribution hubs of Los Angeles, New York, Chicago, and Atlanta.
El Mencho's son, Rubén Oseguera González, is facing trial in federal court in Washington, while his daughter, who has been central in the money-laundering side of the enterprise, was arrested in the United States two weeks ago.
Dhillon said the 700 arrests are just the first phase of the operation.