De Blasio Racks Up Campaign Endorsements
Lhota sharpens his Republican contrast to the Democrat's vision for the city
September 17, 2013 5:29 pm Last Updated: September 18, 2013 8:56 pm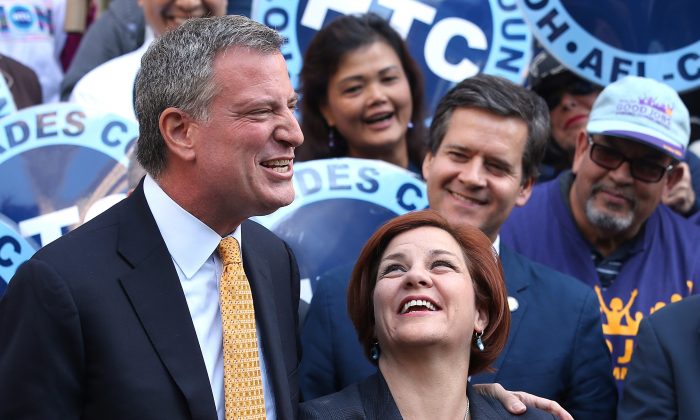 NEW YORK—The city's newly announced Democratic nominee for mayor Bill de Blasio received the endorsement of City Council Speaker Christine Quinn Tuesday.
The mark of support from the once-formidable opponent added to the consolidation of Democratic Party support de Blasio has received since winning over 40 percent of the primary vote Sept. 10.
"I trust Bill de Blasio, I believe he will be a terrific Mayor," Quinn said, adding that she is willing to help de Blasio with anything he needs prior to the general election, which will take place on Nov. 5.
De Blasio was also endorsed by Make the Road Political Action, an advocacy group for Latino and low-income New Yorkers.
"Make the Road is proud to stand by Bill de Blasio in the fight to ensure true equality for all New Yorkers," said Javier H. Valdés, spokesman for Make the Road Political Action, in a statement.
Valdés mentioned issues such as "providing universal ID cards, dramatically increasing affordable housing, ending the overuse and abuse of stop and frisk, and funding universal pre-k and expanded after school programs."
"The unity you see today speaks volumes," de Blasio said from the City Hall steps where a large crowd of Quinn and de Blasio supporters had gathered.
Bill Thompson conceded his second place finish to de Blasio on Monday, making way for de Blasio.
In a rare appearance at City Hall Gov. Andrew Cuomo also endorsed de Blasio, saying he would "lead this city in the great Progressive, Democratic traditions that made this the greatest city on the planet, the city of New York."
On Nov. 5 the Democrat will face off against Republican candidate Joe Lhota, who has wasted no time in presenting voters with a sharp critique of de Blasio and his campaign fundamentals.
Lhota was budget director during Mayor Rudy Giuliani's first term, and deputy mayor for operations during the second term, as well as chairman and CEO of the MTA from 2011–2012.
"De Blasio [is] all talk, no action on affordability," charged Lhota in a press release Tuesday morning.
Critical of one of de Blasio's key proposals to raise taxes on the wealthy to pay for pre-kindergarten, Lhota emphasized that he would focus on creating jobs to expand the middle class and expand the tax base.
Lhota said raising taxes "in the highest-taxed city in the nation hurts the economy and actually harms the very people who need the government the most."
He promised to support small businesses by reducing bureaucracy that makes it hard for small businesses to hire, and to rein in excessive fines and fees.
He also said de Blasio is polarizing the city with his "tale of two cities" message—which taps into the perception that Mayor Michael Bloomberg's policies primarily support the upper income classes.
"New York isn't a tale of two cities, it's the melting pot of the world …" Lhota said.
Lhota was scheduled to continue his campaign early Tuesday evening attending the Manhattan Jewish Historical Initiative reception and opening of an exhibit of Jewish memorabilia from the Municipal Archives.
Epoch Times staff member Kristina Skorbach contributed to this report.