De Blasio Promises Support for NYPD Officer Detained in India
April 7, 2014 6:46 pm Last Updated: April 9, 2014 7:51 am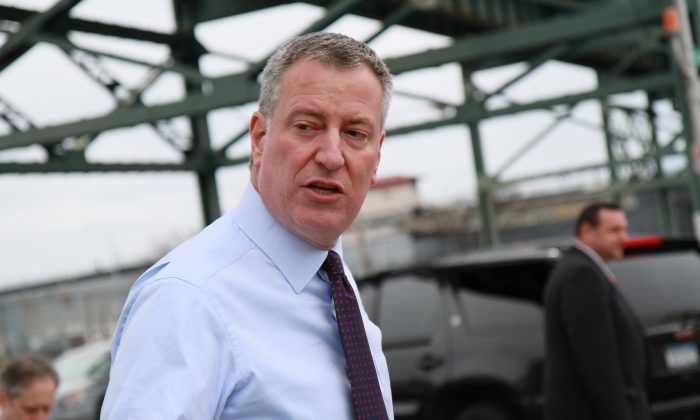 NEW YORK—Mayor de Blasio reiterated his support Monday for an NYPD officer who was detained in India.
"I don't know the details yet of what he'll need. I know he has a local lawyer but we'll make sure if we feel there's anything he needs that he's not getting, we're going to be there to be supportive of him," said de Blasio.
On March 11, Manny Encarnacion, 59, was arrested at a New Delhi airport while traveling to see his new wife, an Iranian student there. Indian authorities detained him for having three 9 mm bullets in his checked baggage. Police said he forgot to empty the bullets from his pockets after going to a shooting range.
U.S. Rep. Peter King said the arrest is politically motivated. He accused India of retaliating for the arrest of Devyani Khobragade, India's former deputy consul general.
"This excessive act by the Indian government is clearly politically motivated in response to the arrest of India's then deputy consul general in December 2013 in New York for alleged visa fraud," wrote King in an April 4 letter to Secretary of State John Kerry. King asked Kerry to intervene.
Khobragade was accused of exploiting her housemaid who she brought from India, and lied on the maid's visa application about their contract. She was arrested and allegedly strip-searched in New York, infuriating many Indians in the United States and abroad.
A representative of the consulate general of India in New York, dismissed any connection between the two arrests as "ridiculous," according to the consulate website.
De Blasio was much more reserved in his judgment of the situation, saying he is concerned and is watching the case closely.
"First of all we don't have enough information to 100 percent determine whether there is an ulterior motive in that situation. Obviously I am concerned there may be," he said.
Encarnacion was released on bail but is not allowed to leave India. He is expected to appear in court on April 17 to face charges of violating India's Arms Act of 1959.
The Arms Act states, "no person shall acquire, have in his possession, or carry any firearm or ammunition unless he holds in this behalf a license issued in accordance with the provisions of this act …"
Encarnacion could face a three- to seven-year jail sentence, if found guilty.
Holly Kellum is a special correspondent in New York.