De Blasio Breaks Ground on Livonia Commons in East New York
April 7, 2014 6:23 pm Last Updated: April 8, 2014 6:42 am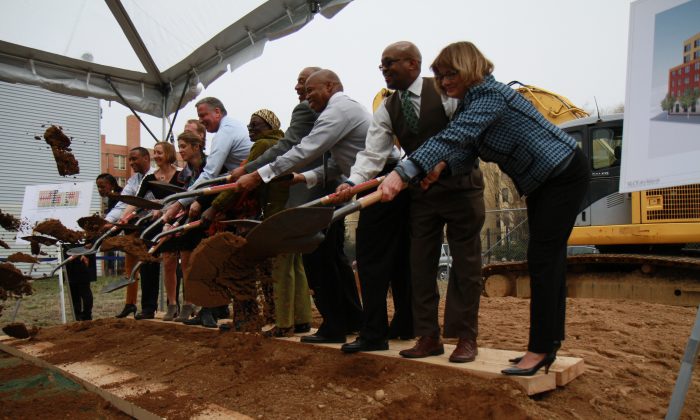 NEW YORK—Mayor Bill de Blasio broke ground Monday on a Bloomberg-era affordable housing project in Brooklyn's East New York neighborhood.
The project, Livonia Commons, consists of four buildings adjacent to the elevated No. 3 train tracks. All 278 units in Livonia Commons will be priced for affordability based on the renters' income. Of those, 51 are set aside for former homeless families and people with disabilities. The developer has also committed to fill 30 percent of the construction jobs with candidates from East New York.
Although the project was approved in 2012 under Mayor Michael Bloomberg, de Blasio said on Monday that it will count toward his goal of creating 200,000 affordable housing units.
The groundbreaking, though only a formality, was symbolic for de Blasio, who has already secured early victories on affordable housing. In early March, the mayor's office reached an agreement with the developer of the Domino Sugar site in Williamsburg to expand the amount of affordable housing space in the project by over 100,000 square feet. In late March, the mayor reached an agreement with the developer of the Hudson Yards project to secure a living wage for the workers on the site.
There are no changes in the project from what was settled during the previous administration, according to Alicia Glenn, the deputy mayor for housing and economic development. She noted, however, that future phases of the project will be influenced by de Blasio's vision for affordable housing. A request for proposals for the second phase of the Livonia Avenue Initiative was issued Monday.
A New Approach
De Blasio has aimed to strike a contrast from Bloomberg in his approach to affordable housing by bargaining with developers to create more affordable housing units. De Blasio has also said that he wants developers to create larger affordable units to accommodate larger families. He also wants developers to offer a greater mix of affordable units.
"I think, I said this a lot last year, that in many cases there was a bit of a laissez-faire approach to development, and whatever was put forward in a particular case by the developer was accepted pretty much wholesale," de Blasio said at a press conference prior to the groundbreaking. "I think the job of the city government is to up the ante."
The press conference was taken off-script by former Council member Charles Barron, who insisted on standing next to the mayor. Barron wanted to make it known that he and many others worked on the Livonia houses and other affordable housing projects in East New York. De Blasio handled the interruption graciously, inviting Barron to speak and joking about the former official's assertiveness.
East New York
East New York went through more than a decade of mass abandonment and degradation in 1970s and 1980s. Since the mid-1980s the city began to invest in the area through the Housing Preservation and Development department's Nehemiah program.
During the Bloomberg era, more than 8,600 affordable housing units were created in the area. Major crimes like murders, rapes, and robberies declined significantly since the 1990s, according to statistics from the New York Police Department.
"Today is a symbol. There is no property or land in Brooklyn that is undesirable," said Brooklyn Borough President Eric Adams.
Boys Club
The Boys Club of New York (BCNY) will build its first Brooklyn center at Livonia Commons. The club provides arts, music, athletics, academics, and leadership support for boys aged 6–20 and girls aged 13–20.
The club plans to build a gym, a pool, fitness and weight rooms, game rooms, photography and art studios, a library, a computer lab, and classrooms.