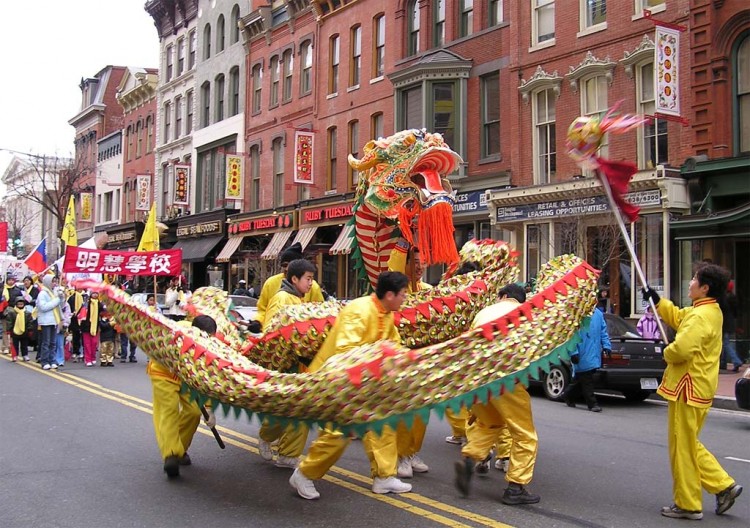 WASHINGTON—The Chinese New Year parade this year was a much larger affair than in years past, boosted by prominent corporate sponsorships and a high-powered advertising firm. Everything about it cried the watchwords of the District: inclusiveness, pluralism, and all that other good stuff that bonds communities. Except the organizers had a strange tic: by hook or by crook, they would not let practitioners of Falun Gong, a Chinese spiritual group, join in the fun. Ultimately, this can be traced back to the animus in which practitioners are held by the Chinese Communist Party and its embassies around the world, according to Falun Gong practitioners and observers.
D.C.-based practitioners of Falun Gong, a spiritual practice that is based on five meditative exercises and teaches the principles of truthfulness, compassion, and forbearance, participated in the parade from 2001 to 2008. In 2009 and 2010, the group did not apply to participate. In 2011 they applied, but were rejected because their application came late, according to Sen Nieh, a professor of engineering at the Catholic University of America, a practitioner of Falun Gong, and a spokesperson for the group.
This year he called an old friend, Lee Daping, a 94-year-old Chinatown community leader, who suggested they attend the Chinese Consolidated Benevolent Association's (CCBA) Jan. 8 meeting together and talk it over. The Washington, D.C. CCBA is a super-group composed of 30 Chinese community groups in the area.
Three Falun Gong representatives attended: Kitty Wang, Sen Nieh, and Jianmei Yu, who is also the president of the D.C. branch of New Tang Dynasty Television (NTD), a New York-based Chinese television station that prides itself on being independent of communist China's media control.
Yu described her recollection of the meeting in an email, written in Chinese. First, Nieh stood up and announced that Falun Gong this year wishes to participate in the parade–would that be OK? He said they would do it as in previous years, from 2001 to 2008: with a dragon dance, a float, and as in the past they would be happy to supply volunteers to help out, and bring a balloon arch. Every year they had previously participated, they had been welcomed—they brought free manpower and balloons, after all. 
The former chairman of the CCBA and current chairman of the parade Committee, Hon-Yuen Wong, who by day runs a medical clinic in Rockville, stood up and said "No way, we've already discussed this in a meeting, your application has been denied," according to Jianmei Yu's recollection of the meeting. Dr. Hon-Yuen Wong did not answer multiple calls to his cell phone or multiple emails.
Some attendees at the CCBA meeting who supported Falun Gong said that since Falun Gong practitioners have participated for many years already, and also do volunteer work, just let them participate. Someone else said that Falun Gong would display political signs. Nieh responded that they have never done so in the past, and offered to show photos of previous years' parade entries. Yu then produced her iPad and attempted to show photographs, but meeting participants did not appear inclined to examine them, according to her email.
Yu then said to Wong: Do you have a reason for vetoing our participation? He responded: "No reason." Yu asked how there could really be no reason. He exclaimed again that there was no reason, and that "We simply do not want you to participate," adding that "this is our private event," according to Yu's written recollection.
It was an unusual about face for Wong, who in 2005 gave Nieh an award for Falun Gong's "earnestly serving the community" (referring, in part, to their supplying manpower to help the parade.)
Another meeting participant called out that perhaps something other than the Falun Gong name be used to apply. Yu and her colleagues suggested that they could use the name of the Minghui School, or New Tang Dynasty Television, both of which have on their staff people who practice Falun Gong. Wong said "No way, they're Falun Gong all the same!" according to Yu's notes. 
Yu on Jan. 13 then had New Tang Dynasty's lawyer in DC, Robert Goldman, apply on NTD's behalf. He received a curt response thanking him for his interest and noting that the application had been denied. Goldman's email back urging that CCBA articulate a reason for denial, and reconsider the decision, did not receive a response.
The next stop was to Debi Gasper, the CEO of The Ad Agency, a sophisticated firm that is handling public relations and marketing for the parade this year–and trying to make it "more like the Macy's Thanksgiving Day Parade and become THE event in DC," according to the company's blog.
Yu bumped into Gasper on Jan. 17, explained what Falun Gong was, and described how their application to enter the parade had been rejected. Gasper appeared sympathetic and eager to resolve the matter, according to Yu. She sent their application to Gasper, noting that NTD may also consider sponsoring the parade. On Jan. 19, not having heard back, Yu called Gasper to follow-up; Gasper asked her to send the application again. The following day she asked Yu what level of sponsorship they were interested in. On Jan. 22 Yu said they could be a basic sponsor by donating $500, but would expect to be allowed to participate. Gasper did not respond to that note, according to Yu.
When contacted by The Epoch Times, Gasper said she knew nothing about the case. After first establishing a time at which to discuss the reasons for the exclusion, she later said she would have to find someone else who could respond to questions, and would immediately call back. She did not call back, and failed to respond to multiple calls and emails.
By Jan. 25, the Wednesday before the parade, Sen Nieh, Angela Lee, Donna Ware, and Jianmei Yu had a meeting with Stephen Glaudet, director of the Mayor's office of community affairs. The Falun Gong group laid out their case. Glaudet made a string of phone calls: to Julie Koo, the Director of the Mayor's office on Asian and Pacific Islander Affairs, who worked with the CCBA on the parade; the Mayor's Office of Human Rights; and Gasper, the CCBA's public relations representative. 
The upshot was a concession that the CCBA would allow Falun Gong to participate if they did not include "political signs" and did not identify themselves as Falun Gong. The four practitioners said they could accept those conditions (they had already agreed to the first at the CCBA meeting, and maintain, contrary to the accusations, they had never used the parade for political activities before anyway). 
The four practitioners left the meeting with the understanding that a compromise had been reached. Donna Ware later confirmed this with Glaudet on Thursday night; he said he had sent a staffer to the CCBA meeting on Thursday and that Falun Gong could participate according to those conditions.
But at 4pm on Friday Yu got an email from The Ad Agency saying that the group was too late in applying, and that they should try again next year. The CCBA had apparently gone back on its agreement brokered through Glaudet.
Glaudet, when reached on his cell phone, suggested that there may have been a misunderstanding: that the concession by the CCBA at the Jan. 25 meeting was that individual Falun Gong practitioners could participate in the parade, without any identifying insignia that they represented Falun Gong, but that no Falun Gong group could participate. 
The parade entry submitted by Falun Gong was a dragon dance, where participants would wear yellow silk clothing; that entry was denied. Another group, in yellow, with a dragon, was allowed to participate—their photograph appeared on the front page of the Washington Post on the following day. Did this equal discrimination? Glaudet was asked. He wasn't sure. He offered that the difference was that "one had an approved application, and one didn't. 
"It's not my place to draw the line on where discrimination is," he said.
Julie Koo, the Director of the Mayor's office on Asian and Pacific Islander Affairs, liaised with the CCBA on behalf of the DC government to facilitate the parade. She attended the Jan. 8 CCBA meeting, but said she could not remember the discussion between the Falun Gong participants and Wong. She said she understood that CCBA decided by an internal vote to deny Falun Gong's application, but said she did not know the reason for that denial, and would not offer an evaluation of it. "It was CCBA's decision and we are not getting involved in that decision… this is CCBA's meeting and CCBA's parade; if they need support, we provide it," she said in a telephone interview.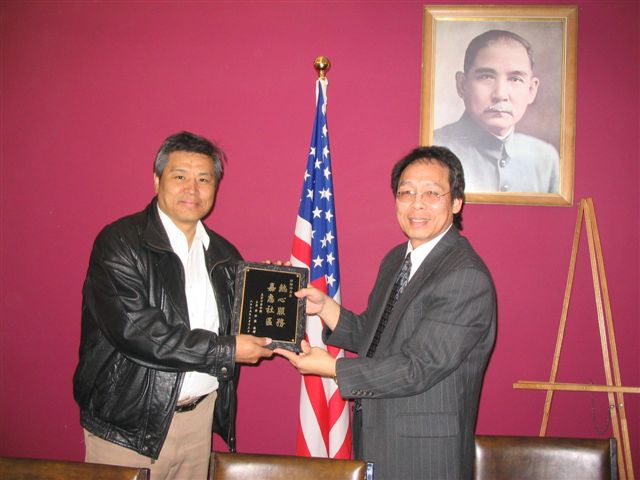 It is unclear what role, if any, the Chinese Embassy had in influencing the CCBA's decision. Since 1999 the Chinese Communist Party has persecuted Falun Gong in China, and wages war against it overseas through its diplomatic outposts, frequently using community groups as proxies. 
Recently a Chinese New Year parade in New York also made a point of keeping Falun Gong practitioners out, allegedly at the behest of the Chinese consulate there, according to the Associated Press. "It's the communist government behind it and it's persecution," New York practitioner Lucy Zhou said to AP. "But we're part of the Chinese community here, and we should not be denied," she said.
According to Jiankuo Chang, a council member at the D.C. CCBA and the head of the Taiwanese Association of Workers and Students, a community group, the Chinese Embassy has been making inroads into influencing some of the members of the CCBA in D.C. in recent years.
"I think they tried to do it this way because, you know, the Chinese government are against the Falun Gong, and they don't like to see them in public at all… That's what I think," he said in a telephone interview.
It was a contrast to previous years, according to Chang. "I introduced Falun Gong to them, and they were willing to help a lot, decorate the street, put balloons up. Every time they needed help they'd call them [Falun Gong practitioners]," he said in a telephone interview. "More and more, some people inside there [the CCBA] got eventually influenced by the People's Republic of China, and they eventually started to refuse to let them join."
According to Nieh, the engineering professor and Falun Gong spokesperson, the parade had appreciated their presence in all previous years, because they were short of manpower, and the practitioners were happy to help out. "Our Falun Gong group did not change—we always wanted to celebrate the lunar New Year with the community. We never displayed political banners, and we never got political. But something changed, either the CCBA as a group, or leaders at CCBA—they changed. They got political, and incorrectly described us," he said in a telephone interview.
"Everywhere we go people in the community welcome us. My personal experience is that everybody treats us well or neutrally, but when anybody treats us negatively it's because they're somehow influenced by the Communist Party or misled by the propaganda—because our group is good," he said.
The CCBA office did not return multiple phone calls or emails. Wong, head of the parade organizing committee, also did not respond to multiple voice mails and emails. The parade's public relations firm, The Ad Agency, or its CEO, Debi Gasper, had not responded to questions by press time.
Glaudet said that his office was not aware of any other group being excluded from the Chinese New Year parade, or any other parade in the district. He said that his office was primarily concerned that some process had been followed, that the CCBA had some procedure in place, like a vote, by which they denied Falun Gong's entry—that the decision was not simply arbitrary.
But it was, actually, fairly rough, according to Chang, who is part of the CCBA council. "They just didn't give them any chance at all. They even tried to tell them, get out, we have a meeting now," he said. "It's really not right, you know."