The suspect in a mass shooting incident in Dayton, Ohio, shot and killed sister before killing nine other people, said officials.
Connor Betts, 24, of Ohio was identified as the lone suspect, said authorities in a news conference on Aug. 4.
Betts shot and killed his 22-year-old sister, Megan, who was the youngest of the victims, The Associated Press reported. The other adults are between 25 and 57 years old.
Dayton mass shooter Connor Betts slaughtered own sister during rampage: officials https://t.co/oXWZByQZzr pic.twitter.com/rJ7Z0sfbob

— New York Post (@nypost) August 4, 2019
Less than a minute after he opened fire, he was shot and killed by police. Officials said he was using a .223-caliber rifle and was firing into the streets of a Dayton nightlife area at around 1 a.m.
Related Coverage
Mayor Nan Whaley stated that he was wearing body armor and had other high-capacity magazines.
The victims were identified as Lois L. Oglesby, female, 27; Megan K. Betts, female, 22; Saeed Saleh, male, 38; Derrick R. Fudge, male, 57; Logan M. Turner, male, 30; Nicholas P. Cumer, male, 25; Thomas J. McNichols, male, 25; Beatrice N. Warren-Curtis, female, 36; and Monica E. Brickhouse, female, 39, CNN reported.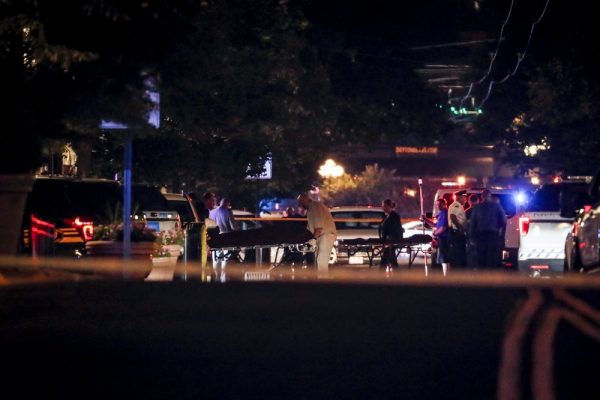 Officials said that one of the male victims was Megan Betts' boyfriend, the New York Post reported.
"All the victims are from our own backyard, too, so this is just an immense tragedy," Ohio Gov. Mike DeWine said, according to the broadcaster. "No matter where the victims are from, they're victims. Our hearts go out to the families. This is a Miami Valley tragedy."
A police official told CNN that the motive in the case is not clear.

"Due to the very short timeline of violence, it's hard to imagine there was much discrimination in the shooting," he said. "It happened in a very short period of time."
"If the Dayton police had not gotten to the shooter in under a minute, hundreds of people in the Oregon District would be dead today," Dayton Mayor Nan Whaley said, according to WHIO. "This is the 250th mass shooting in America," she said. "It's sad that it's in the city of Dayton."
The incident occurred outside a Dayton tavern called Ned Peppers Bar.
The Dayton Daily News cited a Facebook post from James Wilson, who said he was a customer sitting on a patio just outside the bar when the shooting occurred in front of the establishment, Reuters reported.
"He (a gunman) tried to get into the bar but did not make it through the door," Wilson wrote. "Someone took the gun from him and he got shot and is dead."
One witness, Anthony Reynolds, said he heard gunfire that sounded like it was coming from a high-powered weapon.
Reuters contributed to this report.