Garmin-Barracuda's David Zabriskie won the Tour of California Stage Five time trial and took over the race lead with a time of 35:59, the only rider to break 36 minutes over the 18-mile course.
Zabriskie, the U.S. time trial champion, beat the baking heat of Bakersfield, as well as the rest of the riders; temperatures topped 100 degrees out on the  course.
"The biggest  factor was the heat; second was the wind," Zabriskie said after the race. "Third, there's not much to look at out there. Its mentally a tough course, but that's the kind of course I like."
Preparation played a large part in Zabriskie's victory. "I came out here in February and videotaped this course and I've been watching it quite a lot. I had a few specific spots picked out where I wanted to go easy on the pedals but maintain speed," he explained.
"Going into that turn-around was one of the sports I picked out to take a big rest before I shot up out of there, so maybe that's what I was slow going in there. On the way back the wind was pretty much in the face but I just knew that I had to concentrate and keep the speed."
Zabriskie, who has won the U.S. time trial championships six times, has finished second in the Tout of California three times.
The second half of the course was the toughest, as the sun-baked tar slowed the bikes as they struggled towards the final uphill 500 meters to the finish line.
Jens Voigt of RadioShack-Nissan finished second, with BMC's Teejay Van Garderen third. Van Garderen had a faster halfway time, but lost  the lead on the tough back half of the course.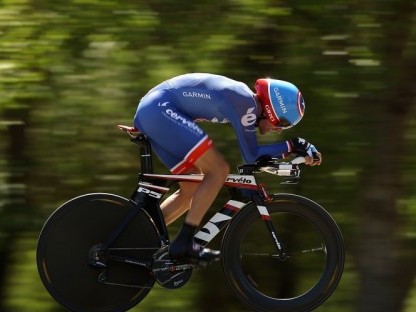 Peter Sagan, who had won the first four stages, finished 52nd.
The course served to create a selection among the real General Classification challengers. Last year's Tour of California winner Chris Horner turned in a somewhat disappointing ride, finished 2:50 down. That will be a lot to make up in the mountains. Liquigas rider Vincenzo Nibali lost a lot of time on the stage also.
Last year's second place winner, Levi Leipheimer, rode a decent time considering he broke his leg when hit by a car while training five weeks ago. He will not contend for the podium this year, but he certainly deserves an award for courage.
The next two stages are serious climbing stages, where the General Classification will again be shaken up.
The Epoch Times publishes in 35 countries and in 19 languages. Subscribe to our e-newsletter.
Tour of California Stage Five

rider

team

time

1

David Zabriskie

Garmin-Barracuda

35:59

2

Jens Voigt

RadioShack-Nissan

0:00:23

3

Tejay Van Garderen

BMC

0:00:34

4

Robert Gesink

Rabobank

0:00:39

5

Andrew Talansky

Garmin-Barracuda

0:00:48

6

Peter Velits

Omega Pharma-Quickstep

0:00:49

7

Maarten Tjallingii

Rabobank

0:00:52

8

Luke Durbridge

Orica-GreenEdge

0:01:01

9

Thomas Danielson

Garmin-Barracuda

0:01:07

10

Rory Sutherland

UnitedHealthcare

0:01:10

General Classification after Stage Five

rider

team

time

1

David Zabriskie

Garmin-Barracuda

20:29:31

2

Tejay Van Garderen

BMC

0:00:34

3

Robert Gesink

Rabobank

0:00:39

4

Andrew Talansky

Garmin-Barracuda

0:00:48

5

Peter Velits

Omega Pharma-Quickstep

0:00:49

6

Luke Durbridge

Orica GreenEdge

0:01:01

7

Thomas Danielson

Garmin-Barracuda

0:01:07

8

Rory Sutherland

UnitedHealthcare

0:01:10

9

Cameron Meyer

Orica GreenEdge

0:01:26

10

Markel Irizar

RadioShack-Nissan

0:01:29