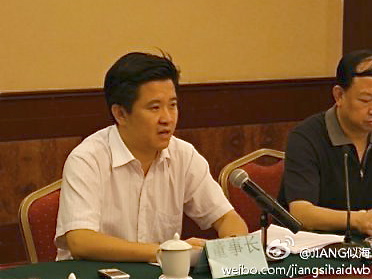 The story of a young woman's alleged rape, and the intransigence of judicial authorities in spite of her evidence, shows how far money can take you in China today. The alleged rapist is a well-connected and powerful businessman. So powerful that the mouthpiece of the Chinese Communist Party (CCP), the People's Daily, felt the need to get involved and declare her claims "rumor." For many observers, that was the click of the shutting lid: showing that Tian Xiaolong's story was accurate to begin with.
In her words, People Daily's involvement is explained by the fact that a powerful protector of her alleged rapist is a rising member of the Communist Party, Li Zhanshu, who was recently promoted to be a senior aide to the new Party leader Xi Jinping. These high-level connections also explain why her pleas for attention by the police have been suppressed on the Internet and attacked in the media, she says.
Tian wrote to the Chinese edition of The Epoch Times in July with a detailed narrative and reference to a large amount of photographic, audio, physical, and documentary evidence of her ordeal. It began on Dec. 26, 2008, at about 11 p.m., after a Christmas party organized by her drama class in Beijing.
A man named Zhou Shili handed her his card, declaring that he was looking for a young lady to appear in a movie he was making. He is the man that would later rape her, Tian alleges.
Zhou is a member of the Guizhou provincial Political Consultative Conference, a largely symbolic advisory body for the ruling CCP; he is also the vice chairman of the Guizhou China Association for Promoting Democracy, one of eight front organizations that are meant to give the appearance of a multi-party system in China. Most importantly perhaps, he is the head of the Qingli Group, a business empire founded in 1999 with interests in coal mining, phosphate ore, logistics, and more.
On the night of the meeting Zhou said he was in his 30s and the head of a film studio. He was actually nearly 50, with a family and children. Tian is a beautiful, young, aspiring actress.
After the initial meeting in late December, Tian met with Zhou again on Jan. 8, 2009. They flew to Guizhou together so Zhou could meet Tian's family. While she was at a hotel there, Zhou said he would drive to pick her up and take her to the airport. But after arriving at the hotel he in fact beat, raped, and verbally abused her, she says.
Tian was able to keep the blood-stained bed sheets that Zhou wanted immediately laundered by pretending they were a "souvenir." She said she escaped once he fell asleep that night. Before sleeping, Zhou had photographed her while naked and said "If you report this to the police, I'll put the video online, and you'll die without even knowing how you died," according to Tian.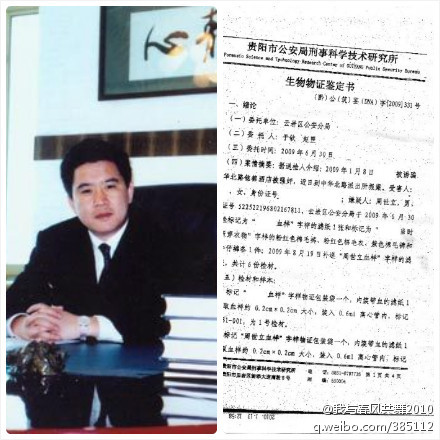 Once Tian went public with her allegations, the social media response was swift. Her posts were forwarded and commented upon widely, attracting the attention of major media outlets, such as the Beijing-friendly Phoenix TV, based in Hong Kong. In an interview with Phoenix, Zhou acknowledged intercourse but said the blood on the sheets did not prove rape.
He uttered one acknowledgement: "When I first met her I said I was single, this was not correct. I am sorry to the [Party] organization that nurtured me."
Tian says she has audio evidence of Zhou admitting to rape in multiple telephone conversations that he did not know were being recorded. He made repeated solicitations in which he offered her a private cash settlement, and bragged about how he had paid off officials over card games.
But Tian wanted justice. She submitted her evidence, including the bloody bed sheets and the audio recordings, to the police. In 2009 the Guizhou Public Security Bureau confirmed that Zhou's DNA was present, and said they had opened a case, but nothing more came of it, according to a report by Phoenix. The report was later deleted from the Internet.
Her father, who at the time was vice-mayor of a city of nearly 3 million called Liupanshui in Guizhou Province, and mother, who used to work at the Ministry of State Security, the CCP's foreign intelligence agency, were forced to be silent to "save face for Guizhou," because of the noise she made about the case. Her mother was ostracized at work. Tian eventually quit school because of the pressure from authorities.
Reflecting on the case in another Phoenix interview on July 7, her father, Tian Fangchang, who also used to be a "stability maintenance" official—that is, one who is involved in suppressing protests and detaining dissidents—said he never expected that he'd one day become one of the "elements of instability."
Her father also announced in an interview with Yangcheng Evening News the following day that he admonished Tian from travelling to Beijing to petition, because he "feared it would damage Guizhou's image."
And on July 19, according to Tian, the authorities had her father declare that "I will use the Party's nature and Party discipline to guarantee that in the past, now, or in the future, I will not do anything to damage the image or interests of the Party."
Tian had already traveled to Beijing and become one of the many petitioners that travels to the capital seeking redress for grievances that local cadres never resolved, or themselves perpetrated.
On July 20 of 2011, the People's Daily stepped in. An article identified her and her family by name, and said the claims "were not true."
The article was republished widely on Internet portals, and the "egregiously unfair reporting" made her ill, she says.
The cultural shame of being raped is immense in China, and People's Daily knew that. Her grandmother died soon after the report came out, apparently from the pressure and frustration.
Tian was referred to by her legal name, Long Meiyi, rather than the name she had adopted in public for petitioning about the rape, Tian Xiaolong. Tian scratched around for a way to sue the journalist, but couldn't find a lawyer to accept the case.
Despite the case being made-up, according to People's Daily, the following day another Party mouthpiece, Xinhua, announced that Zhou Shili was removed from his post as a standing committee member in the Guizhou Political Consultative Conference. No explanation was given.
Tian at one stage tried to engage foreign media in Beijing about her story.  "If foreigners really learnt about my case, the situation would be far worse than now. The evidence I have is extremely strong. How will China lift its head after this is exposed?" she wrote on a blog set up to document her attempt at petitioning authorities.
"The Guizhou Provincial Party Secretary Li Zhanshu has personally intervened in preventing this news about Zhou Shili being reported in the media and investigated," Tian wrote in the same post.
Li held the post until earlier this year, when he was replaced by another cadre.
Tian is confident that the evidence of Li Zhanshu's alleged interference in the case, if exposed, would be a blow to his political reputation.
The Epoch Times publishes in 35 countries and in 19 languages. Subscribe to our e-newsletter.