Daughter of Chinese Human Rights Attorney Beaten
December 19, 2006 12:00 am Last Updated: December 19, 2006 12:00 am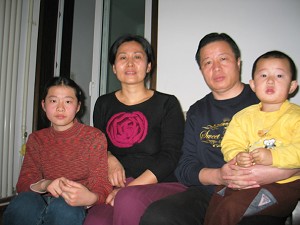 Geng Ge, the daughter of Beijing-based human rights attorney Gao Zhisheng who is currently under secret trial, complained that the Chinese state security officers that had been following her family and her beat her up on Saturday, December 16, and caused bruises on her back and thighs. Chinese human rights activists condemn the state security officers' violence on the teen.
After attending an additional class at school at noon on Saturday, December 16, 2006, 13-year-old Geng Ge planned to see her classmate off at a nearby bus station. The state security officers that had been tailing her stopped her from seeing her friend off. Geng Ge was upset and kicked one of the officers' bicycle on the rear tire. The officer became very angry and approached Geng Ge, trying to punish her. Geng Ge then became angry and threw a box of fried noodles she had bought earlier at him. Next, three male and three female officers started to attack Geng Ge together.
Afterwards, Geng Ge called Mr. Hu Jia, a Beijing-based human rights activist, and told him what had happened. According to Geng Ge, a tall state security officer grabbed her from behind and threw her on the ground. A female officer pulled her hair while verbally insulting her and kicking her at the thighs. Geng Ge said that she sustained bruising on her back and thighs.
According to Hu, Geng Ge's teacher asked to see her on Monday, December 18 and questioned if she had damaged the state security officers' "four" bicycles. This caused even more emotional distress for Geng Ge. Hu believed that her teacher did it because of the pressure from the Chinese Communist regime.
According to Hu, the state security officers had kicked her, beat her and pulled her hair back in October after they accused her of refusing to cooperate, but this time the was violence more severe. Hu condemns the Chinese Communist regime for using violence on the young girl and pointed out it was against the law.
Hu said that they had inquired with the court when the verdict on Gao Zhisheng's trial would come out and whether or not his family would be allowed to sit in the trial, but the court refused to give any answer.
Gao Zhisheng has been a devoted human rights activist. In October 2005, he issued open letters to top leaders of the Chinese Communist regime, asking them to end the persecution against Falun Gong practitioners. Afterwards, his law firm was shut down and he had been followed and suppressed. In mid-August 2006, plain-clothes policemen kidnapped him in Shandong Province. On September 21, the police issued a formal arrest warrant [while he was in police custody]. On December 12, the regime started a secret trial, accusing Gao of subversion. Since Gao was arrested, his family has been under tight watch by police officers that moved into his home. In the end of November, Gao's wife Geng He was beaten by two state security officers that was following her. Geng He's tooth became loose and she bled profusely from her mouth. A fingernail was pried. Her clothes were torn.