SAN FRANCISCO—About 100 practitioners of the Chinese spiritual discipline Falun Gong gathered in front of the Chinese consulate in San Francisco on July 30 for a press conference about a 79-year-old woman who was persecuted to death in China for her faith.
Practitioners held banners and signs calling for an end to the persecution of Falun Gong and for the release of imprisoned practitioners in China.
Meng Hong was the mother of Li Yuki, a resident of San Jose, California. Li heard from her family in China that her mother had died July 26.
During the press conference, Li spoke about her mother's story and the persecution that many other Falun Gong practitioners face under the Chinese Communist Party (CCP).
"On May 22, 2012, when my mother was at Heilongjiang University distributing flyers explaining what was happening to Falun Gong in China, she was arrested by university police. After that, my parents' home was ransacked, and my mom was sent to the Harbin Second Detention Center," Li said.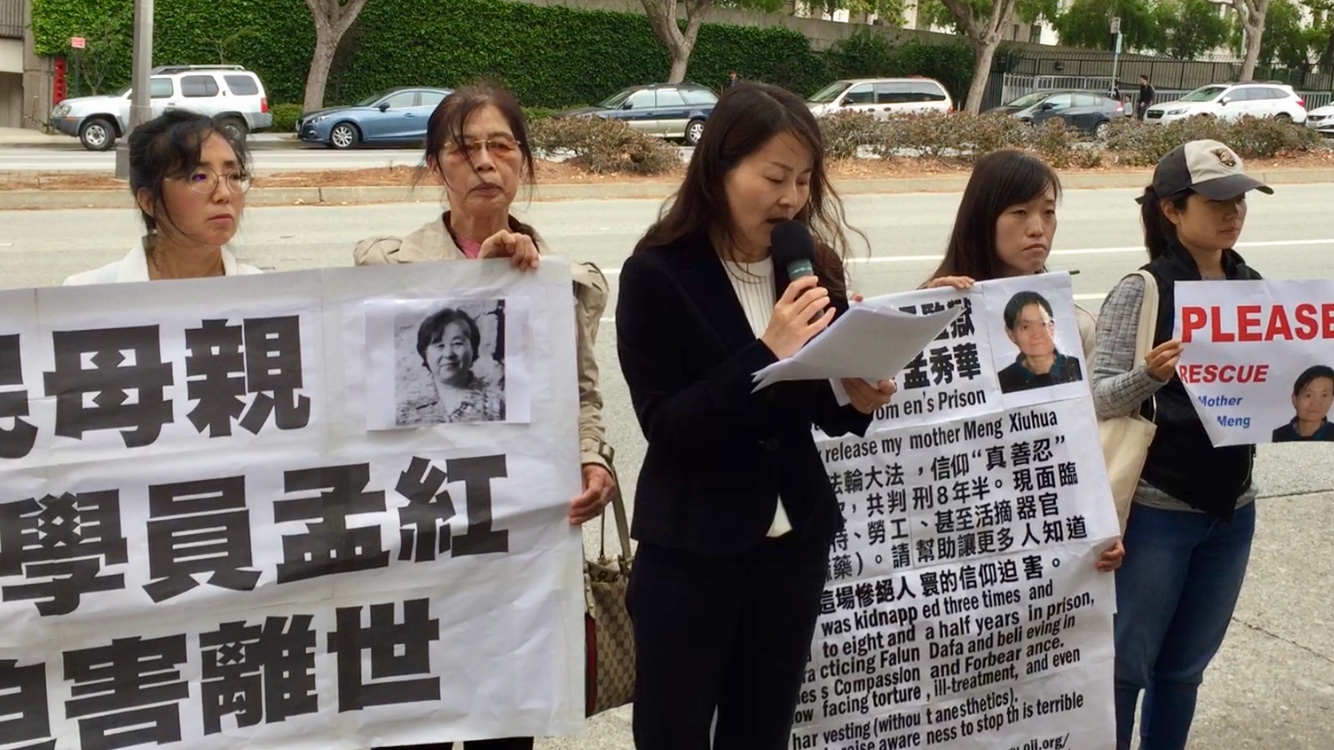 Due to Meng's age, the detention center declined to accept her, and she was put on probation at home. However, on March 27, 2013, police broke into Li's parents' home and took Li's mother to Heilongjiang Women's Prison, imprisoning her for six years.
On the evening of July 26, Li's father, who is currently living in China, received a call from the Heilongjiang Women's Prison saying that Meng had high blood pressure and was being taken to the hospital. However, Li says she knows that's not the case.
"My mother was a healthy person before being imprisoned. After suffering six years in jail, she died suddenly and left us forever. My heart is broken," Li said.
Hearing the news of Meng's passing, other practitioners in California have become increasingly worried about the situation of their own aging parents who are also being persecuted in labor camps in China.
Bay Area residents Yolanda Yao and Olivia Wu spoke in front of of the Chinese consulate, detailing their own stories.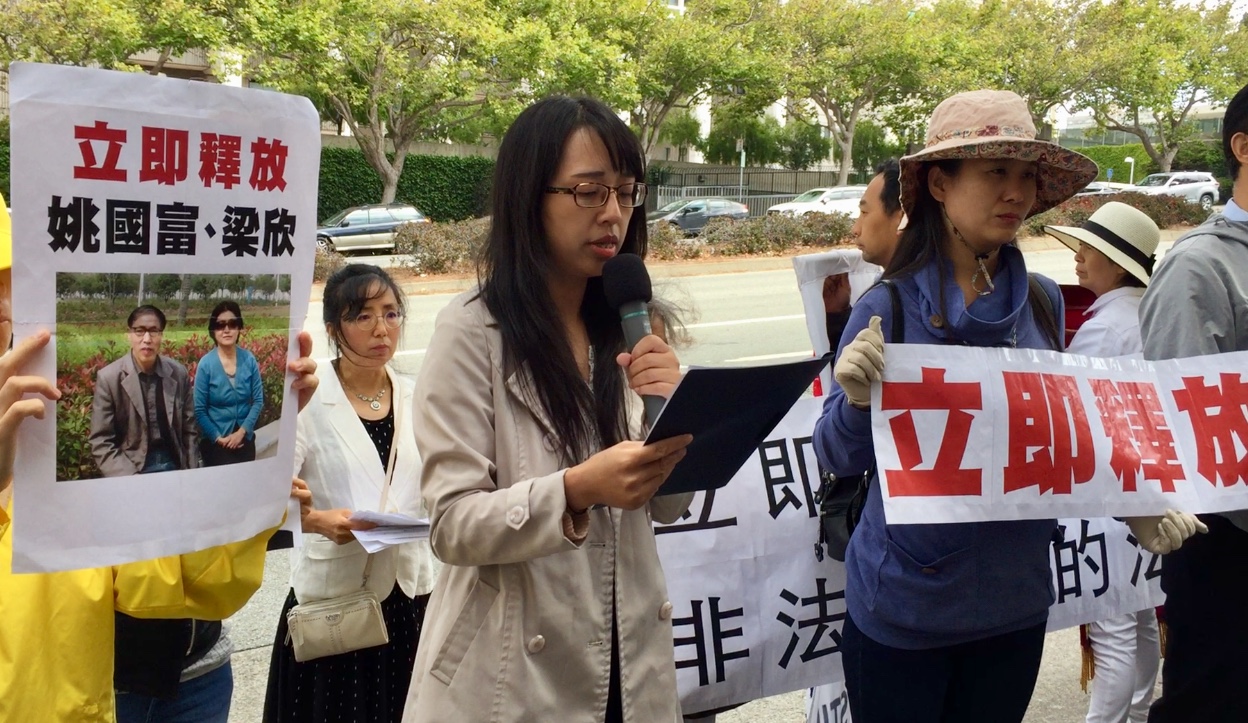 Yao described how 30 policemen broke into her parents' apartment and confiscated everything related to Falun Gong. They were both sentenced to four and a half years in prison, despite a lawyer defending them in court.
"My father has been beaten and forced to do hard labor in prison. My mother's high blood pressure and heart disease, which had improved when she took up Falun Gong, have worsened in prison," Yao said.
Yao was also sentenced to 19 months in a labor camp, prior to escaping to the United States in 2013.
"I fear for my parents' lives. I worry about them every day. I am their only daughter, yet I feel so helpless," Yao said.
Wu echoed that feeling of worry for her own mother. Wu's mother, Meng Xiuhua, has been imprisoned three times, for a total of eight and a half years. Her mother suffered beatings and long hours at labor.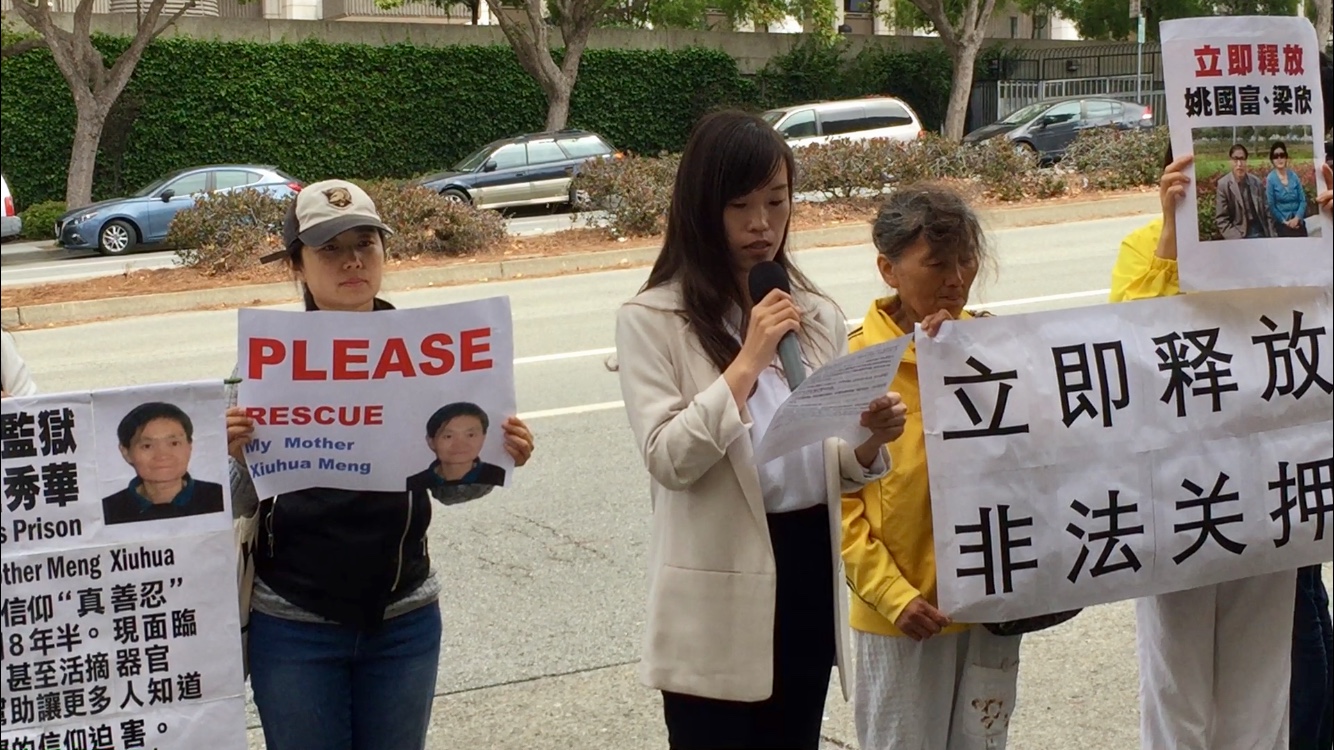 "During her 2015 imprisonment, my mother suffered from beatings such that her front tooth was broken and her limbs bruised. She was forced to do long hours of labor, making cotton swabs and audio tapes," said Wu.
"I am really worried for my mother's safety. Hearing about Yuki's mother's sudden death makes me even more worried. I am living in fear every day, hoping that my mother will be freed," Wu said.
20 Years of Persecution
July 20 marked 20 years since the CCP began persecuting the meditation practice Falun Gong. Due to media censorship imposed by the CCP, many stories of the persecution have gone unreported.
Grace Gao, one of the organizers of the press conference, explained that the Chinese government initially welcomed Falun Gong, because of its health effects and its values of truthfulness, compassion, and tolerance.
However, as more people began to practice Falun Gong, the Chinese regime initiated the persecution in 1999 under then CCP leader Jiang Zemin.
"If a country persecutes truth, compassion, and forbearance, how can that country be a truthful, compassionate, or forbearing country?" Gao asked, directing the comment at the CCP.
The CCP's persecution involves physical beatings, psychological torture, forced labor in labor camps, and live organ harvesting. Organ harvesting is the practice of cutting out organs from victims while they are still alive and without anesthesia, killing the victims in the process. The organs are then sold off for transplants.
Undercover investigations have revealed that the CCP uses similar methods to persecute Uyghurs, Christians, and other religious groups.
All of the speakers at the press conference hope for the release of family and friends who are still being held in prisons and labor camps in China.
"I urge the American government to impose sanctions on the CCP for its human rights violations. I urge all kindhearted people to speak up against the persecution of Falun Gong, so mothers will be free and safe to enjoy their lives with their loved ones," Li said.