Captured on dashcam video, this is the moment a newly erected pedestrian bridge collapses at Florida International University—Miami.
The 950-ton bridge, which spanned several lanes of traffic, came crashing down on Thursday, March 15, burying at least eight vehicles in the rubble.
At least six people were confirmed dead, and police have said more bodies may be recovered.
"We know that there's people missing, the family members know that there's people missing, and what we can tell them is that we can assume that they're in there," Juan Perez, director of the Miami-Dade Police Department, said at a news conference.
The accident occurred just five days after the 174-foot-long bridge, assembled by the side of the highway, was installed during a six-hour operation.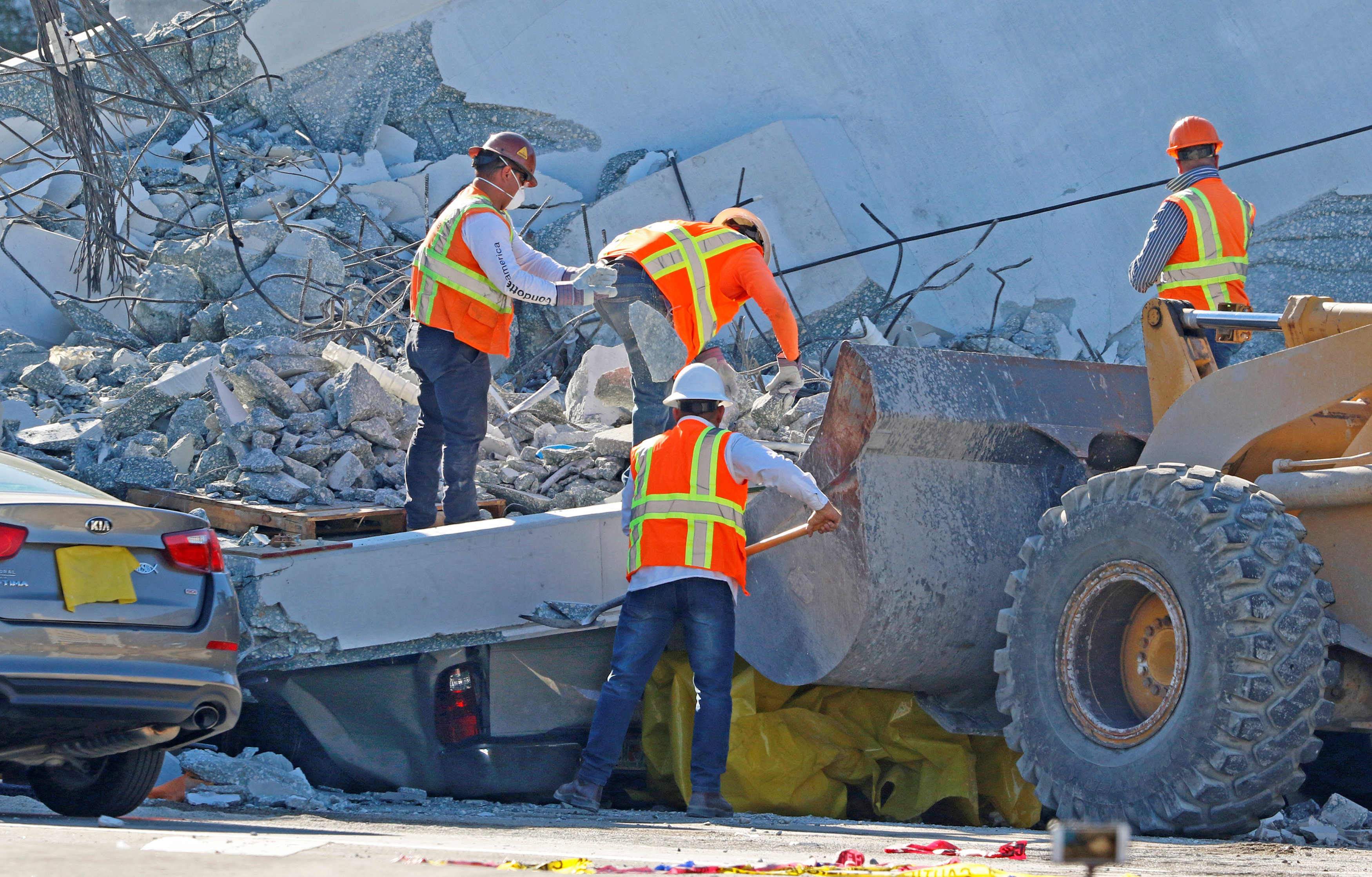 The mission was reclassified from a search and rescue to a recovery effort, ABC News reported on March 16, as authorities said anyone still trapped under the wreckage is likely dead.
"The engineers are working at it in a very tactical way," Alvaro Zabaleta, a spokesman for the Miami-Dade Police Department, said at a news conference on Friday, according to ABC. "The structure is fragile and could be dangerous to rescue personnel."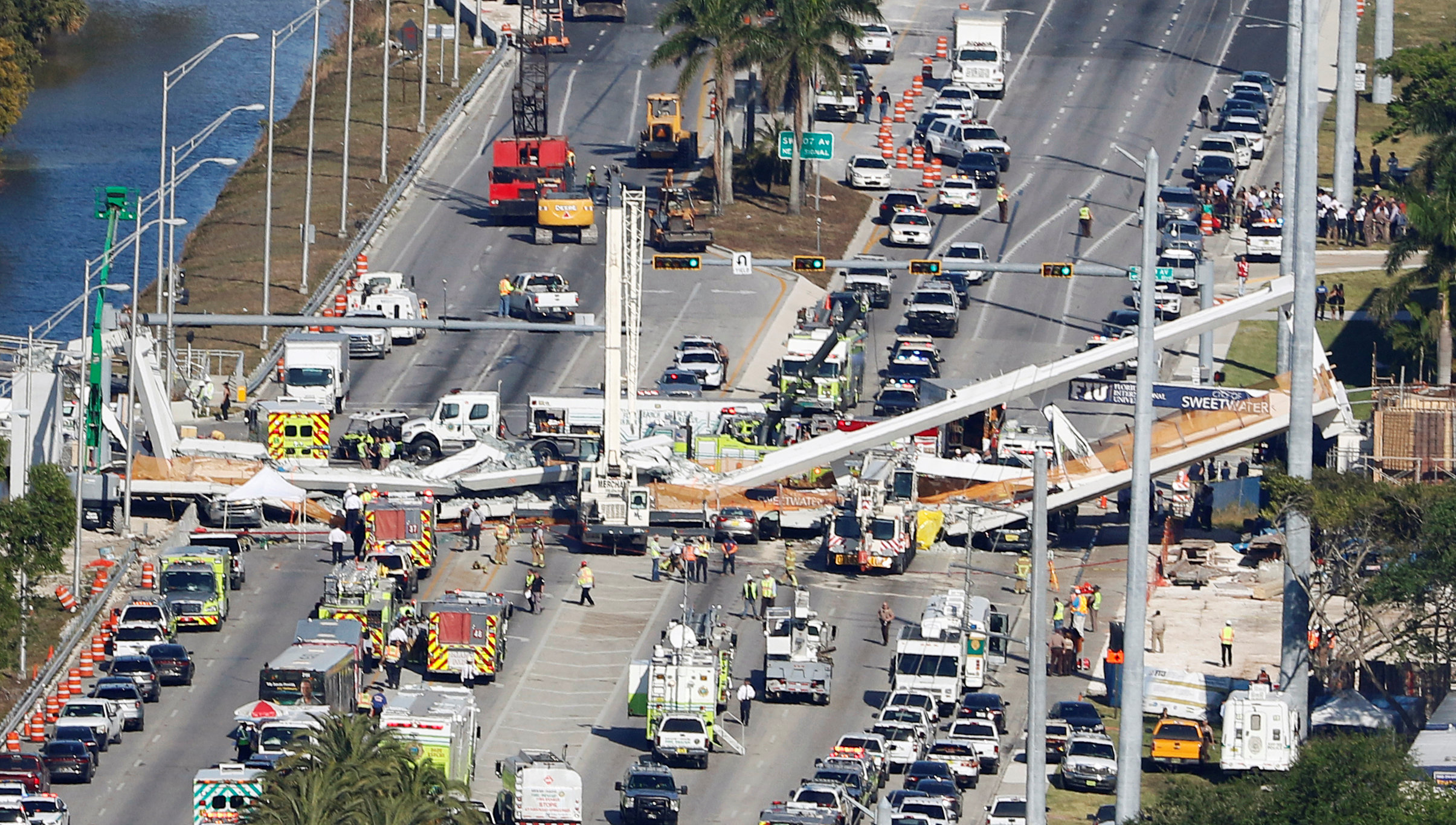 Earlier emergency personnel with sniffer dogs searched for signs of life amid the wreckage of concrete and twisted metal that rained from the collapsed structure and crushed vehicles on one of the busiest roads in South Florida.
But police determined late on Thursday that nobody would be pulled from the wreckage alive, Perez said at a news briefing on Friday.
The identities of the victims are not yet known, but at least one was a female student at Florida International University, the university's president, Mark Rosenberg, told reporters.
At least 10 people were taken to hospitals and two were in critical condition, officials and local media reported.
Call to the Transport Department About Cracks
The engineer overseeing the new pedestrian bridge had called the state Transportation Department two days before the collapse to report cracks found in the span, the Transportation Department said on Friday.
But the engineer's message, including his assertion that the cracking posed no safety issue, was left on the answering machine of a department employee who was away from the office at the time, and it was not retrieved until Friday, a day after the tragedy, according to the agency.
Late on Friday, the Florida Department of Transportation (FDOT) released a transcript of a voicemail message the agency said was left by Denney Pate, senior vice president and principal bridge engineer for private contractor FIGG.
In it, Pate said his team had observed "some cracking" at one end of the bridge and that repairs were warranted, "but from a safety perspective we don't see that there's any issue there, so we're not concerned about it from that perspective."
He added, "Obviously the cracking is not good and something's going to have to be, 'ya know, done to repair that."
Below is a recording of that call.
Bridge Installed Last Saturday
The 174-foot bridge connects the university with the city of Sweetwater and was installed on Saturday in six hours over the eight-lane highway, according to a report posted on the university's website.
"If anybody has done anything wrong, we will hold them accountable," Florida Gov. Rick Scott said at a news briefing late Thursday.
Rosenberg said on the Saturday edition of "Good Morning America" that the "project has been done as every other project at FIU in terms of construction. … We only work with certified contractors that have been approved by all the appropriate authorities."
"We're shocked and we're going to cooperate fully," Rosenberg said, according to ABC. "We've got to get to the bottom of this and we will. Our condolences to all the family members and loved ones to those who were injured and killed in this tragic accident."
The governor's office earlier issued a statement saying a company contracted to inspect the bridge was not prequalified by the state.
Munilla Construction Management, which installed the bridge, was founded in 1983 and is owned by five brothers, according to its website. In addition to its Florida operations, the company also has divisions in Texas and Panama and employs 500 people.
FIGG Engineering said it took part in the bridge project and would fully cooperate with investigators, adding that the collapse was the first in its 40-year history.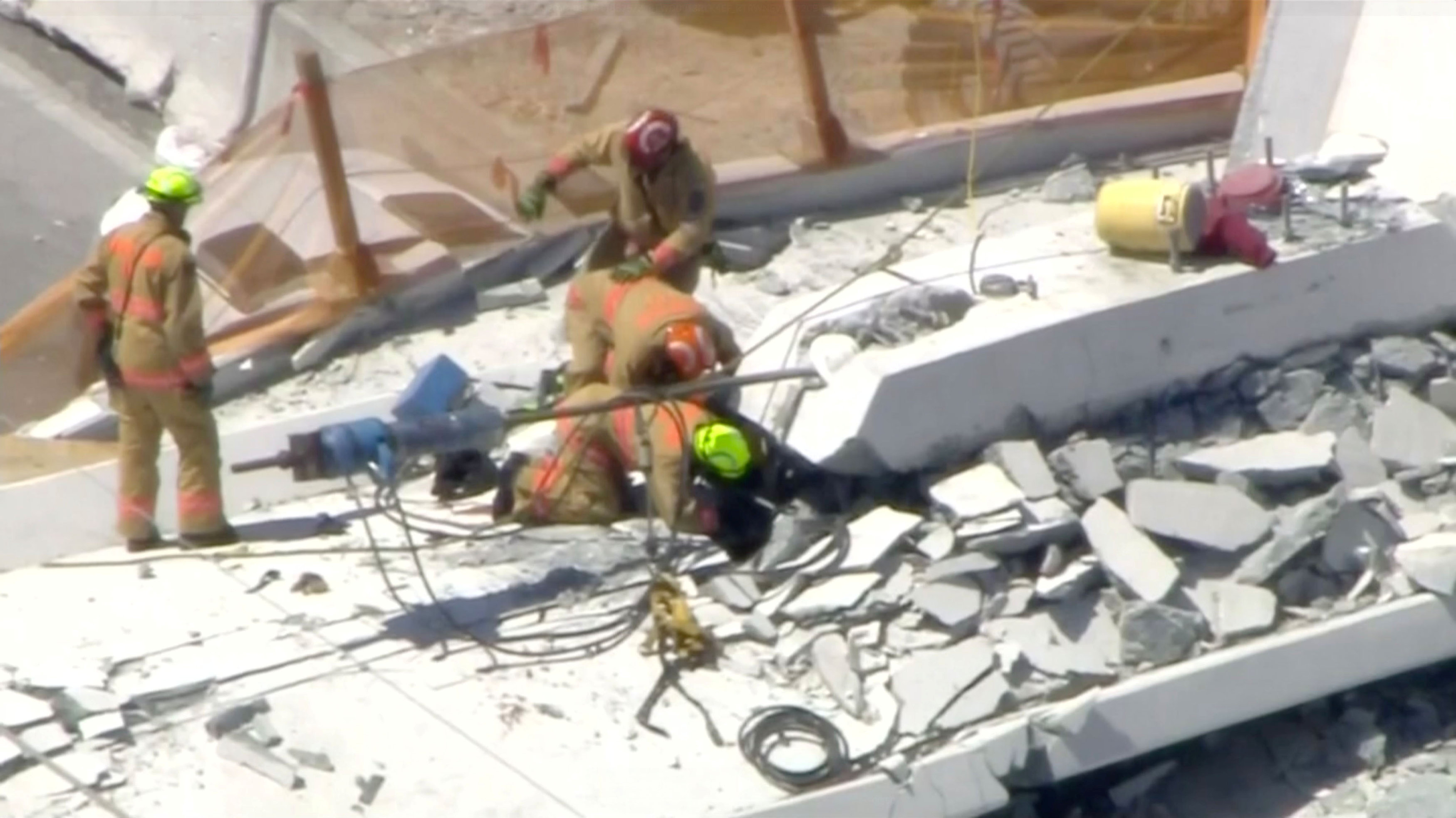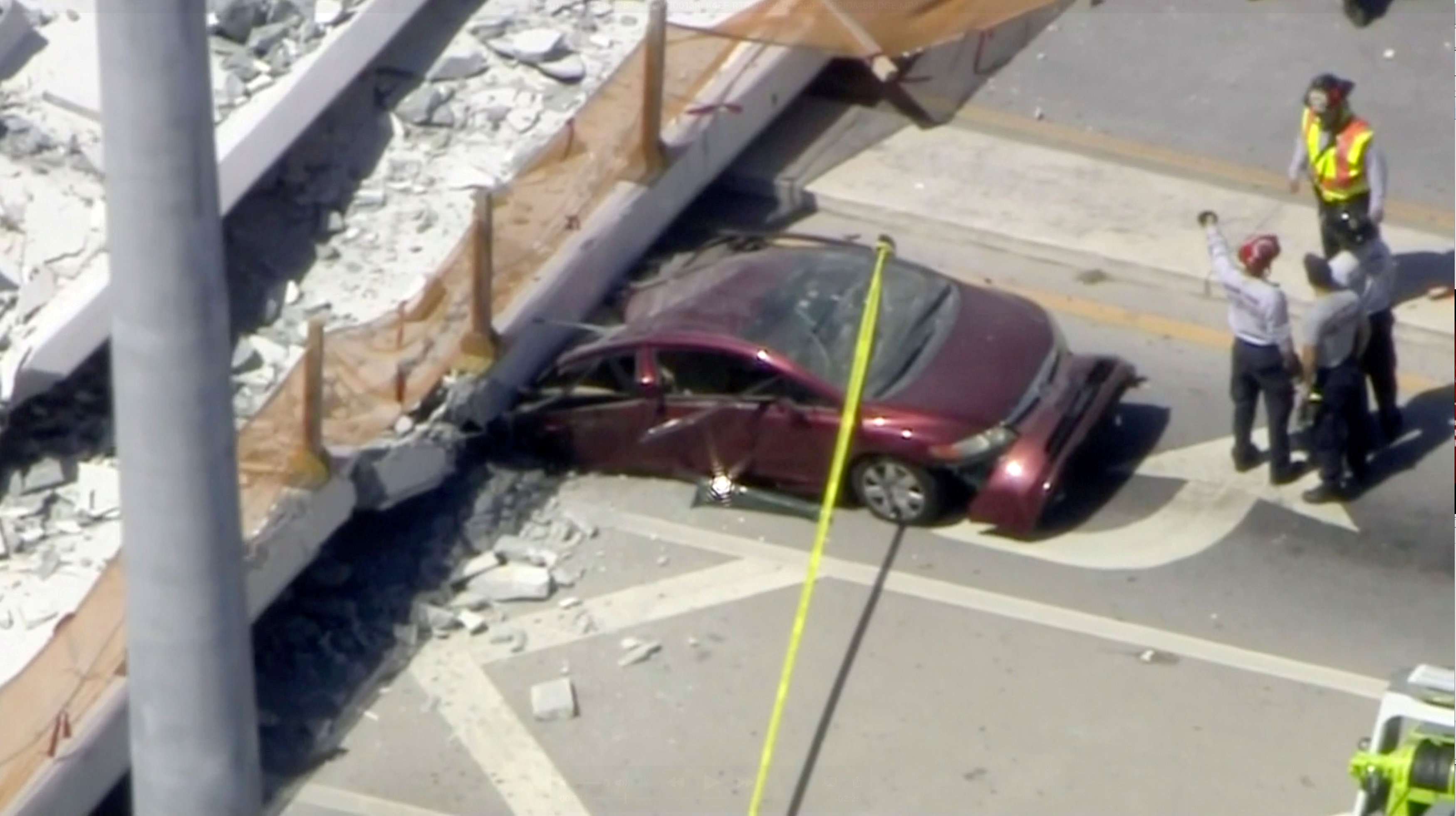 The bridge was intended to provide a walkway over the busy street, where an 18-year-old female FIU student from San Diego was killed as she attempted to cross in August, according to local media reports.
Students at FIU are currently on their spring break vacation, which runs from March 12 to March 17.
Recommended Video:
Officer Saves Woman Who Was Pinned