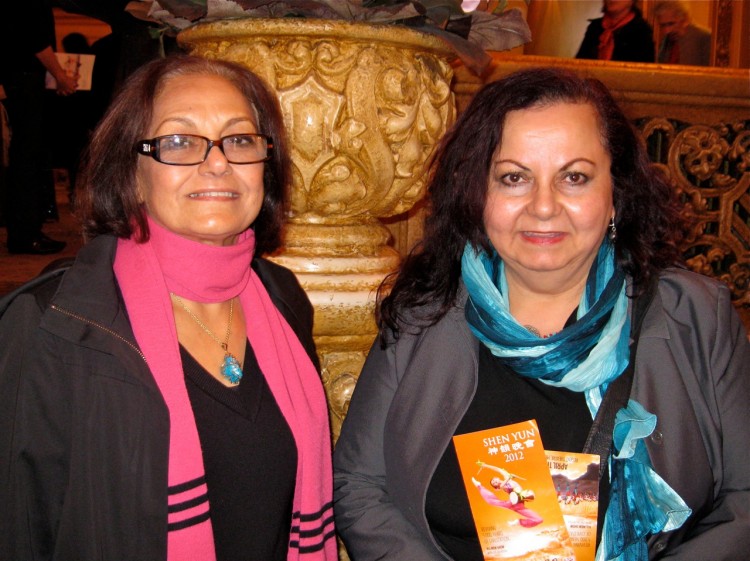 MELBOURNE, Australia—Fresh from Taiwan after sold-out shows in seven Taiwanese cities, Shen Yun Performing Arts New York Company began its 2012 world tour "down-under."
The world's premier classical Chinese dance and music company burst upon the stage in a lavish presentation at Melbourne's Regent Theatre on Wednesday evening, April 11.
Egyptian-born Inaam Barakat, the manager of Darebin Intercultural Centre, was exhilarated by the performance, designed to reclaim China's 5,000 years of traditional values—lost to 60 years of communist rule, according to Shen Yun's website.
"It was amazing, mesmerising, incredible arts and music, something I could not comprehend. The stimulation and the colours, and the quality and skilful movements," Ms. Barakat said. "It uplifts you off the ground and takes you … it's wonderful. It brings a lot of happiness and cheer, very cheerful."
Ms.  Barakat not only endorsed the entire performance, but also Shen Yun Orchestra's combination of traditional Chinese and classical Western instruments in all-original composition.
"It was the most amazing music … that was a new concept for me. I never experienced that before and it's done in such a skilful way. It's amazing.
"I am very respectful, the civilisation of this culture is incredible and people are really not aware of many aspects of this culture."
She said the hi-tech animated backdrop was also an aspect she had never experienced before. The animated scenes transport audience members magically from celestial realms to stage and back again.
'Overtaken by the music'
"It's a great experience. Come and see, come and see a great civilization," said Amal Diab, community consultant/linguistic translator of language, French, Italian and Arabic.
"It's a great civilisation. How much I appreciate the East and the great civilization, the technology, the combination … the harmony in it, and the music."
Ms. Diab, also born in Egypt, was overwhelmed by the music and the dancing.
"I was overtaken by the music and by the ability … their agility in the body. It's really great in every aspect. It's touching … great entertainment and an enjoyment."
Reporting by Julia Huang and Raiatea Tahana-Reese.
Shen Yun Performing Arts, based in New York, tours the world on a mission to revive traditional Chinese culture. Shen Yun Performing Arts New York Company will perform at the Regent Theatre, Melbourne, Australia, through April 15.
For more information, visit ShenYunPerformingArts.org