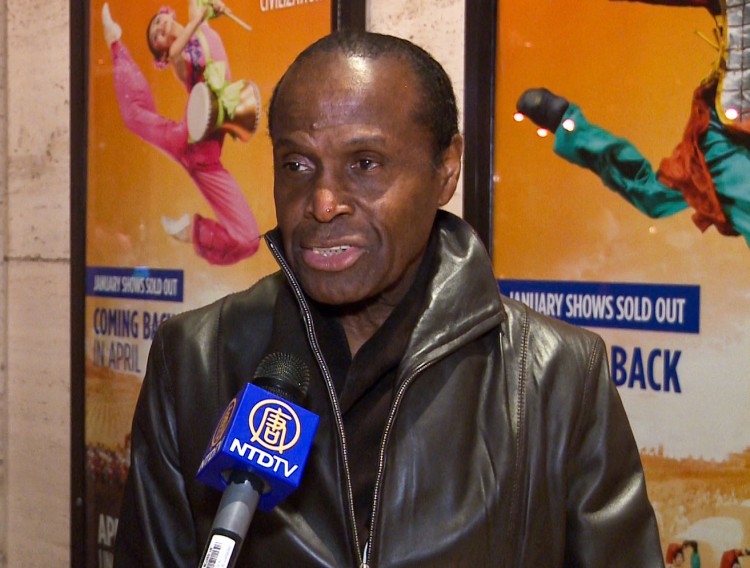 NEW YORK—When Shen Yun Performing Arts performed at Lincoln Center on Friday, dancer Randy Jason Grant was awed by the talent of the dancers on stage.
"I love this show," said Mr. Grant. "I think the choreography was astounding."
In Shen Yun's performance, male and female dancers often take the stage separately. Mr. Grant appreciated the qualities of each. He began by describing what struck him about the male dancers.
"They dance like men, and I always appreciate a male dancer that dances like a man," he said. "The dancing was strong … the flexibility—incredible."
Mr. Grant continued by praising the female dancers.
"The girls are flexible—not only are they flexible, but they are [also] technically superior," he said. "The turns and so on and so forth. Those windmill turns are particularly difficult to do. They must have studied for a very, very long time."
Shen Yun tours the world with the mission of reviving the 5,000 year-old, divinely inspired Chinese culture, after this culture was all but demolished by communist rule, especially since the Cultural Revolution 60-odd years ago, according to Shen Yun's website.
Digital backdrops and an unique orchestra that joins East and West instrumentals accompany the heart of a Shen Yun performance—classical Chinese dance, which "has a long history of thousands of years, passed down continuously within the imperial palace and ancient Chinese theater and opera," according to the New York-based company's website.
The dancers are adorned with vividly colored costumes, which have earned acclaim from fashion designers, from Norma Kamali to Donna Karan.
"It was incredible," he said. "The singing, the orchestra—it was just perfect."
The first number especially pleased Mr. Grant. "The atmosphere, the costumes, the dancing, the whole thing. I loved it," he said. "It shook me. That's a good thing, you grab the audience's attention immediately."
Reporting by NTD Television and Zachary Stieber
Shen Yun Performing Arts, based in New York, tours the world on a mission to revive traditional Chinese culture. Shen Yun Performing Arts Touring Company will perform at the David H. Koch Theater at Lincoln Center through April 22.
For more information, visit ShenYunPerformingArts.org.