Dam Collapse in Northeast China Blamed on Officials
August 10, 2010 7:52 pm Last Updated: August 11, 2010 8:21 am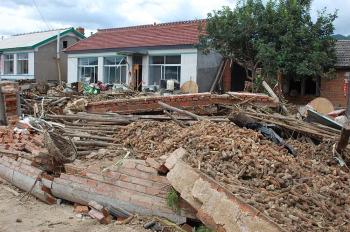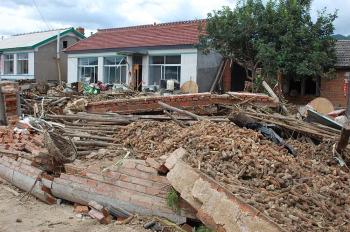 After a dam collapsed in northern China, unleashing about 141 million cubic feet of water and decimating five villages downstream, local residents began to blame local officials for not acting earlier, and took matters into their own hands to exact justice.
The Dahe Dam in Changshan Township of Huadian City, Jilin Province, collapsed on July 28, but was confirmed in Chinese state media only on Aug. 7.
The Huadian municipal government reported that some 64,000 people had to be evacuated throughout its 87 villages, and that 16 deaths had occurred and 32 people have been reported missing, as of Aug. 3.
Survivors in Changshan Township however recently disclosed through the Internet that at least 200 people in Huadian City were casualties, and that residents concur that human error was behind the delay of the dam discharge of excessive water at the appropriate time, causing the disaster.
The local government's poor job in disaster relief prompted the survivors to protest by carrying the bodies of their loved ones, which they had retrieved from the water themselves, to the Changshan Township government office. On Aug. 2, some villagers even attacked township officials.

Mr. Shi, a volunteer at a disaster relief relay station, told Sound of Hope Radio Network that more than 200 people in Huadian City had died, many homes were damaged, and that the homeless victims are in desperate need of support.
Mr. Shen, also a Changshan township resident, told The Epoch Times, "The Dahe Dam failed to discharge water when it was supposed to. The excessive amount of water caused by heavy rainfall broke the dam. High water rushed down and swept away people and houses. The five villages in the path of the flood—some of which had more than 100 households—were damaged severely. Many people were washed away by the water and drowned."
Mr. Shen said he witnessed the villagers carrying the dead bodies, to appeal to the township government, but the officials ignored them.
The villagers dashed into the office and found the officials eating watermelon. "People were drowned after the dam burst, but the government officials told them it was none of their business, which enraged the villagers," he said.
Continued on the next page…