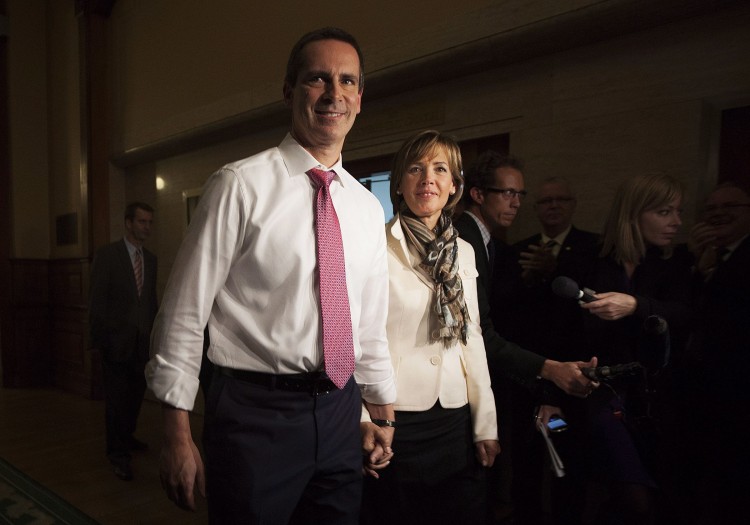 Dalton McGuinty has announced that he is stepping down from his role as leader of the Ontario Liberal Party and as premier of the province. He called an urgent caucus meeting Monday evening to deliver the unexpected news.
"After 16 years as leader of the Ontario Liberal Party and after nine years as premier, it's time for renewal, it's time for the next Liberal premier," McGuinty said. "It's time for the next set of Liberal ideas to guide our province forward."
McGuinty said the legislature needs to focus on improving the economy and eliminating the deficit, and the best way to reach that goal is to freeze the wages of public sector workers. In order for the government to have time to settle the agreements with the workers, he has asked for the legislature to be prorogued immediately.
He said he will continue as premier until a leadership convention can be held.
In a statement following the announcement, New Democrat leader Andrea Horwath said that while she wants to thank McGuinty for his years of service to the people of Ontario, the NDP doesn't support prorogation.
"The people who make this province work every day sent us here to do a job and that work shouldn't stop while the Liberal party focuses on leadership," she said.
"Prorogation effectively cancels hearings on the multi-million cost of cancelled gas plants. That matter alone is concerning but the fact is, there is important work we need to do here in the Legislature."
"I understand the Premier won't be leaving immediately and I'm sure he knows I plan to keep debating him," she added.
"I hope before too long he will agree: the work we do here is too important to simply stop now. His own career here proves it."
President of the Ontario Liberal Party Yasir Naqvi said that on Tuesday he will speak to the executive of the Ontario Liberal Party to begin the process of determining the timing and rules for a leadership campaign.
"Those discussions will take in account the need to move quickly to elect a new leader so that our government can continue to put forward ideas that improve the lives of Ontario families," he said in a statement.
Names bandied about as possible contenders for leadership of the Liberal party include Health Minister Deb Matthews, Finance Minister Dwight Duncan, and Municipal Affairs Minister Kathleen Wynne.
The Epoch Times publishes in 35 countries and in 19 languages. Subscribe to our e-newsletter.